Bobcats' season is over, but their string of success has just begun
Kriby Paulson and Ryan Chichester
March 5, 2018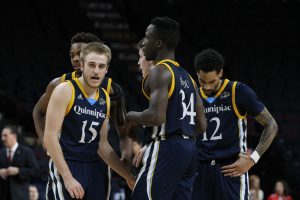 The end of a season always offers a time of reflection. For the Quinnipiac men's basketball team, it also offers a chance to take an optimistic look ahead.
The Bobcats' surprising semifinal run in the MAAC tournament came to a close on Sunday night after a 74-64 loss to Fairfield. With Year One of the Baker Dunleavy era officially in the books, it is time to address the state of the rebuild as the lights go out on the Bobcats' season.
Considering how the first trial run of a massive program overhaul resulted in the program's first conference tournament victories in four seasons, it is appropriate to consider the inaugural year a resounding success.
"This was a cool run for us," Dunleavy said after the loss to Fairfield. "Not because we won two games in the MAAC, just more so that we came together through adversity. They stayed positive and kept working, and produced this. It doesn't happen by accident. No group I'd rather coach. They were awesome."
The future cannot be addressed without first looking at the present. In just one year's time, Dunleavy took a program mired in mediocrity and produced the team's most exciting run since joining the MAAC. The string of success was a shocker to most around the conference, especially given the way the Bobcats limped through the end of the regular season, arriving in Albany as an underwhelming 7th seed. Despite the painful losses and descent through the conference standings, Dunleavy was encouraged by what he saw from his inexperienced Bobcats.
"We had a tough schedule down the stretch and lost seven of eight. But like I told you guys…I thought we were getting better the whole way through. These guys believed me and stayed positive and kept working, and produced this."
Dunleavy and company produced far more than an exhilarating tournament run. They breathed new life into a program that will only be going up from here.
Freshman Rich Kelly struggled in the semifinals, but he played the hero in the quarterfinal win against Canisius to put a bow on a year where he developed into a dependable ball handler and earned All-MAAC Rookie honors. Fellow freshman Jacob Rigoni worked his way into the starting rotation by becoming one of the MAAC's top three-point shooters, and will be a lethal stretch forward in the years to come.
The duo's unexpected postseason experience brings a valuable asset to next year's team that will be losing the majority of their leadership, which Dunleavy recognizes will be hard to replace. However, the upperclassmen behind this season's success has only enhanced the excitement for the future.
"We lose a lot," Dunleavy said. "Not just in terms of basketball. In terms of leadership, experience…and setting the tone for the program. We're going to miss these guys a ton and in a way, build it from the ground up. These seniors that we're going to lose set a foundation and a path that we're going to follow that I'm really proud of."
Part of the foundation was laid by senior Cam Young, who went from forgotten bench presence to Quinnipiac record-holder, which he attributes to the effectiveness of Dunleavy, who has the future of the program in safe care.
"He's meant a lot," Young said of his relationship with Dunleavy. "He brought the best player out of me. What I showed this season is a tribute to him."
Young, Chaise Daniels and Alain Chigha will be hanging up their Bobcat jerseys, but those who take their place bring plenty of promise with them. Talented recruits like Travis Atson will join first-year forward Nathan Davis and transfer Kevin Marfo, who figure to anchor a Bobcats team looking to take the MAAC by storm in 2018-19.
"I couldn't be more proud of what we built," Dunleavy said. "It's important to us to put something out there that we can be proud of, and for the Quinnipiac community to be proud of."
Dunleavy and the Bobcats can be proud of the team's most exciting finish in years, and for kick-starting a rebuild that is way ahead schedule.
For the Bobcats, they're not saying goodbye to their deep MAAC tournament run. It's just 'see you later.'