Utica Comets sign former Quinnipiac men's hockey forward Tanner Macmaster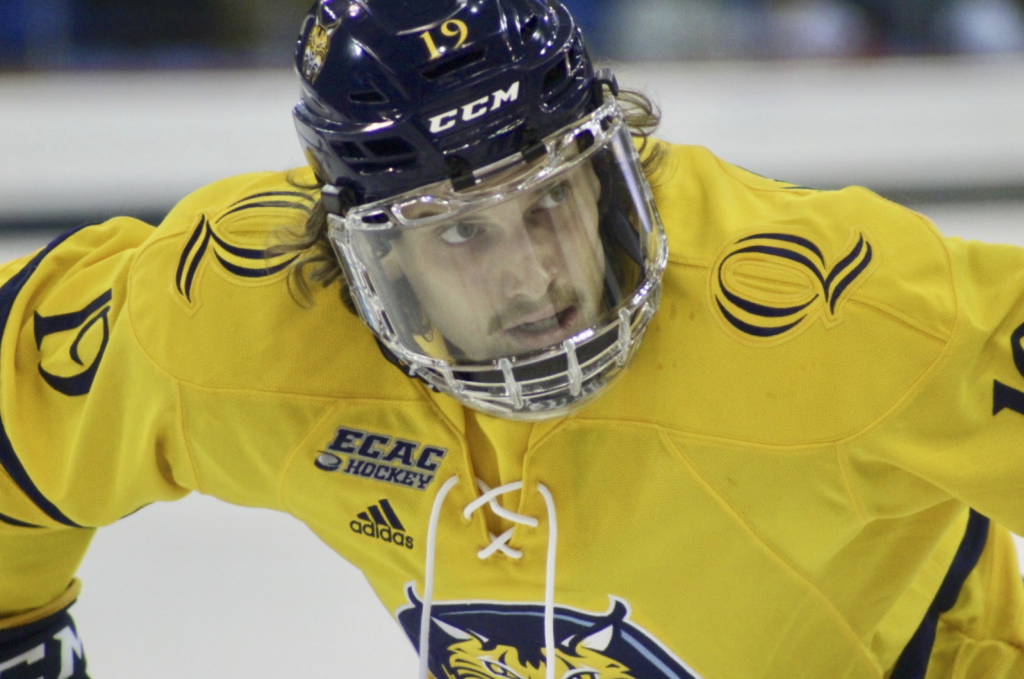 Since the 2012-2013 season, the Quinnipiac men's ice hockey team has brought prominence to the university as one of the perennial powers college hockey teams in the country. Team success has been one thing with two national championship appearances since 2012, but individual players who have moved on to make an impact at the next level stands out as well. 2013 graduate Matthew Peca has spent time in the NHL with the Tampa Bay Lightning, while guys like Sam Anas, Travis St. Denis and Devon Toews, have enjoyed success in the American Hockey League with hopes of getting the call-up to the NHL in coming years.
This past week, another Bobcat was given the opportunity to play the game professionally. Senior forward Tanner MacMaster signed an amateur tryout contract with the Utica Comets, an AHL affiliate of the Vancouver Canucks. The speedy, highly skilled centerman finished his career at Quinnipiac with 84 points in 150 games. While these numbers do not by any means jump off the page, his progression as a player in his four years cannot be denied.
Coming in as a freshman in 2014-2015, Macmaster tallied five goals and seven assists, ranking third among the freshman on the team in points. While this was an important stepping stone in getting his feet wet at the Division I level, there was more to be expected from the Calgary, Alberta native, who originally committed to Boston College.
Fast forward to his sophomore year, where MacMaster developed to be a contributor on a Bobcats team that made the national championship game, before losing to The University of North Dakota. His play improved from the 2014-2015 season, and MacMaster was able to showcase his skill as a playmaker all year long, collecting four goals and 16 assists in 43 games. He was overshadowed by the stellar scoring ability of Sam Anas and Travis St.Denis, as was most of the team, but still proved to be a vital depth piece to this team's successful season.
In 2016-2017, Macmaster leveled off in terms of points, but that was in part to both playing fewer games as well as the team not scoring as many goals as they did the year before. He scored eight goals to go along with 11 assists in, finishing seventh on the team in points. He showed more of a scorers touch during his junior season, which really set the tone for his senior year.
This past year is where MacMaster put everything together, emerging as one of the only consistent goal scorers for a Bobcats offense that struggled to light the lamp. He finished second on the team in goals, assists, as well as points, potting 13 goals and adding  20 helpers. Although the 2017-2018 season was a disappointing one for the Bobcats, it was an extremely productive one for MacMaster.
At 5-foot-9 and 171 pounds, he still needs to fill out, but his size certainly has not stopped him from succeeding up to this point. Professional hockey is moving towards more of a skilled league rather than a physical one, which benefits Macmaster's crafty style of play. While he didn't light up the scoresheet as much early in his career here in Hamden, he progressed each year to give himself the opportunity to move on to the next level with a breakout year in 2017-2018.
So far, his transition to the pro game has been a smooth one, notching his first goal this past Sunday in a 3-1 win over the Toronto Marlies. While MacMaster's high energy and compete level will certainly be missed next season for the Bobcats, his future is looking very bright in the game of hockey. Don't be surprised if you see his name on an NHL roster as early as next season, as he will continue to get better with experience.
.@TannerMacMaster's first professional goal tied the game at one! @GBrisebois55 and @MikeCarcone8 get the assists! #UTIvsTOR pic.twitter.com/bhpFJeRiAq

— Utica Comets (@UticaComets) March 18, 2018
Follow Joe Bertolami on Twitter: @BertolamiJoe