Fairfield men's basketball defeats Quinnipiac 74-64 in MAAC semifinals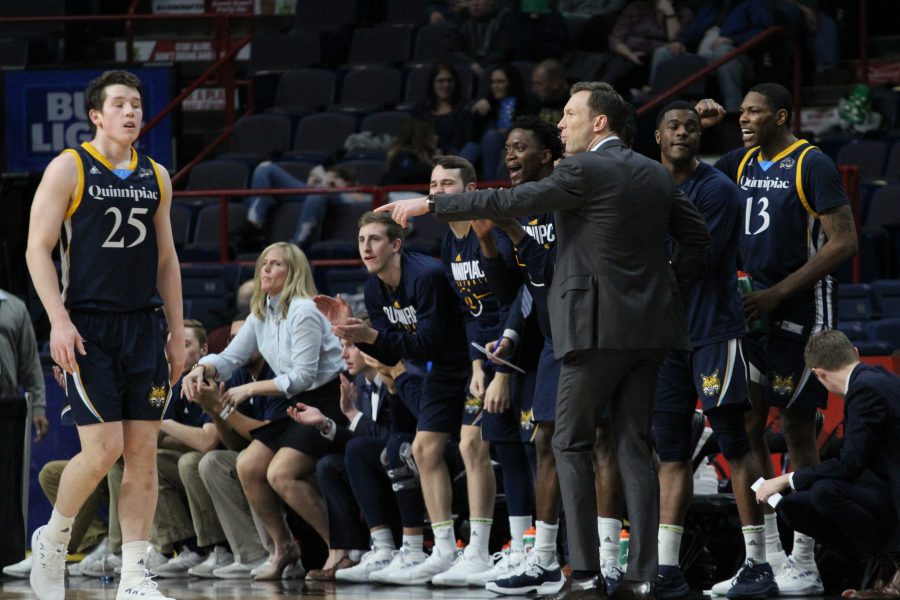 Kriby Paulson, Ryan Chichester, Bryan Schwartz, and Shane Dennehy
March 5, 2018
VIDEO:
By: Bryan Schwartz and Ryan Chichester
STORY:
By: Shane Dennehy
All good things must come to an end and that good thing for the Quinnipiac Bobcats was its run in the Metro Atlantic Athletic Conference tournament. Unfortunately for the Bobcats they lost to their instate rival the Fairfield Stags 74-64.
Like all season long Cam Young led the Bobcats from the opening tip, Young went 4-4 from the field to start but things quickly turned tough for Young. The Stags started locking down on Young midway through the first half, which limited Young's touches on the offensive end of the floor.
Young's frustration began to increase and he struggled to maintain his focus. After missing a layup and complaining over a non-call Fairfield went down the other end of the floor and scored. After the basket, Young gave a hard chest pass to Rich Kelly who turned around and told Young to relax. Young's teammates helped him refocus during halftime so that he could try to help them comeback.
"They were just saying that they needed me and they needed me to calm down. They needed me with a clear head so we could try to compete and win the game," Young said.
Kelly scored 40 points against Fairfield in Quinnipiac's double overtime loss to the Stags last month but tonight Kelly could not find a rhythm offensively. Kelly finished with seven points on 2-14 shooting from the field. For much of the first half Kelly would get into the paint before throwing up a tough shot. Fairfield had a different game plan for Kelly in its third game of the season against Quinnipiac.
"I don't think we respected (Kelly's) scoring ability," Fairfield head coach Sydney Johnson said about how his team viewed Kelly heading into the second game against Quinnipiac. "We wanted to respect him as a scorer and a distributor. I think that distinguished our game plan from game two (against Quinnipiac) to game three (against Quinnipiac)."
When you play Fairfield, you have the tough assignment of trying to contain Tyler Nelson who is the top scorer in the MAAC. Isaiah Washington, Cam Young, Aaron Robinson, and Alain Chigha all took turns at guarding Nelson. To guard Nelson it takes a lot on the defensive end of the floor to chase him around and fight through screens. Nelson knows that it is a challenge to try to score against the Bobcats.
"It's been very tough," Nelson said when asked about how difficult it is to get open and score against Quinnipiac. "I was just really confident tonight."
Kelly had a tough game but he never gave up and he tried to do anything to help get his team the victory. With 7:03 left in the second half, Kelly stole the ball from Wassef Methnani and went coast to coast to cut Fairfield's lead down to one point. All night long Quinnipiac would claw close to Fairfield but Fairfield would always have an answer and it would pull away from Quinnipiac.
Quinnipiac's season is now over but you will not see them picked last in the preseason coaches' poll next year or see people overlook them next season. Dunleavy now has a full off-season to
try to implement even more ideas into his team and he will have plenty of new players to incorporate into his system next year.