Women's lacrosse takes down Sacred Heart, 11-8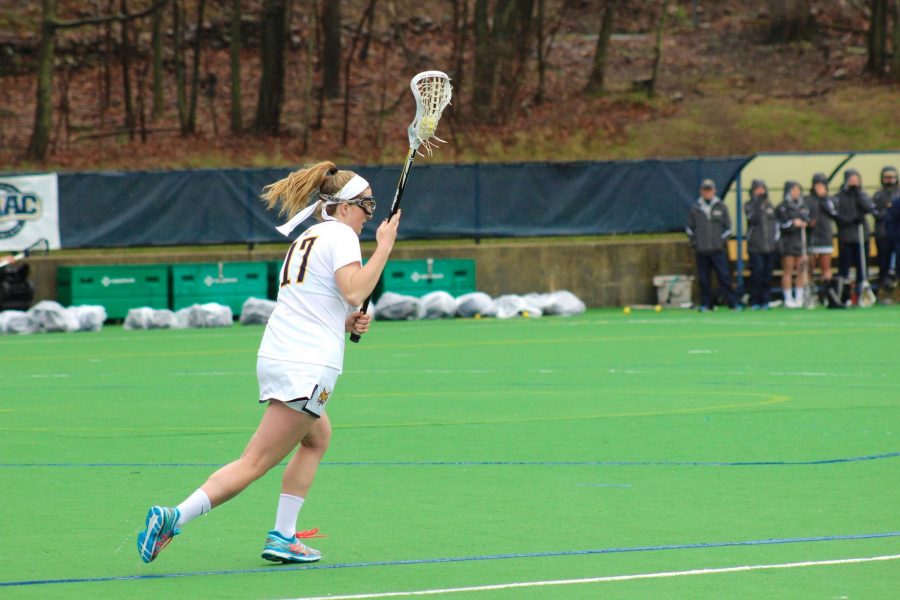 A timeout is all a team may need in order to get back on track. And women's lacrosse coach Tanya Kotowicz knew exactly when to call the timeout to get her team focused again.
After giving up two goals in the beginning of the second half to lose their lead and getting tied 7-7, the Quinnipiac women's lacrosse (3-2 overall, 0-0 Metro Atlantic Athletic Conference) stormed back after that timeout and took down Sacred Heart University (0-4 overall, 0-0 Northeastern Conference) by a score of 11-8 Saturday afternoon. It marked the third straight victory for the Bobcats, as they were led by junior midfielder Allison Kuhn with three goals.
"It was a very defensive, physical game," Kotowicz said. "A lot of the calls didn't go our way, so just trying to find the back of the net even though it wasn't going our way was a little difficult. That's why we tried a lot of different combinations on the offensive end."
It was a slow start to the game, as after sophomore midfielder Brianna Fitzgerald scored about two and a half minutes in, there was not another goal until about the halfway point when junior attack Carrie Speicher tied the game 1-1 for Sacred Heart.
The Pioneers then followed that up with two more quick goals, extending the lead to 3-1. A Quinnipiac timeout was taken, and the timeout clearly worked as the Bobcats scored four straight goals to take a 5-3 lead. With under a minute left and the score 6-4 Bobcats, Allison Kuhn scored with 35 seconds left, looking like QU would go into the break with a 7-4 lead. But Sacred Heart went down and a lucky bounce caused the ball to slowly roll behind Quinnipiac senior goaltender Kyle Larkin and with two seconds left, the score was cut at 7-5.
"You know [Sacred Heart] got some momentum going into halftime," Kotowicz said. "But it's only halftime, so we just kind of locked into what our focus was."
That momentum was evident, as Sacred Heart was able to get two goals in the first minutes and gave up none, tying the game at 7-7. It was after that seventh goal that Kotowicz took her crucial timeout.
"I tried to reel them in," Kotowicz said. "Just get back to what we've been talking about all week. Keeping our focus and making sure we pay attention to our own game and not get too worried about the calls or about the other team."
From then on, it was all Quinnipiac. The Bobcats outscored the Pioneers 4-1 for the remainder of the game, with Kuhn scoring two more to complete the hat trick, ending the game with the 11-8 victory. Both Kuhn and sophomore midfielder Victoria Bobinski, who had two goals, received praise from Kotowicz after the game.
"They've been working really hard all week," Kotowicz said. "The discipline that they've shown in practice is starting to show on game day."
A total of eight different Bobcats accounted for the 11 goals scored, showcasing the balanced offense of Kotowicz.
"We just keep getting more depth throughout the season and that's our goal," Kotowicz said. "The goal is just to continue to progress and we're doing that."
The Bobcats next game will be against Hofstra University (2-2 overall, 0-0 CAA) on Tuesday, March 6 at 3 p.m. at the Quinnipiac Soccer and Lacrosse Field.