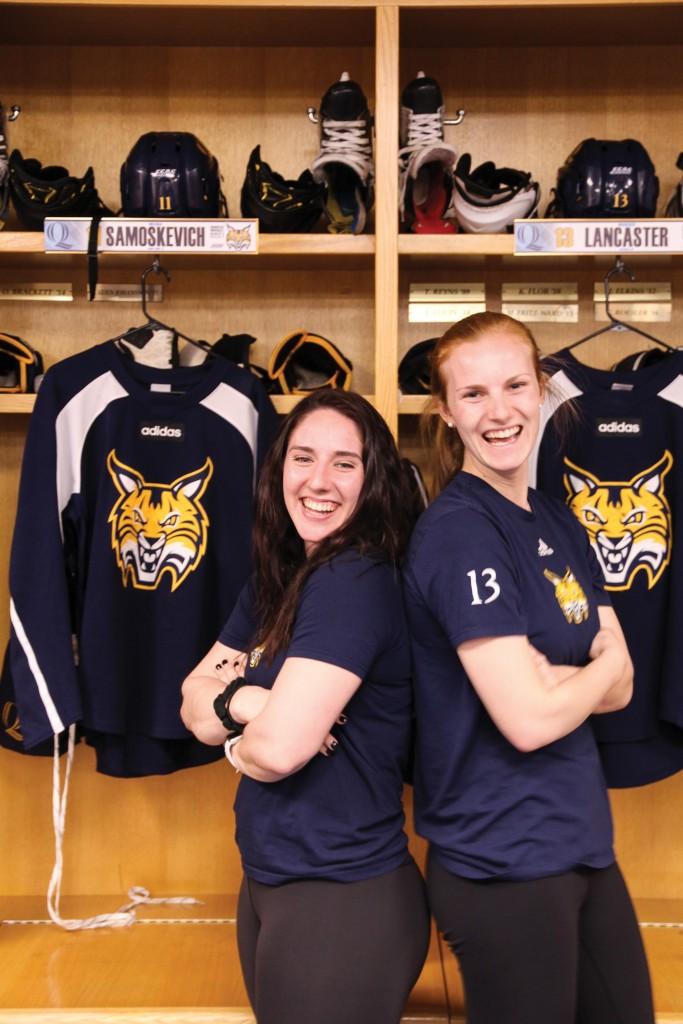 "Samoskevich to Lancaster…SHE SCORES!"
How many times can you hear something before you start to expect it?
Juniors Kenzie Lancaster and Melissa Samoskevich have formed one of the most powerful combinations in NCAA women's hockey this season. They're numbers one and two on the team in points, and each leads the team in one category (Samoskevich in goals with 15, Lancaster in assists with 14).
This kind of chemistry isn't exclusive to a few shifts every game, though. Through their almost three years together, their chemistry has spilled onto the bench, into the locker room, and even outside the arena.
"They're outstanding, and they're fun to have on the team," Bobcats head coach Cassandra Turner said. "Everyday in practice, those two have a great time. They have a great time on the bench in games, and they do that, and they play at their best."
All of that chemistry and they'd never met each other before freshman year.
Samoskevich hails from Sandy Hook, Connecticut, a 45-minute drive from the Quinnipiac campus. She starred at Shattuck St. Mary's, a preparatory school in Faribault, MN, and one of the premier hockey prep schools in the country. She's a two-time member of the US U-18 National Team, and won silver and goal medals in back-to-back seasons at the U-18 World Junior Championships.
Lancaster, meanwhile, comes from Waxhaw, North Carolina, which is 11 hours away by car or three hours by plane. She came to the northeast for high school, playing four seasons at the Berkshire School in Sheffield, Massachusetts. She captained the team her senior season, and took home a Cushing Tournament championship that same year.
The two players have developed into two of the most dangerous scorers in ECAC women's hockey. They're all over the ice, constantly in the offensive zone. When one wants to pass, they always know where the other one is going to be.
"It's cool to get to play with her," Samoskevich said. "We have a lot of chemistry. We're always talking to each other out there."
When they come off the ice after a shift, the chemistry follows them to the bench, and to the locker room in between periods. As physical and emotional leaders on the team, they're able to play off of each other in order to motivate and inspire the rest of the Bobcats.
"I know where she's going to be in support [of me], but between periods, on the bench, and in managing the emotions of the game," Lancaster said. "We bounce back off of each other when leading other people, and we're just trying to be leading by example."
When the pads come off and the backpacks go on, Samoskevich and Lancaster keep up their affinity. The juniors spend a lot of their free time together, continuously growing closer as the season progresses.
"She's my best friend on and off the ice. It's cool to get to play with her," Samoskevich said. "We have a lot of chemistry."
The friends put a lot of faith in each other, and they can feel it whenever they're working together.
"It's unbelievable," Lancaster said. "She's one of my best friends off the ice as well, so it's just great to have her there."
As some of the older skaters out on the ice, Samoskevich and Lancaster know the importance of being leaders, especially for the younger players on the team. Coach Turner has noticed this leadership and how it has been impacting the team's newest members this season.
"The great thing about culture is when your players are the ones who drive it. Samo and Kenner are driving our culture," Turner said. "You know, they're a part of a good group of juniors and seniors that all just put this team first, and it's nice to see our young players follow them."
Being a leader on a Division I college hockey team is a big responsibility, but having someone around to help can always make the job less intimidating.
"As a leader in the room, it's nice to have another voice instead of them just hearing my voice or [Randy Marcon] and [Alicia Barry] voices," Samoskevich said.
Together, the two find a perfect balance that they use to their advantage in the locker room and the hallways.
"We bounce back off of each other when leading other people, and we're just trying to be leading by example," Lancaster said.
As the Bobcats approach the playoff season, the duo is working on trying to keep the team motivated at all times.
"You can't talk the whole time; at some point, you need to focus on yourself and play your game," Samoskevich said. "So, I think we definitely build each other up with our energy and build the team up with our play along with talking them up, too."