Men's Soccer Completes Late Comeback to Down Rider, 2-1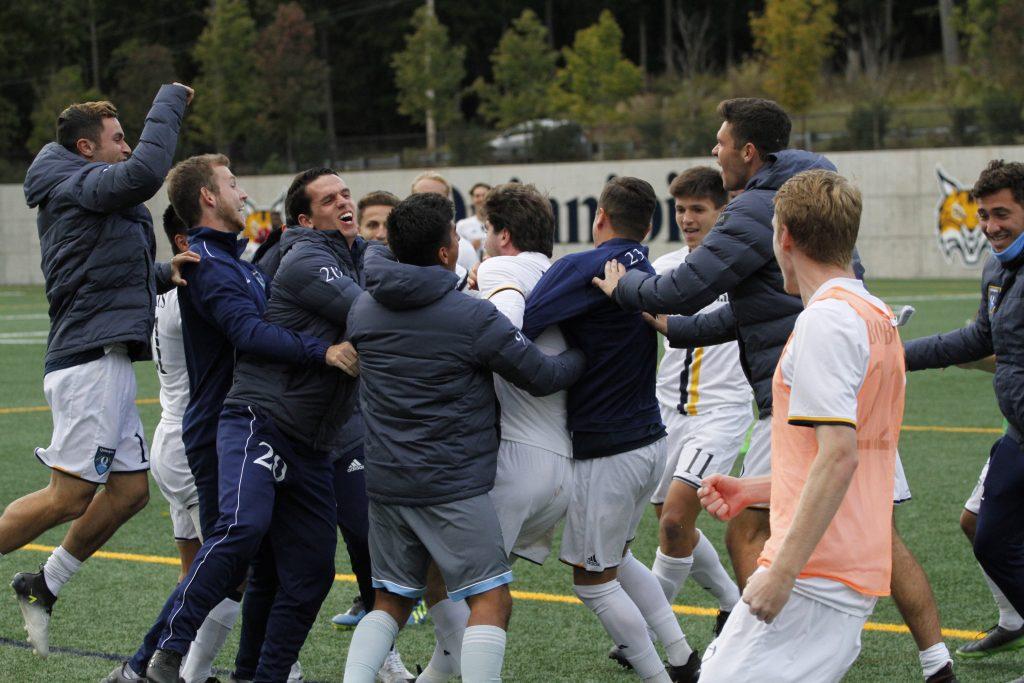 Two late goals from Eamon Whelan propelled the Quinnipiac men's soccer team (7-5-1, 5-1 MAAC) to a thrilling conference win over the Rider Broncs (4-8-1, 3-3 MAAC) Wednesday afternoon in Hamden.
Whelan scored his ninth and tenth goals of the season, further cementing himself as the leading goal scorer in the MAAC. His winner came with just 26 seconds left in regulation, when he tapped in a rebound after his initial shot was saved.
"It was a great ball by Rashawn," Whelan said. "I miss hit it at first but saw it the whole way and was fortunate enough to score."
The Bobcats looked down and out following a weird 61st minute goal from Broncs defender Aaron Robinson.
The ball was played into Robinson's head from the left side of the box, and Robinson connected with a looping header that just crept under the bar and into the back of the net.
Quinnipiac's defense looked stunned that the ball found its way in, but nonetheless found themselves trailing with just under a half-hour to play.
Coach Eric Da Costa responded with a trio of subs, including Eamon Whelan, but Quinnipiac was still unable to get anything going in the offensive side of the pitch.
Rider had a prime opportunity to seal their victory with about 15 minutes left on the clock, as they retained possession for a long period of time in their offensive zone. Defender Borja Ortiz crossed one into the box that found the head of Aaron Gabriel, but he put it just over the bar, much to the relief of the Quinnipiac defense.
Rashawn Dally was subbed on with 10 minutes to play and immediately clicked with his partner upfront in Whelan.
In the 84th minute, Jeppe Haehre's cross was headed towards goal by Dally, which found the head of Whelan, who contested Broncs goalie Pablo Gatinois for the ball and found the back of the net to even the score.
"Eamon was really brave on that first goal," coach Eric Da Costa said. "He didn't hesitate to put his body on the line and score that goal."
All the momentum swung into Quinnipiac's favor following the goal, and the Bobcats used every bit of the clock to find the game-winner in what was a hard-fought victory.
"This was a team win," Da Costa said. "We're down a lot of guys, we had a lot of new players come in today who we trust, and their confidence helped us get a positive result."
The Bobcats will get two days of rest before heading down to Fairfield Saturday night for an in-state rivalry match against the Stags. Rider will head home for an in-state rivalry of their own, as they face the Monmouth Hawks on Saturday night as well.