Volleyball Seeks First Weekend Sweep of Season Against Rider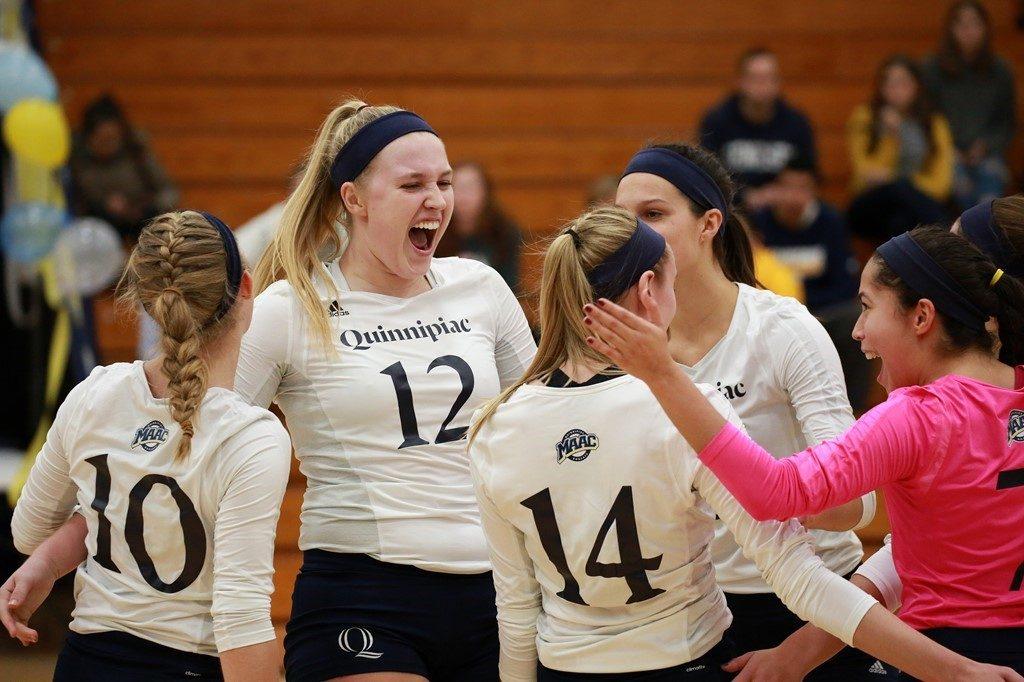 Fresh off a commanding 3-0 victory over Saint Peter's on Saturday, the Quinnipiac women's volleyball team (5-17, 4-8 MAAC) will try to secure their first weekend sweep of the season, as they welcome the Rider Broncs (10-9, 6-5 MAAC) to Burt Kahn Court on Sunday afternoon.
The Bobcats and Broncs met in Lawrenceville, N.J. on September 15 in the conference opener, with Rider coming away victorious in straight sets. The Broncs benefited from 13 kills from Savannah Logan, including five in the final frame.
Players to Watch
Quinnipiac – Gabby Horman
Currently the team leader in blocks, Horman, a sophomore middle hitter, will have her work cut out for her at the net. Rider boasts nine players listed at 6'0" or taller, including Logan and senior right side hitter Hailey Riede, who ranks third in program history with 1,157 kills. If Horman, who tallied a season-high 11 kills against Saint Peter's, can make her presence known on both the offensive and defensive side of the ball, Quinnipiac will be in great position to come away with a third straight win.
Rider – Savannah Logan and Hailey Riede
The aforementioned Logan and Riede have teamed up to rank sixth and seventh in the MAAC in kills per set on the season, providing the Broncs with a dynamic duo that will be tough to contain. Logan, a senior, has been more efficient and more accurate in her fourth season than as a junior, improving on already impressive totals in both kills per set and hitting percentage.
Keys to the Game
Quinnipiac – Apply pressure
To combat a stout Rider front line, Quinnipiac simply needs to make them prove their skill. Riede and senior middle hitter Perry Williams are usually subbed out in favor of more skilled servers when their turn in the rotation come up, so it will be up to Horman, sophomore Morgan Sherwin, and freshmen Lydia Jones and Maggie Baker to take advantage.
Rider – Play at their pace
Rider's win on Saturday at Fairfield was only their first road victory in MAAC play this season. With the Bobcats coming in with the momentum on back-to-back wins and seven straight home contests to finish the season, the Broncs must take the reins early and play to the aggressive style that has them with the advantage entering Sunday's matchup.
The Game
The Bobcats and Broncs kick things off at 1:00 PM on Sunday at Burt Kahn Court. The game will be streamed live on QBSN and QuinnipiacBobcats.com, with Max Schreiber and Jacob Resnick on the call. Be sure to follow @QBSN on Twitter for in-game updates.