Women's Soccer Continues Quest for Playoff Spot Against Marist
Connor Ullathorne
October 20, 2018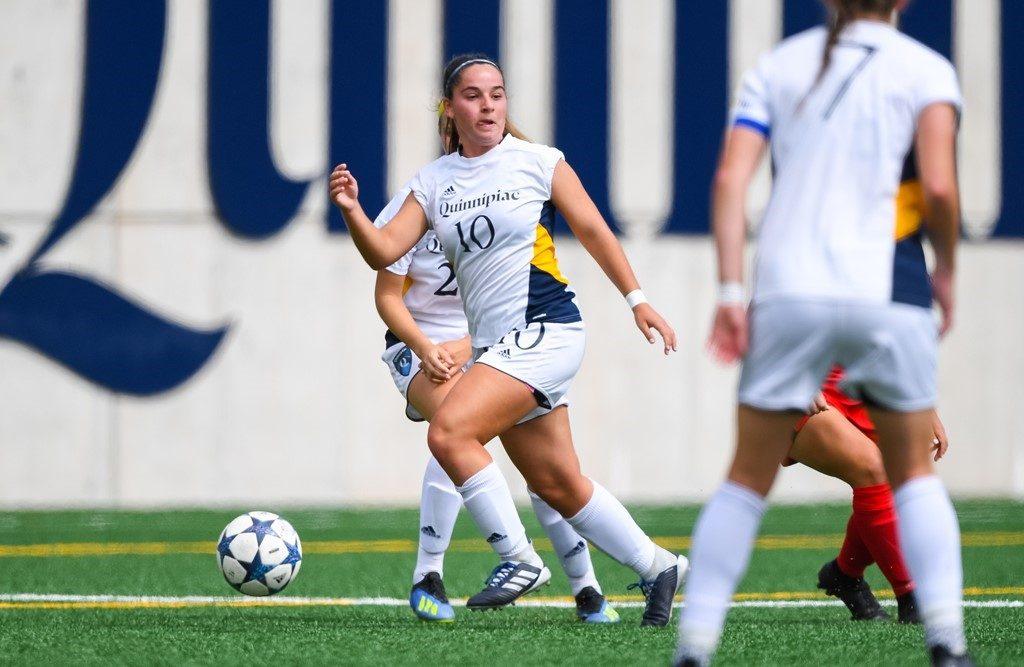 The Quinnipiac University Bobcats women's soccer team (6-7-2, 3-3-2 MAAC) host the Marist Red Foxes (8-7-1, 6-2-0 MAAC) on Saturday in Hamden. The Bobcats are just off a tough 2-1 loss against Rider in New Jersey. Quinnipiac only got one point out of their last four matches, while the Red Foxes are coming off a 2-0 victory against Siena that saw them clinch a spot in the MAAC playoffs.
Players to watch
Quinnipiac – Madison Borowiec
The senior is second on the team in goals (4) and points (11) and is tied for second in assists, with three on the year. The midfielder, who usually has a good amount of defensive responsibilities, has made plenty of runs into the opponent's penalty area and is always in the right position to contribute. Her ability on the ball and her leadership as a senior will surely make a huge difference as the Bobcats look to earn a playoff spot this year.
Marist – Nicole Sasso
The sophomore defender, who has clearly shown ability to create offensive chances, has had an excellent season so far. She is tied for first on the team in goals, with four, and second in points with 11. Sasso will use her size and strength to her advantage while on the field. At least half of her goals scored this year have been off set-pieces, so she is a target for the Red Foxes and a danger for the Bobcats in the box.
Keys to the Game
Quinnipiac – Protect the goal
The Bobcats have been outscored 8-3 in their past four matches, with four goals coming against league-leading Monmouth. This game will be a huge test for Olivia Myszewski and the Quinnipiac back four. Myszewski has looked good throughout the season, and the Bobcats need their defense and the midfielders in front of them to shut down the second-place Red Foxes.
Marist – Shoot, shoot, shoot.
Right now, Marist is only seventh in the conference in shots and fifth in goals. If the team wants to succeed, they have to test Myszewski early and often. The ball usually does not go in the back of the net unless the team shoots, so the better positions they get into, the more shots they will take. Marist has had success when they score first, but many of their wins have only come by one goal, so they need to shoot to get that one insurance goal.
Quinnipiac and Marist kick off at 12 p.m. in Hamden. The game can be streamed live at QuinnipiacBobcats.com with Ryan Flaherty and Connor Ullathorne on the call, and more updates can be found on twitter at @QBSN, @connorully5, and @RyanFlaherty18.