Women's Soccer Picks Up Crucial Point on Senior Day Against Marist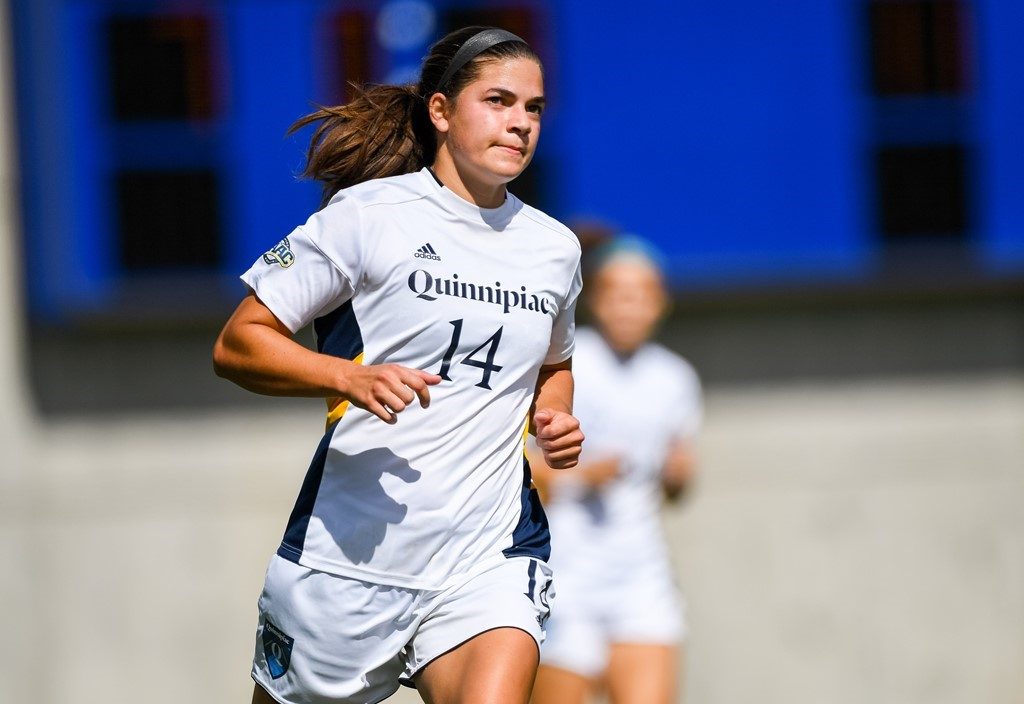 Eight seniors were honored on a beautiful Saturday afternoon as the Quinnipiac women's soccer team (6-7-3, 3-3-3 MAAC) grabbed a crucial point in the MAAC standings following a 1-1 draw to the Marist Red Foxes (8-7-2, 6-2-1 MAAC).
All eight seniors started for the Bobcats on Senior Day, including goalkeeper Devan Malcolm, who played exceptionally well in her first start of the season.
"It was a risk putting her (Malcolm) in," coach Dave Clarke said. "But you saw the save at the end, that's what she's capable of."
The save Clarke is talking about came in the final minute, when Marist fired a shot on goal that was parried by Malcolm. A mad scramble for the ball followed, but Malcolm was able to corral the ball and secure a point for Quinnipiac.
"Everyone was putting their bodies on the line," Malcolm said. "I had to have my team's back one last time."
The scoring opened in the 38th minute off a Marist corner. After the initial cross was headed clear by Quinnipiac, Marist junior Alexa Svensson tried a bicycle kick that found the right foot of Bianca Furci, who buried it into the back of the net for her 3rd goal of the season.
Marist continued to put pressure on the Quinnipiac defense, and nearly found a second goal late in the first half. Redshirt freshman Anna Davies had a golden opportunity from about ten yards out, but senior captain Jess Gargan blocked her shot and came up huge for the Bobcats.
The Bobcats found their equalizer early in the second half, and it was again Gargan who came up big. She fired a cross from 30 yards out that hit the crossbar, then found Selena Salas who put it away to tie the game.
"Selena is a true number ten," Dave Clarke said. "Her soccer IQ is tremendous."
The rest of the game was fairly evenly matched, making the 1-1 result justifiable for both teams. The Bobcats now sit at an even 3-3-3 in MAAC play, and find themselves just a point away from securing a spot in the MAAC tournament.
"The season changes once the tournament begins," coach Clarke said. "You have to be in it to win it, and if we're one of the six, the focus shifts to winning three games."
Quinnipiac's regular season will wrap up on Wednesday night when they visit Manhattan. Marist will look to secure a home-game in the MAAC tournament when they host Fairfield on Wednesday in their regular season finale.