Deja Vu for Men's Soccer as They Again Fall to Rider in MAAC Championship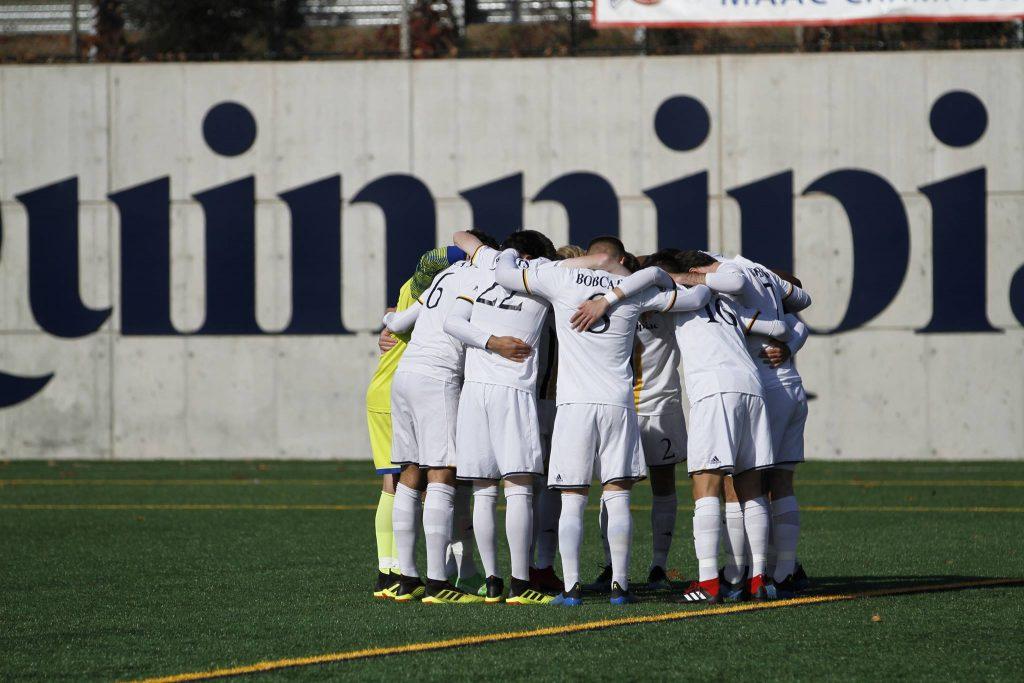 As the MAAC championship trophy was raised in the glimmering sun, there was a reflection on each side. On one side, there was a Rider team whose quest for glory had finally been achieved. Their season-long journey had come to an end, and they had leapt over every hurdle. Jubilation, excitement and relief washed upon each member.
On the other, a different picture was painted. A Quinnipiac squad which had come so close to the title, so close to their moment in the sun, had seen their hopes dashed. Pain, agony and grief resided in their camp.
Pablo DeCastro's second-half strike propelled the Rider Broncs to the 2018 MAAC championship in a hard-fought 1-0 win over Quinnipiac in Hamden on Sunday afternoon. Rider (10-9-1, 6-4 MAAC) will advance to the NCAA Tournament, while Quinnipiac (10-6-3. 8-1-1 MAAC) is going home with nothing. It is a bitter pill to swallow for the Bobcats.
"It's a bit of a heartbreaker," said Quinnipiac captain Derek Parker. "To go through a long season and to come up this short is tough."
Coming up just short was the theme of the game for Quinnipiac. About 15 minutes into the game, the Bobcats' Matthew Taylor had a free kick just yards outside the penalty box. Taylor sliced the ball towards the far side of the goal, but Rider goalkeeper Pablo Gatinois flew across the goal line to make an outstanding save at full extension. The keeper pushed the shot away with just the tips of his fingers.
The first half of the game was largely uneventful, with both teams squandering a few opportunities to score. But with 45 minutes left to crown a champion, the action was plentiful in the second half.
About 10 minutes into the final frame, Rider got the opening tally. After some routine passes got the Broncs into Quinnipiac's back third, Clement Bourret stole the show. Bourret found himself nearing the back right corner of the pitch, then slid a pass to DeCastro, who was hovering around the penalty spot. DeCastro's ensuing ground strike was perfectly placed, as it just tucked into the right post on its way past Quinnipiac keeper Jared Mazzola. Mazzola was late to the shot, having shifted in the opposite direction due to Bourret's pass. Like Gatinois, Mazzola was also able to get his fingertips on the ball, but this one was too strong to turn away.
"Obviously, they were able to create that goal," said Quinnipiac head coach Eric Da Costa. "And we threw absolutely everything we could at them."
The Bobcats most certainly did.
After conceding the first goal, Quinnipiac dominated both possession and the pace of the game. About 5 minutes later, a multitude of headed volleys left Salah Oumorou with a chance at a header over Gatinois, but it was too weak to go through. Taylor then looped a cross through the box to Oriac Vila, but his left-footed strike didn't generate enough power either, as Gatinois made the easy stop. After not being able to capitalize on these chances and countless others, the Bobcats kicked the offense into overdrive, having about 10 minutes to save their season.
With seven minutes left, Quinnipiac's Jeppe Haehre sent a beautiful cross into the box for Eamon Whelan. Whelan, the MAAC's Offensive Player of the Year with a conference-leading 13 goals and 30 points, was stoned cold by Gatinois. However, a rebound was available off his header – eerily reminiscent of Whelan's game-winning goal against these same Broncs in October. Lightning would not strike twice, though, as Gatinois forced the rebound attempt wide.
Perhaps Gatinois' finest save was his last. With just over three minutes remaining, Quinnipiac's Rashawn Dally got his chance off of one more cross. Dally, who was fifth in the MAAC with 16 points, flicked one to his left from inside the box, but Gatinois sprawled to deny the Bobcats one last time.
This Quinnipiac team had played in 13 one-goal games this season, including Sunday. They had won eight of them. Time after time, it seemed like the Bobcats always got that tying or winning goal, that they always passed the test when it mattered most. This final test proved to be the one they couldn't pass.
"We didn't get the bounces that we got in past games this year," said Da Costa. "To leave everything on the field like we did today… I couldn't be any more proud of this team."
The season went out with a whimper rather than a bang, as Quinnipiac never really threatened again, allowing Rider to hold on for dear life in the win.
For seniors like Parker, this is more than a loss: it's the end of the road.
"Best four years of my life," said Parker, his voice cracking a bit, "I'd sign up and do it all over again."
Going forward, Rider will await their opponent in the NCAA Tournament. As for the Bobcats, they'll be starting a painful offseason, thinking about what could have been.