Bobcats Heat Up From Distance, Beat Lafayette 88-77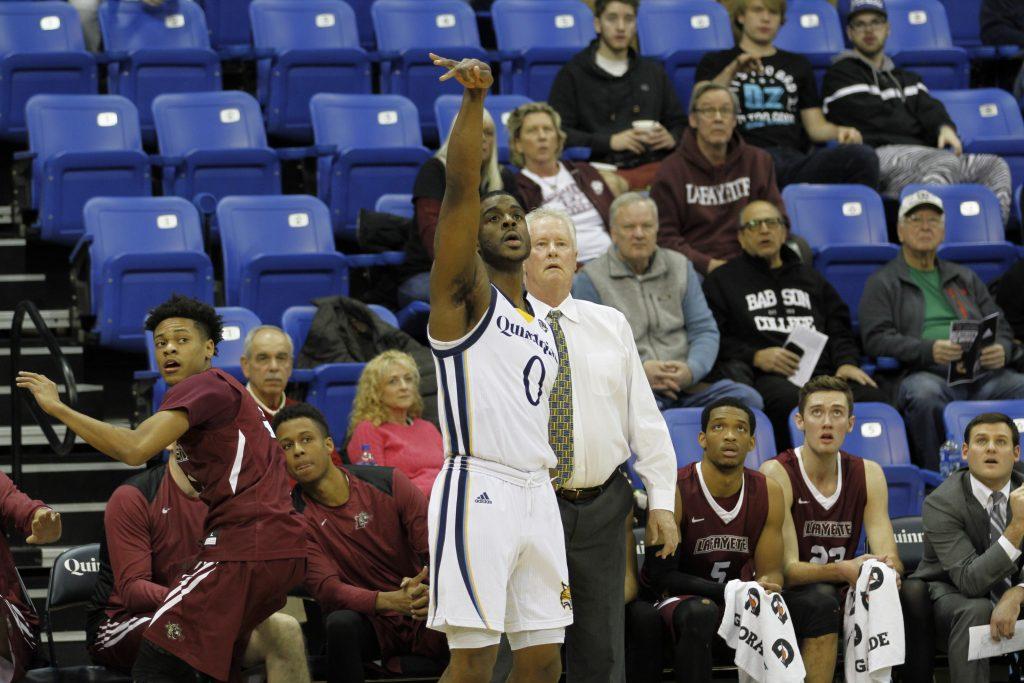 While the forecast outside was sunny, the Peoples United Center featured a downpour of threes on a Saturday afternoon. Shooting 44.8% from downtown combed with a defense which totaled nine steals on the day, the Quinnipiac Bobcats (4-4, 0-0 Metro Atlantic Athletic Conference) gave the Lafayette Leopards (2-7, 0-0 Patriot League) little opportunity to come back, winning 88-77.
The best of the Bobcats' shooting took place in the first half. In the game's early stages, three out of the team's first four scores were from beyond the arc. Starting shooting guard Tyrese Williams drained the first three for the team to tie the score up at five, followed by two consecutive triples from Bobcats leading scorer Cameron Young. Young would go on to finish the game with 28 points, shooting 4-for-8 from the three-point line.
Eventually, several Bobcats would join the splash party from downtown. After Young hit another three-pointer, Aaron Robinson would drill a corner three off of a nice feed from Tyrese Williams. Off the pick-and-roll, Williams would make his defender pay for going under the screen, draining another long range shot. Some slick ball movement from the Bobcats a few possessions later would find its way to a wide open Travis Atson in the corner resulting in another Bobcat three. Rich Kelly got a late invitation to the party, but delivered with a three later in the first half extending Quinnipiac's lead 34-20.
With so many open shots from the three-point land, it brought many to wonder how the Bobcats were getting so many wide open looks. Quinnipiac head coach Baker Dunleavy wasn't surprised with the opportunities his team was getting from distance.
"A lot of those (three-point shots) came off of us putting pressure on the paint… putting pressure on the inside and kicking it back out," Dunleavy said.
The Bobcats were able to take a commanding first half lead, as they were up 45-30. The team continued to play at a solid level, keeping a ten-point lead for the entirety of the second half. Six Bobcats finished in double figures, the first time the team was able to do so this season.
In his second game back from injury, Rich Kelly played well, scoring 11 points and playing pesky defense with two steals.
"He makes players around him better…that's his major talent. His presence allows everyone to play more to their strengths," Dunleavy said about his point guard.
With Kelly as the team's main ball handler, it granted Tyrese Williams the ability to play at his natural position as a shooting guard, putting up numbers with 16 points and setting up his teammates with seven assists. It also allowed Cameron Young to focus more on scoring off the ball, which allowed him to put up as many points as he did.
The Bobcats will look to extend their winning streak to three against the Drexel Dragons (5-5, 0-0 Colonial Athletic Association) in the Air Force Reserve Basketball Hall of Fame Tip-Off event. This game will be at a neutral site in Uncasville, Connecticut on December 16th. With both teams sitting at .500, it is sure to be a great game between evenly matched opponents.