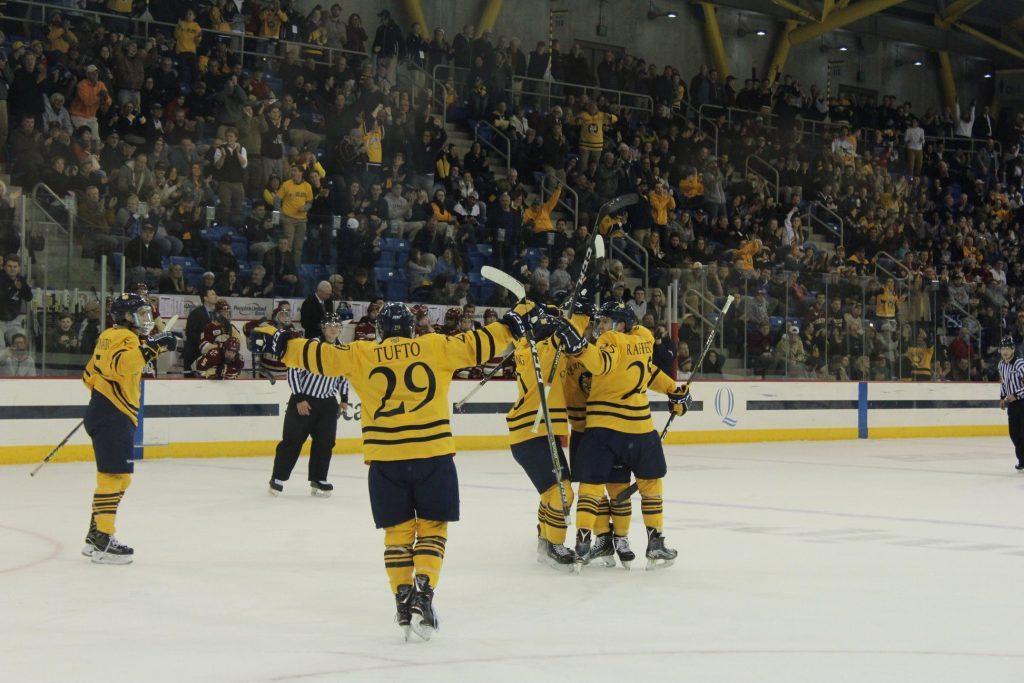 17 regular season games down, 17 regular season games to go.
We've reached the halfway point of the season for the Quinnipiac men's ice hockey team. The Bobcats are taking a few days off to rest up before beginning their preparations for the second half. So, what better time than the present to take a look back at the season thus far?
And, since professors have the nerve to hand out final grades around this time of year, I figured I might give it a try as well.
For this report card, I've broken the first half of the season up into a few categories – offense, defense, goaltending, and special teams. After passing out individual grades for each of those categories, I'll put it all together for the ever-so-terrifying overall grade.
I'll also hand out a little hardware at the end of this piece, naming my first half MVP, top rookie, and unsung hero. While it's hard to single out players on a team that has collectively done so well thus far, I'll do what I can.
Okay, let's get started!
FIRST HALF SUMMARY: There was a level of uncertainty surrounding the Bobcats heading into the 2018-19 season. Returning just 14 players and only 11 skaters, 13 freshmen were set to make their debuts in Hamden this season. It was safe to assume that there'd be a bit of a learning curve, and that it may take some time for the new players to get up to speed.
The Bobcats responded by winning their first six games of the season, their longest winning streak since the end of 2015-16.
You know, the year the Bobcats went to the NCAA Division I Men's Ice Hockey Championship.
After losing two out of their next three games, the Bobcats returned to their winning ways, reeling off another seven victories in a row. Quinnipiac went from being unranked in USCHO's first poll of the season to ending the semester ranked fourth in the nation.
Sophomore forward Odeen Tufto continued to climb the national ranks, putting up 15 points in his final seven games and finishing the semester tied for fourth in the nation with 25. Senior captain Chase Priskie also got off to a career-defining start, as he sits tied for third in the nation in goals with 12 and leads all defensemen with 21 points.
OFFENSE: Paced by the aforementioned Tufto and Priskie, the Quinnipiac offense sits sixth in the nation, scoring 3.71 goals per game. The team has a +33 goal margin this season, which is third in the nation, and by far the highest of any ECAC Hockey opponent.
Not only that, they're doing all of this while averaging only 30 shots per game, which is middle-of-the-pack in the NCAA. This is a drastic improvement from last year, when they averaged over 33 shots per game (10th), but scored just 2.76 goals (34th).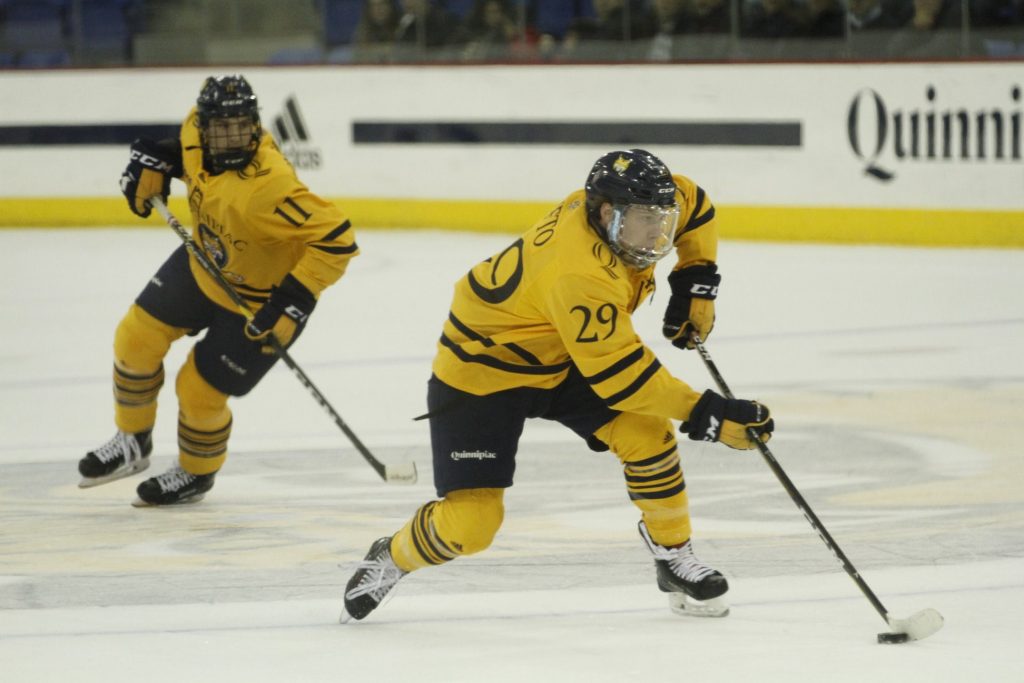 A large portion of the offense has been generated from the blue line, as four of the Bobcats' top seven scorers are defensemen. Aside from them, Tufto, Craig Martin, Ethan de Jong, Alex Whelan and William Fällstrom have all reached double digits in points this season.
The one reason that I'm taking marks away from the offense in the first half is for that exact reason. Odeen Tufto and the six main defenseman on the roster have racked up 91 of the Bobcats' 170 total points this season, or 54% of the offense. That's seven players out of 24 on the roster.
The scoring depth from the Bobcats' offense is what will make them a contender for a national title. OnceNick Jermain and Desi Burgart return to the lineup and produce, that will give Quinnipiac a four-line attack that can't be matched across college hockey.
GRADE: B+
DEFENSE: I'll put this as simply as I can…the Bobcats' defense has been elite this year. From top to bottom, this group has continued to improve throughout the season and has already found a great deal of success.
The Bobcats ended the first half of the season giving up just 1.76 goals against per game, the second-lowest total in the nation, and just 0.02 goals more than first place Bowling Green. They're allowing just 24.88 shots against per game. While the shots aren't all that different from last year's squad, Quinnipiac is surrendering over a full goal per game less than they did last season (2.79 – 26th).
As previously mentioned, the Bobcats' offense has started from the blue line this season. Chase Priskie's 21 points sit tied for 11th in the nation, while his 12 goals sit tied for 3rd. Not to be outdone, senior Brandon Fortunato's 15 points are tied for 13th among all defensemen, and his 13 assists are tied for 6th.
Junior Karlis Cukste's 11 assists are already a career-high, and he's developed into one of the strongest two-way defenders in ECAC Hockey. He's always the first defender on the ice for the penalty kill, and he and Priskie are often paired together toward the end of games for high-leverage situations.
Overall, the depth of the group has been impressive, and with freshman Peter DiLiberatore continuing to develop, there's room for the group to get even better.
GRADE: A+
GOALTENDING: My broadcast partner for Quinnipiac's women's hockey broadcast, Phil Giubileo, and I have made this remark to each other a number of times throughout the season – most college teams are lucky to find one strong starting goaltender that can lead their team to the playoffs.
In the case of the Bobcats, they have two.
Junior Andrew Shortridge and sophomore Keith Petruzzelli have both been excellent, and they both give Quinnipiac a chance to win every time either stands between the pipes.
I'll begin with Shortridge, not only because of seniority, but also because he is in the midst of a career-defining season. Though the sample size isn't as large as that of Petruzzelli (six games played versus 11), Shortridge has done everything in his power to make those six count.
Both his 0.83 goals against average and .966 save percentage lead the nation.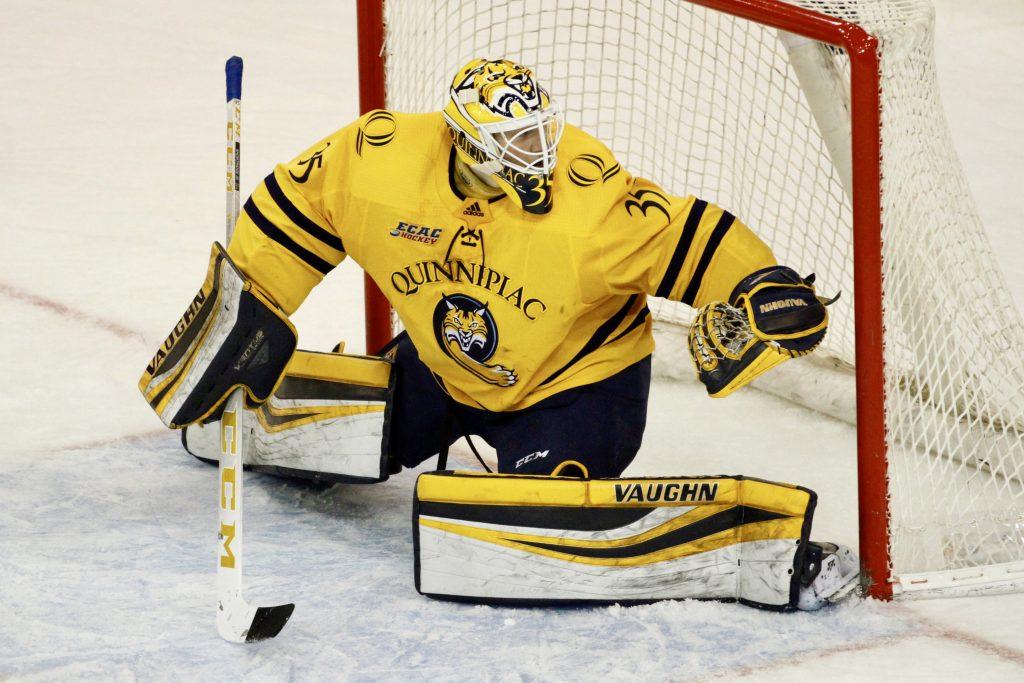 He's also one of just two goalies in the nation to have won all of their games (6-0-0; UMass' Matt Murray is 11-0-0). He also has three shutouts in those six games, tied for third in the nation in that category.
Not to be outdone, Keith Petruzzelli has responded by improving his own game between his freshman and sophomore campaigns. He's already quadrupled his win total from a year ago (2018: 8, 2017: 2) and is giving up nearly a goal per game less than a year ago (2018: 2.10, 2017: 3.06). Although he does own all three of the Bobcats' losses, he has picked up a number of high-leverage victories over Harvard, Boston College and Princeton.
Shortridge has wrestled a good deal of the playing time away from Petruzzelli, and deservedly so. No matter who's in net, though, the Bobcats are in good shape.
GRADE: A
SPECIAL TEAMS: Plain and simple, both the power play and penalty kill have been stellar this season for the Bobcats. They finish the first half of the season in the top ten for both their power play (25.3%, 7th) and penalty kill (88.9%, 5th). In league play, both units are ranked second.
The power play has been paced by their first unit, and head coach Rand Pecknold's unique decision to use three defensemen on the first unit has paid off in spades. Priskie, Rafferty and Fortunato constitute the "umbrella" at the top of the offensive zone for the first unit, with Tufto and Wyatt Bongiovanni working down low near the net.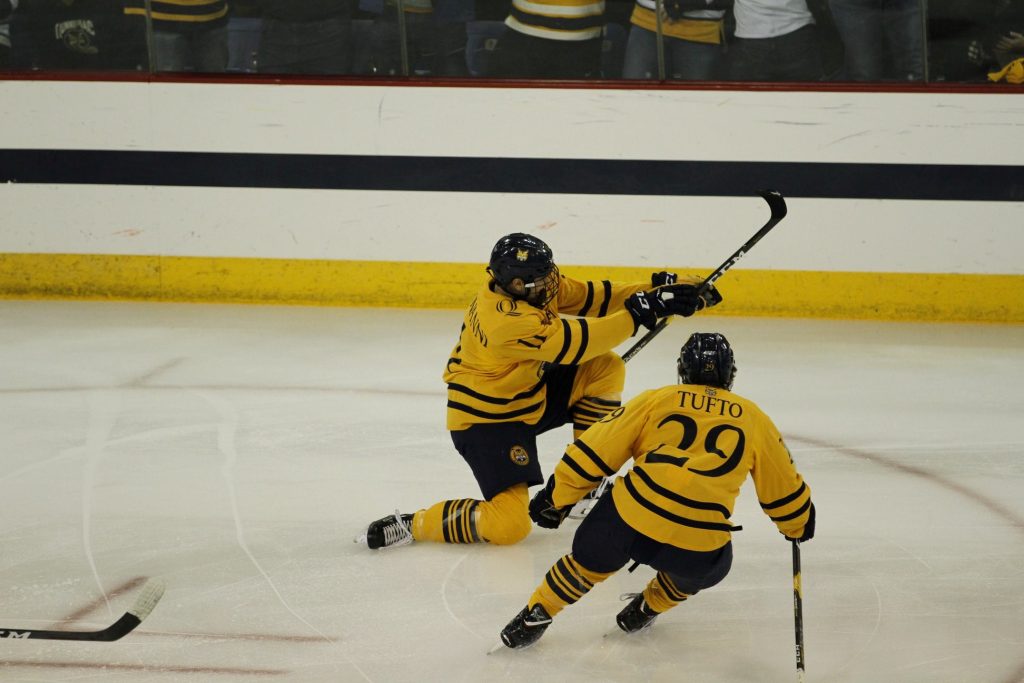 On the penalty kill, Pecknold has relied on a combination of youth and experience, and it's paid off to this point. Freshmen Desi Burgart and William Fällstrom have both been relied upon up front, along with veterans Craig Martin and Scott Davidson. From a defensive standpoint, the Bobcats rely on their top four of Priskie, Cukste, Fortunato and Rafferty.
Both the PP and PK units have conversion rates near the top of the nation in their respective categories, and as the aforementioned freshmen continue to develop in their roles, the numbers are bound to improve further.
GRADE: A
OVERALL: After their first losing season since the 1995-96 season – and with 13 freshmen joining the team for the 2018-19 campaign – expectations for this year's Bobcats were a bit tempered to start the season. The Bobcats were picked to finish 8th in the ECAC Hockey Media Poll and 7th in the coaches' poll.
Quinnipiac responded by winning their first six regular season games and closing with a seven-game unbeaten streak before dropping their final game of the first half to top-seeded UMass. The team's success begins with their defense, and will continue to do so in the second half.
The offense has been a bit top-heavy to start the season, but the Bobcats boast one of the best five-skater offenses in the nation. If lines two through four can contribute at a higher rate, then look out, NCAA Hockey.
OVERALL: A
FIRST HALF MVP: Chase Priskie
Very few players have grown quite like Priskie. Hailed as an offensive defenseman coming to Hamden, the captain has developed into an elite defender in all three zones on the ice, and is now regularly relied upon by the coaching staff in high-leverage situations in the defensive zone.
From an offensive perspective, he's already set a career-high in goals in a season with 12, and sits just five points shy of his career-high. He regularly double-shifts on the power play and penalty kill, and quarterbacks the first unit.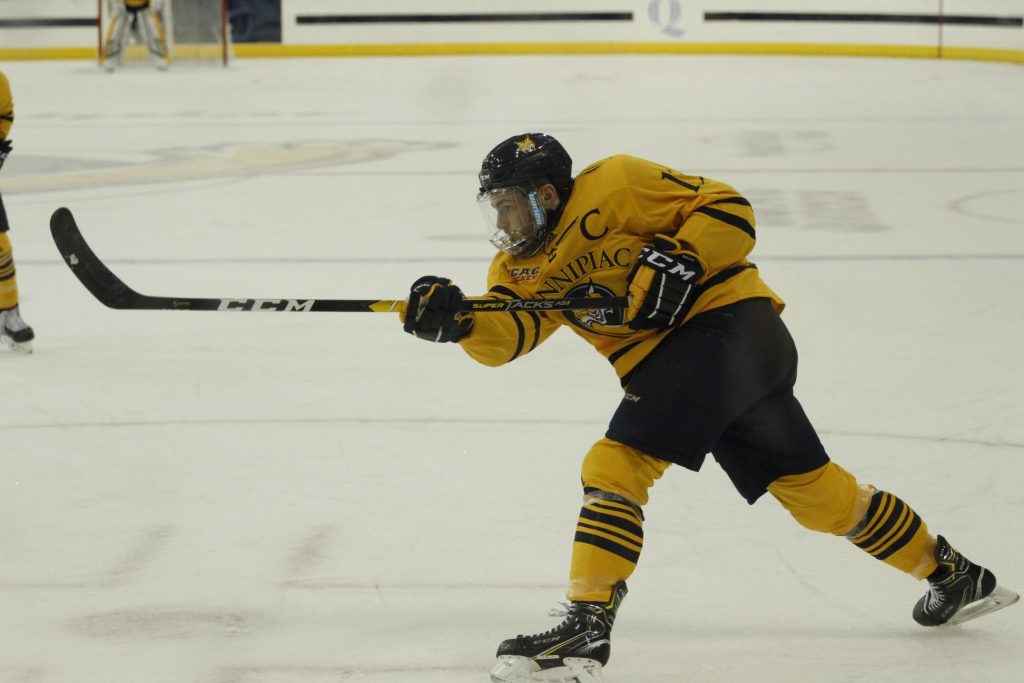 Off the ice, Priskie was nominated as a candidate for the Senior CLASS Award, which honors student-athletes who excel both on and off the ice.
All in all, this team goes as Chase Priskie goes, and this season, he's going at a career-defining pace.
ROOKIE OF THE FIRST HALF: William Fällstrom
He's not the rookie with the highest point total. He does not lead freshmen in goals or assists. Freshmen Wyatt Bongiovanni and Ethan de Jong both hold the lead in those categories.
All of that said, William Fällstrom has stepped in and established himself as the second line center on the Bobcats, which is widely regarded as QU's "shutdown" line. He is a +7 on the season and leads all forwards with 15 blocked shots.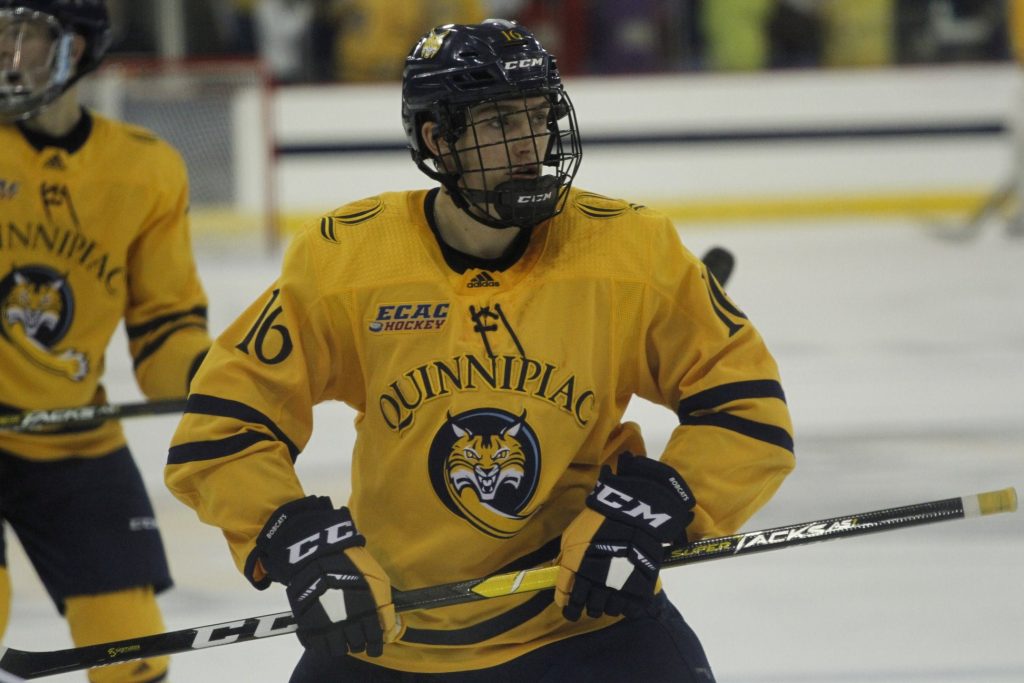 Coming into the season, center was one of the Bobcats' thinnest positions. Tanner McMaster and Kevin Duane both graduated, and Craig Martin and Scott Davidson both moved back to the wing. Fällstrom came in and formed a dynamic top-two center duo with Odeen Tufto, helping solidify the top-six forwards.
UNSUNG HERO: Brandon Fortunato
After transferring from Boston University following a stellar sophomore campaign (5-17-22 in 38 games), fans in Hamden were excited to see the puck-moving defenseman in blue and gold.
And then, almost inexplicably, Fortunato's production fell off a cliff.
Luckily, the senior defenseman has rebounded with a fantastic start to the season. He's scoring nearly a point per game from the blue line and has become a valuable asset in his own zone, as well.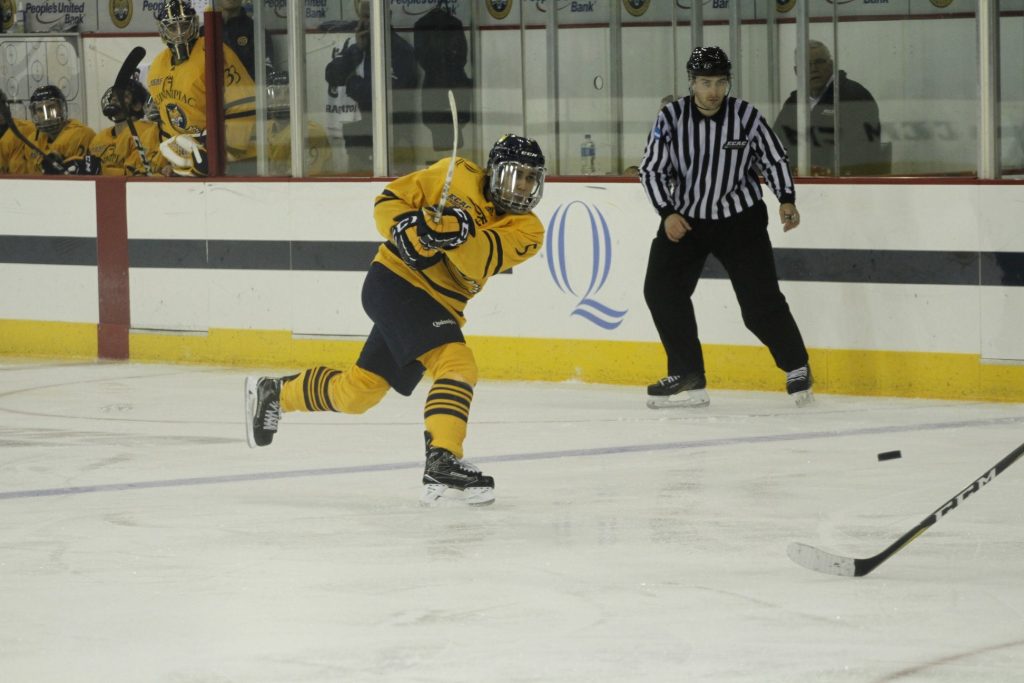 Widely regarded as one of the best puck possessors on the Bobcats, Fortunato helps start clean breakouts, and is always ready to get a puck on net and create offense from the point. He's added a great deal of depth to Quinnipiac's defense, and he is poised for a strong finish to his collegiate career.
A LOOK AHEAD: The Bobcats are off until December 29th, when they travel to Nassau Coliseum to play a conference game against Colgate – a game that kicks off a 17-game stretch in which 15 come against ECAC Hockey foes. Nine of them will be played at the Frank Perrotti Jr. Arena, a rink in which QU is already 6-1 on the season.
The Bobcats play two games against first-place Yale, including their regular season finale, which will be played at Ingalls Rink in New Haven. They also have revenge games against Darmouth (at home) and Union (on the road), their two in-conference losses.
There are no easy games in ECAC Hockey. Just last weekend, last place St. Lawrence upset No. 16 Clarkson. That said, the Bobcats are playing championship-caliber hockey this season. Tighten up a few things on offense, pick a starting goaltender, and let's bring some hardware to Hamden.