Pecknold, Priskie Make History as No. 5 Bobcats Cruise to 6-0 Win over Colgate
Hang on for a minute...we're trying to find some more stories you might like.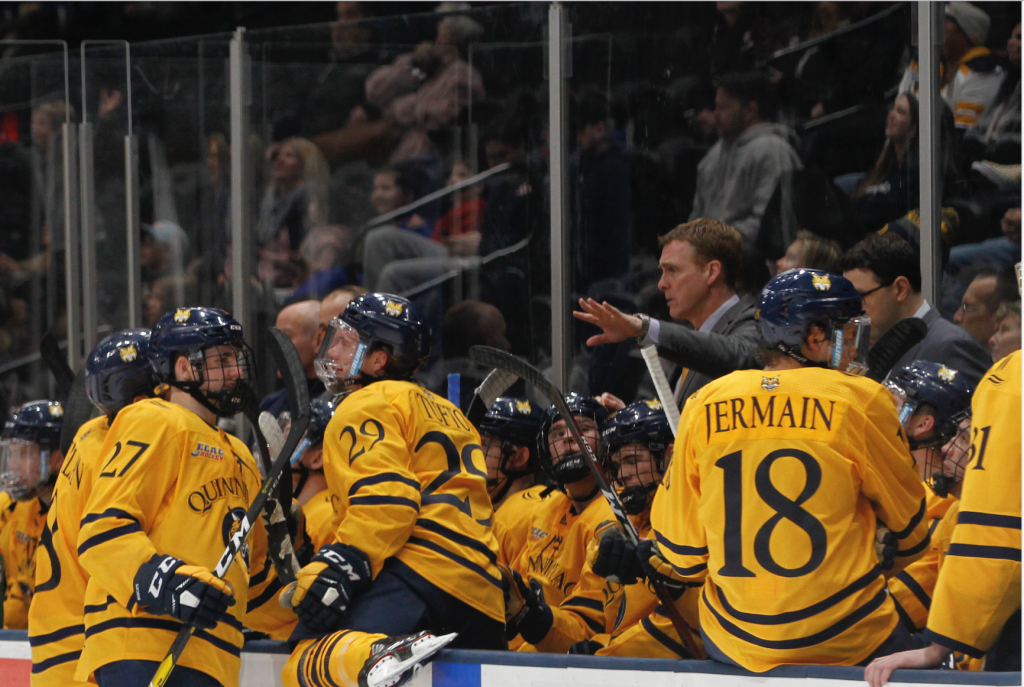 "It's my life."
After 25 years and 500 wins, it's hard to argue with Rand Pecknold's statement.
It took a lot of work for the the head coach of Quinnipiac's hockey team to get to this point. Starting as a Division II hockey program, Pecknold has turned Quinnipiac into a Division I national powerhouse, and his team is once again ranked in the top five of the country. After Pecknold notched that historic win in the fifth-ranked Bobcats' (15-3-0, 6-2 ECAC Hockey) 6-0 win over the Colgate Raiders (4-10-2, 1-3-2 ECAC Hockey) on Saturday, he took a moment to reminisce.
"We were practicing at midnight, and I wasn't making any money," said Pecknold of the start of his tenure in Hamden. "I remember the big thing in year two, we moved from a midnight practice to a 9:45 p.m. practice – it was heaven," he chuckled. "It was just survival."
Pecknold has gone from simply surviving to thriving; coming off of a down season in 2017, this season has been one of a vintage Rand Pecknold-led Quinnipiac squad: energetic, workmanlike and dominant. All three of these qualities were present in Saturday's matchup.
Although the game was played at Nassau Coliseum in Long Island, Quinnipiac also could've called Colgate's defensive zone as their home. After controlling possession and pace through the first 10 minutes of the game, the Bobcats finally drew first blood.
Quinnipiac's Peter DiLiberatore received the puck near the blue line before skating in a few feet. No one picked him up, so he just kept drifting on into the zone until he eventually found himself about 10 feet in front of the net. Seemingly surprised by how open he was, the freshman scored his first career goal by firing a wrister past Colgate's Andrew Farrier for a 1-0 lead.
About five minutes later, Ethan de Jong doubled Quinnipiac's lead. A horrid turnover by the Raiders near mid-ice gave de Jong a breakaway – he'll have to wash his mitts as a result.
After breaking out some filthy, filthy dekes, de Jong calmly put one over Farrier's glove for his fourth of the season, and his team took a 2-0 lead into the locker room after the first.
Less than five minutes into the second period, Karlis Cukste put the nail in Colgate's coffin. His wrister from the point found its way through everybody, including Farrier, for a 3-0 Bobcat lead. Quinnipiac sent multiple bodies in front of the net for an effective screen, and Farrier couldn't see anything until it was too late.
The Raiders slightly picked up the pace after conceding Cukste's first goal of the season, but they couldn't get one past Quinnipiac's Andrew Shortridge, who upped his record to 7-0-0 in a 19 save performance. Shortridge also improved his nation-leading save percentage to .970 in the win.
In the third period, another milestone was on the verge of being broken for Quinnipiac. Chase Priskie, the Bobcats' captain, needed just two points over the final 20 minutes to reach 100 for his career. He didn't disappoint.
With the puck about to be cleared out of Quinnipiac's offensive zone, Priskie leveled a Colgate defender to keep the puck in. This resulted in an odd-man rush, and Priskie found Michael Lombardi for an easy tap in and a 4-0 lead.
Priskie reached triple digits for his career by using his most reliable weapon: his slap shot. In a play that Quinnipiac players, coaches and fans alike have seen countless times, Priskie unleashed a cannon of a slapper from the point, which created an easy rebound for freshman Desi Burgart. Burgart put away an easy backhanded rebound for his first career goal, and Priskie etched his name into the record books, becoming the fourth defenseman in program history to reach 100 points.
As he explained after the game, though, he didn't even keep the puck.
"I made sure Desi got it," Priskie said with a laugh. "You never forget your first… hopefully the floodgates open, and we see many more."
On the day his head coach recorded the historic win, Priskie talked about how his game has evolved to an elite level over his four seasons under Pecknold.
"He works with me every day, just to get better at little things… he's just had such an impact on my career," Priskie said. "I couldn't say enough great things about (Pecknold)."
In turn, Pecknold heaped the praise on his captain.
"(Chase) is such a high-character person… you can't say enough good things about him," Pecknold said. "He's been a great captain, and he's been our best player this year."
Alex Whelan capped off the banner day with a late goal to end the day's scoring, and the No. 5 team in the country looked as good as ever in their 6-0 win. The head coach reflected once more on his time with the program.
"It's my life," Pecknold repeated. "It's my family's life… I don't think I've got another 25 (years), but I don't think I'm going anywhere right now."
As Saturday's game between the two teams was at a neutral site, it didn't count towards ECAC Hockey standings. As a result, they will meet up for a third time in each team's next game on January 4.