No. 5 Men's Ice Hockey Looks to Clinch First Round Bye on Senior Night Against Clarkson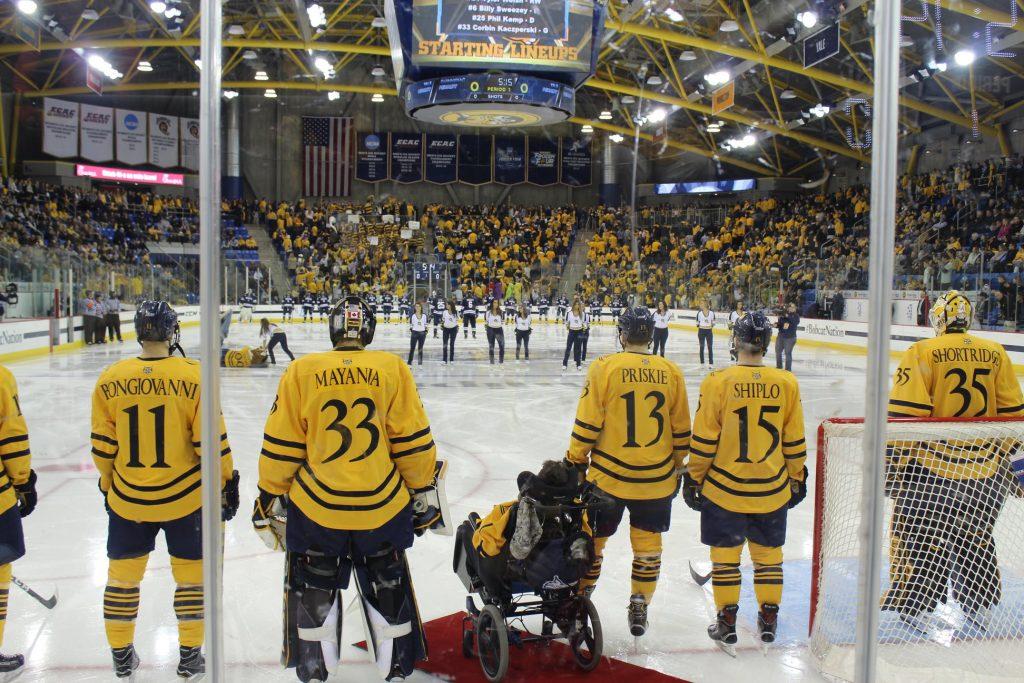 Saturday night could send the Quinnipiac men's ice hockey team out of Hamden with a bang.
The No. 5 Quinnipiac Bobcats (23-6-2, 12-5-2 ECAC Hockey) welcome the No. 13 Clarkson Golden Knights (20-10-1, 11-7-1 ECAC Hockey) to Frank Perrotti Jr. Arena for the Bobcats' last home game of the regular season. If Quinnipiac wins, the team will secure a first round bye in the conference playoffs and gain home ice advantage in the second round.
Before Saturday's game starts, Quinnipiac will honor five seniors for Senior Day: Brandon Fortunato, Luke Shiplo, Craig Martin, assistant captain Scott Davidson and captain Chase Priskie. However, Fortunato is sidelined due to a season ending leg injury that occurred two weeks ago.
Players to Watch
Quinnipiac – Chase Priskie
It might seem like a cop out to choose Quinnipiac's Hobey Baker Award hopeful, but for Quinnipiac's Senior Day, Priskie deserves it. Priskie scored a power play goal and tallied an assist against St. Lawrence on Friday night, tying him for sixth most points in the NCAA (15G, 22A, 37Pts) and second amongst defenseman. Also, the senior is one goal away from tying Quinnipiac's program record for most goals scored by a defenseman in a season.
Clarkson – Jake Kielly
While Quinnipiac allows the fewest goals per game in ECAC Hockey (1.72), Clarkson is second in goals against average (1.89). Clarkson goalie Jake Kielly, is one of the best in the NCAA, sporting the fifth best save percentage (.931). Kielly is coming off arguably his best performance this season, saving 35 of 36 shots against the offensively loaded Princeton Tigers on Friday night in a 1-1 tie.
Keys to the Game
Quinnipiac – Win the faceoff battle
Quinnipiac slumped for three games in the faceoff circle against Dartmouth, Harvard and Boston University, but in the eight games since then, the Bobcats have won more faceoffs than their opponents each time. The result is more puck possession – a key factor in Quinnipiac's matchup against Clarkson. Simply put, if Quinnipiac can keep the puck away from Clarkson, the Bobcats should be in good shape. That starts by winning faceoffs.
Clarkson – Stay out of the penalty box
If the Golden Knights take away anything from St. Lawrence, their North Country neighbors, it is this: do not take penalties against Quinnipiac. The Bobcats torched the Saints on the power play, scoring four of six times. Clarkson holds the third best penalty kill percentage in the conference (84.5%) and needs to take time and space away from this red hot power play if it wants to compete.
The Game
Make sure to tune in to QBSN's live broadcast of Quinnipiac vs. Clarkson from People's United Center in Hamden, Connecticut. MJ Baird and Kyle Levasseur will be on the call for the game. For live updates throughout the game, make sure to follow @QBSN on Twitter.