Softball Opens Conference Play Against Manhattan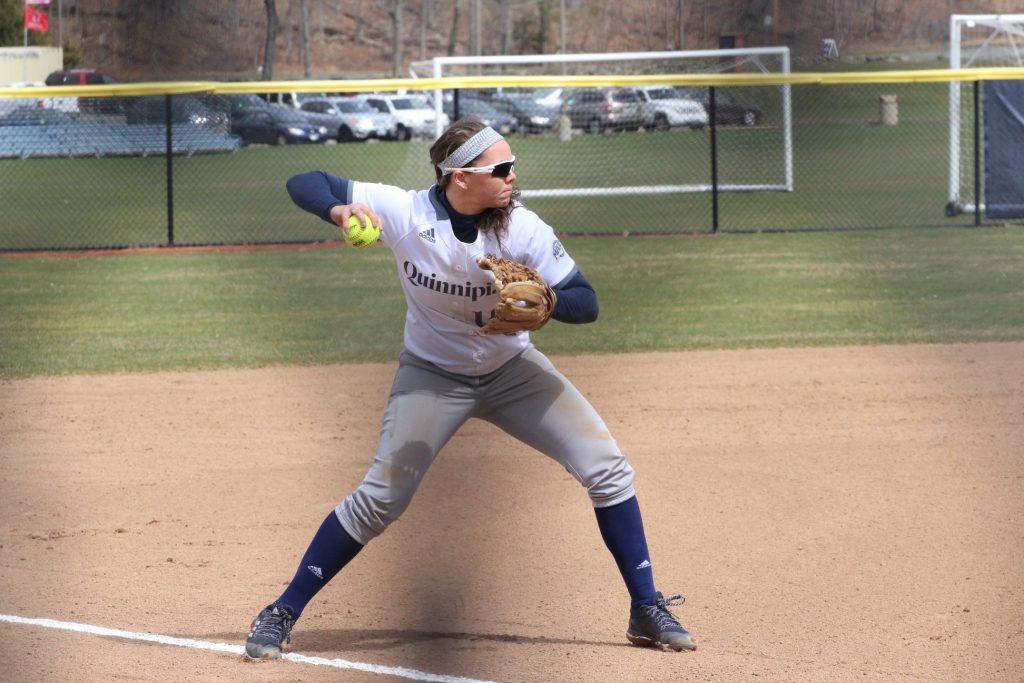 The Quinnipiac Bobcats (5-18, 0-0 Metro Atlantic Athletic Conference) will play host to the Manhattan College Jaspers (9-13, 0-0 Metro Atlantic Athletic Conference) Saturday, in the first of two doubleheaders this weekend in Hamden. The Bobcats are entering conference play having been swept in a midweek doubleheader by the Brown Bears. The Jaspers enter Hamden in a very similar fashion, having dropped both games of a Wednesday doubleheader at Wagner College.
Players to Watch:
Quinnipiac: Kayla Jensen and Erin Larsen
Although she may not be lighting it up early in the year, Larsen was consistently one of the team's best player a year ago. In 2018, Larsen hit .345 with an OPS over 1.000 and led the team in almost every statistical category including runs, hits, home runs, and RBI's. I would expect Larsen to be a key contributor for the Bobcats as they enter MAAC play. During Larsen's cold streak, sophomore Kayla Jensen has picked up the slack. Jensen is batting .392 in 79 at-bats this season with an OPS of .910. She's played in every game for the Bobcats this year and figures to be one of their best players this season.
Manhattan: Lauren Pitney and Stephanie Kristo
Off to hot start this year, Pitney has played in every game for the Jaspers, batting .414 in 58 plate appearances this season. She currently leads her team with 18 runs, 14 RBI's, and a .724 slugging percentage. Expect Pitney to lead the charge for the Jaspers offense all year. While Pitney is expected to lead the offense, it will be Kristo who will lead the team from inside the circle. She's currently 4-3 this season with an ERA of 4.30 in 40.2 Innings and 13 appearances. Her 16-19 strikeout to walk ratio is cause for concern but it's early in the season so that should improve with time. Kristo could be key in shutting down Quinnipiac's offense this weekend.
Keys to the Game:
Quinnipiac: Pitching
With the departure of star pitcher Casey Herzog, who graduated last spring, one of the biggest questions surrounding the team is who will take over as the ace. The team's current rotation of Lauren King, Kendall Brundrett, and Brooklyn Maguire is still trying to answer that question as the beginning of the season has been a struggle for all three ladies. In 144 innings this season, the three have a combined ERA of 6.75, they've given up 108 earned runs, allow their opponents to hit .285, and allow more walks (95) then strikeouts (75). If the Bobcats are going to have any sort of success in the MAAC this year, it all starts inside the circle.
Manhattan: Offense
If the Jaspers are going to win this series, it's going to be from the plate. Similar to the Bobcats, their pitching staff has had a slow start to 2019 so getting out to a fast start could be the key this weekend. It's hard to play from behind and if the Jaspers can make early contact and get a few runs over the plate early it could put a lot of pressure on the Bobcats offense and takeaway the home field advantage.
Make sure to tune in to QBSN's live broadcast of Quinnipiac vs. Manhattan from the Quinnipiac Softball field in Hamden, Connecticut. Jon Surratt and Ryan Flaherty will be on the call of the game. For live updates throughout the game, make sure to follow @QBSN on Twitter.