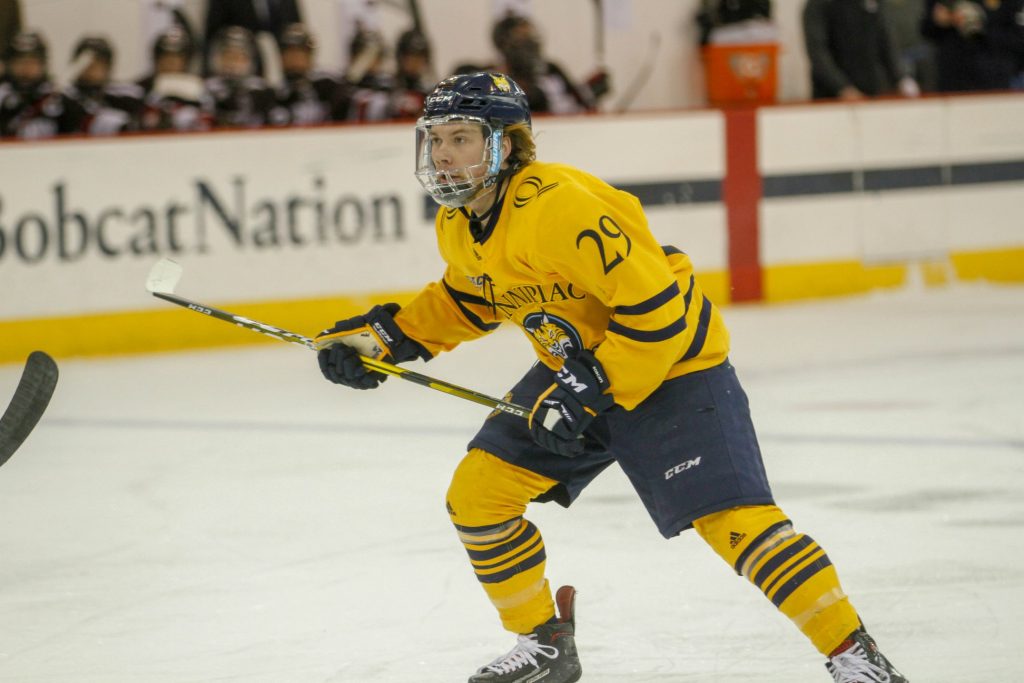 It's the most wonderful time of the year for college hockey fans, as college hockey's own version of "March Madness" gets underway.
The No. 2 Quinnipiac Bobcats (25-9-2, 14-6-2 ECAC Hockey) take on the No. 3 Arizona State Sun Devils (21-12-1 overall) in the semifinals of the NCAA Midwest Regional in Allentown, PA.
The Bobcats enter the NCAA Tournament for the first time since the 2015-16 season, when they made it to the National Championship game after winning the ECAC Hockey tournament. The Sun Devils, meanwhile, make their first appearance in the NCAA Tournament in program history after finishing the regular season with a record above .500, also a program first.
Quinnipiac was selected as the No. 7 overall seed in the tournament, the second-highest seed to come out of ECAC Hockey this season, as the Clarkson Golden Knights earned the No. 5 overall seed. Minnesota-Duluth and Bowling Green round out the rest of the Midwest regional.
Notes for the Bobcats
Senior captain Chase Priskie returns to action after missing the team's previous two games. The senior was named a Top 10 finalist for the 2019 Hobey Baker Award.
Junior goaltender Andrew Shortridge was named a finalist for the 2019 Mike Richter Award, given to the best goalie in college hockey.
Freshman defenseman Peter DiLiberatore is riding a five-game assist streak. He has 3 goals and 16 assists for 19 total points this season.
Junior forward Nick Jermain is riding a hot streak of his own, posting 3 goals and 2 assists for 5 points over his previous four games.
Notes for the Sun Devils
Junior goaltender Joey Daccord has started all 34 of his team's games this season, playing all but 8:20 this season for Arizona State.
Daccord, along with Shortridge, was nominated as a finalist for the Mike Richter Award.
Sophomore forward Johnny Walker is having a career year, tallying 23 goals and 11 assists for 34 points this season.
Walker has posted 4 goals and 3 assists for 7 total points in his last 5 games.
Junior defenseman Brinson Pasichnuk has played extremely well of late, tallying 8 points in his last 6 games on the blue line.
The Sun Devils will be without sophomore defenseman Jacob Wilson for today's game, as he was suspended for two games for an illegal hit in Arizona State's final game against Minnesota.
How to Listen
Join Steven Pappas and Dan Bahl for the call on QBSN. The broadcast gets underway at 7:30 PM, and you can listen at www.mixlr.com/qbsn. You can follow our social media accounts @QBSN on both Twitter and Instagram.