As Men's Basketball Season Ends, Program Says Goodbye to Impactful Seniors
Max Schreiber
March 10, 2019
Hang on for a minute...we're trying to find some more stories you might like.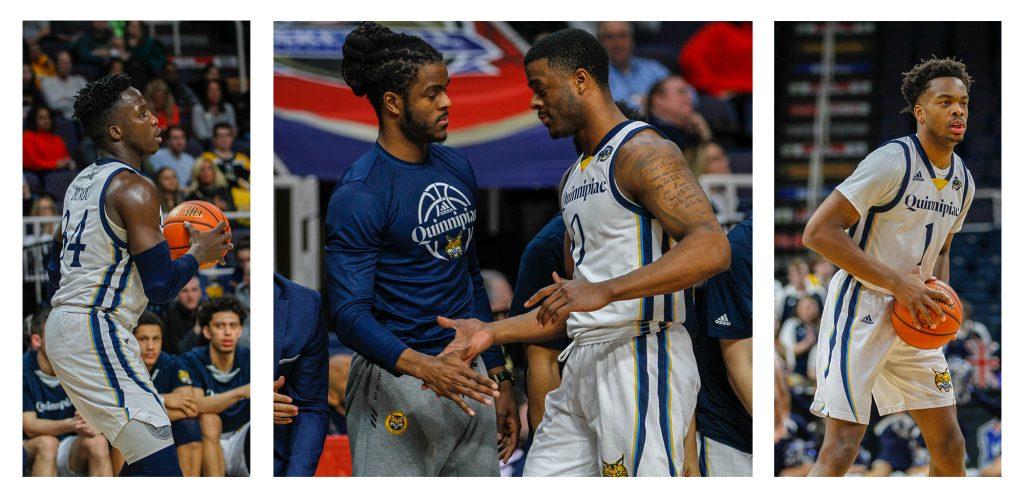 That's all she wrote. On Saturday, March 9, the No. 3 Quinnipiac Bobcats had their dreams of reaching their first ever NCAA tournament crushed with a 98-92 loss to the No. 6 Monmouth Hawks in the quarterfinals of the MAAC Tournament.
With the loss, Quinnipiac bids farewell to seniors Abdulai Bundu, Aaron and Andrew Robinson, and graduate student Cameron Young.
Abdulai Bundu, Forward
Abdulai Bundu's departure leaves the Bobcats with a defensive gap in the front court.  In his senior season, he led the Bobcats with 21 blocks and was second on the team with 168 rebounds. As a freshman, he played in all 30 games and started the last 20, averaging career high 7.4 points and 6.6 rebounds. He finishes his Quinnipiac tenure with 122 games played, 60 blocks, and averages of 5.8 points and 5.5 rebounds.
Andrew Robinson, Guard
As a freshman, Andrew was named the MAAC Rookie of the Week for the week of Feb. 7.  Andrew did not play in 2018-2019 due to injury, but in his first three years as a Bobcat, he averaged 3.8 points and 1.6 rebounds.
Andrew is a locker-room favorite and is great off the court. He's a two time MAAC All-Academic Team honor and a 2018 Academic All-America nominee. He has spoken at the Arc of Wallingford to the disabled and has read at New Haven elementary schools. Andrew and his brother Aaron are the first twin brothers to play together for Quinnipiac basketball.
Aaron Robinson, Guard
Aaron played in six games his freshman year and then redshirted his sophomore year.  Aaron is a leader for the Bobcats on and off the court.  His junior and senior year, he averaged 3.2 points and 2.1 rebounds per game.  He also shot 31.1 percent from beyond the arc.
In his junior year, Aaron had a streak of making a three-pointer in ten straight games off of the bench.  His signature moment was when he hit "the shot of his life" in the 2018 MAAC quarterfinals win, putting Quinnipiac up 66-60 with 2:29 against No. 2 Canisius.
Much like his brother Andrew, Aaron has had a great impact off the court.  He is a two time two time MAAC All -Academic Team honor and he has also read to New Haven elementary school students while also speaking to them about the student athlete life and the importance of education.
Cameron Young, Guard
Cam Young is one the most storied players in Quinnipiac basketball history.  The 2018-19 MAAC Player of the Year set a Quinnipiac Division I record with 622 points scored in a single season.  Young transferred to Quinnipiac from Arizona Western College after his sophomore year where he earned a first-team All-ACCAC honor. His junior year he played eight minutes the entire season recording no points. The past two seasons he averaged a team high 20.9 points.
One of the most historic nights in Quinnipiac basketball history was Feb. 17, 2019 against Sienna College, when Young dropped 55 points in Quinnipiac's 107-100 triple overtime win.  In that game, Young recorded the most individual points in an NCAA game this season, the third-most points by an NCAA Division I player in last 20 years, and the MAAC single-game record for points, along with breaking the Quinnipiac Division I record for points, the Quinnipiac record for 3-pointers made, and the most points ever scored in a game at the Times Union Center in Albany, New York.  Highlights from that game led off ESPN's SportsCenter on the same night as the NBA All -Star Game.  Young will create the biggest void for the Bobcats moving forward.