Baseball Records Doubleheader Sweep Against Saint Peter's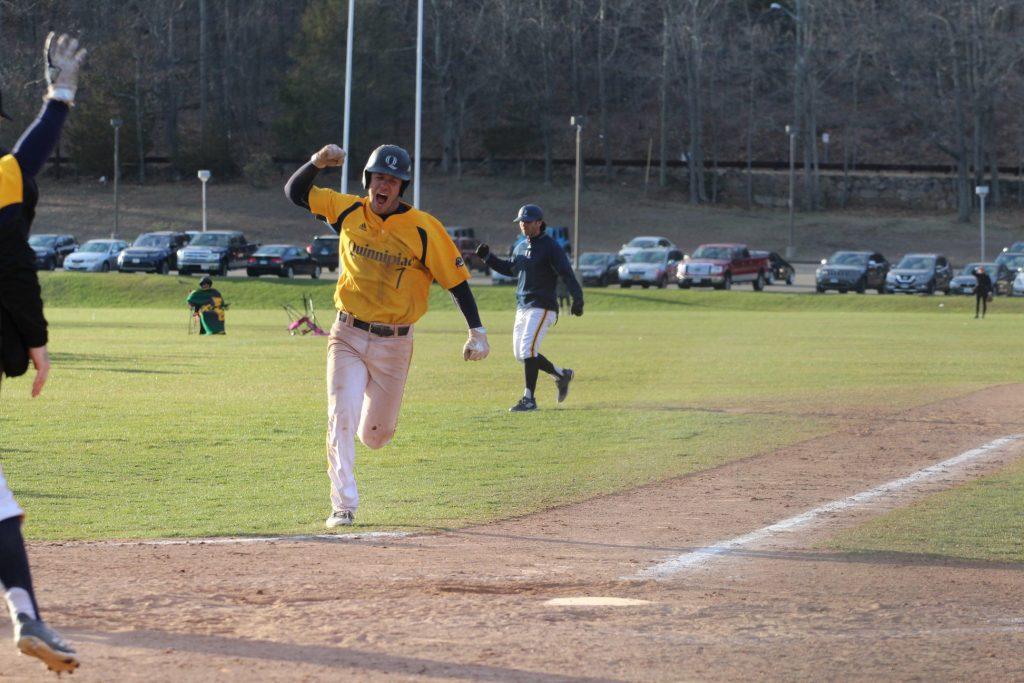 As Hall of Famer Ernie Banks once said, "Let's play two." That's exactly what the Quinnipiac baseball team (8-11, 3-0 MAAC) did on Sunday, winning both games of its doubleheader against the Saint Peter's Peacocks (0-16, 0-3 MAAC).
After winning the first game of a three-game series on Saturday, the Bobcats completed the series sweep to open up MAAC play with a 3-0 record. Saturday's game was played at Yale due to weather, so the Bobcats finally got to play on their home field for the first time on Sunday.
Saint Peter's entered Sunday without a win in its first 14 games, but gave Quinnipiac two hard fought games.
"They're drastically better this year and played us hard all day," head coach John Delaney said. "We have to approach every conference game the same way."
Quinnipiac wasted no time getting on the board in game one, as Andre Marrero hit a two-run home run that just crept over the left field fence. Quinnipiac added another run in the second inning, giving the Bobcats an early 3-0 lead.
Arthur Correira got the start for Quinnipiac and looked good through four innings, allowing just two hits. He then ran into trouble in the fifth, surrendering three runs before being pulled with two outs.
Colin Donnelly came in relief for Correira with a runner on second and two outs. The first batter he faced, Edwin Feliciano, hit a groundball through the left side. Andre Marrero came up firing and gunned out Hunter Mason at the plate to keep the score tied at 3.
"I knew their coach was going to send the runner," Marrero said. "I just came through and let it rip."
The Bobcats regained the lead in the bottom of the fifth, when again Marrero came up big, hitting his second two-run home run of the game.
"I haven't hit two homers in a game since little league," Marrero said. "It was pretty cool to get two today."
Saint Peter's got a run back in the sixth, but both teams were quite the rest of the way. Robert Lewis came in for the save and the Bobcats took game one, 5-4.
Game two was a classic pitcher's duel, as both teams combined for five hits through six innings. Quinnipiac's Christian Nicolosi got his first start of the season and pitched 5 shutout innings before being relieved by Anthony Ambrosino.
"Christian pitched well today," John Delaney said. "He doesn't normally start but we felt confident that he could go out there and get guys out."
The game remained scoreless through seven innings until the Bobcats scored the first run of the game in the bottom of the eighth. Who else but Andre Marrero to deliver for Quinnipiac, as he drove home Kyle Maves to give the Bobcats a 1-0 lead.
Evan Vulgamore then drove in Marerro to give Quinnipiac an insurance run, and Andrew Workman shut down Saint Peter's in the ninth to seal the 2-0 victory.
Quinnipiac will look to ride this three-game win streak into the week. They have a pair of non-conference home games against Rhode Island and Dartmouth on Tuesday and Wednesday. The Bobcats then travel to Niagara Falls for a weekend series against MAAC foe Niagara.