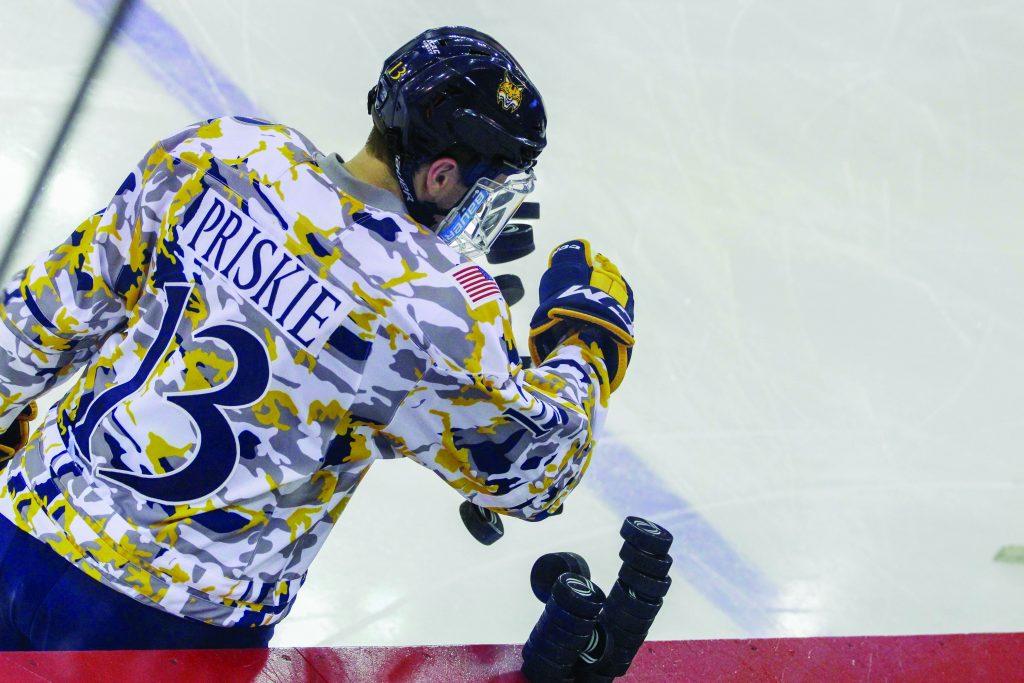 When you think of states that are known for hockey, which ones come to mind? Go ahead, we'll wait.
Minnesota? Or, maybe Massachusetts?
Either way, the first state that came to mind probably wasn't Florida. The Sunshine State is known for baseball and beaches, but not hockey.
That didn't seem to matter to Chase Priskie, the Pembroke Pines, Florida, native.
Priskie grew up playing hockey in Florida as a kid, but when it came time to play in high school, he chose to take his talents up north. At the age of 15, he packed his bags and headed to South Kent School in Connecticut. He made stops in North Dakota and British Columbia, before returning to Connecticut to join the Bobcats.
It was with South Kent, however, that Priskie got his first taste of what it's like to be a member of the Quinnipiac hockey team. Priskie and his team were on campus, taking a tour of Quinnipiac's hockey facilities, when the coach pulled him aside.
Rand Pecknold wanted to see him in his office.
"I had never heard of Quinnipiac," Priskie said on the Quinnipiac Athletics Podcast. "I sat there, and I listened to him talk, and the only thing going through my head was 'There must be a camera somewhere, this can't be real.'"
Surprisingly, it wasn't a prank. Priskie committed to Quinnipiac, and was slated to join the team for the 2015-16 season. Little did he know, he was joining a team that was poised for a run to the Frozen Four.
"Coming in, it wasn't about being an offensive threat, it was just about staying in the lineup," Priskie said. "That '15-'16 team was so deep, we had 11 defensemen on the roster."
Not only did Priskie stay in the lineup, but he finished seventh on the team in points. The players ahead of him that year? Five of the six are current professional hockey players, and two of them have played in the NHL.
Not bad company for your first season.
Being a student of the game, Priskie took the opportunity to learn from those players. Not just how to play the game on the ice, but how to conduct yourself off of it.
"I was very fortunate to work with guys like Devon Toews, Connor Clifton and Derek Smith, who, whether I liked it or not, always had something to say and something for me to improve at," Priskie said.
One of the things that his coaches and teammates instilled in Priskie from a young age was the importance of playing a more defensive style of hockey. Known as an offensive defenseman coming into Hamden, Priskie quickly learned that the best players in college hockey know how to play in all three zones of the ice.
"You can see that no matter how good you are offensively, if you give up the same defensively, it's a zero-sum game," Priskie said. "So you have to be able to defend, and I wanted to be someone that could be counted on in all key situations."
Fast forward three years and he's in his second season as the captain, the 45th in the program's history. Not only that, but he's in the running for the 2019 Hobey Baker Award, given to the best player in college hockey.
Despite all of the attention and accolades, however, Priskie isn't satisfied just yet.
"It's great to be considered one of the best 82 players in the country," Priskie said. "But at the same time, I just try to focus on my game everyday."
Since Priskie was nominated back in January, the Bobcat community has taken to Twitter to spread the #ChaseTheHobey campaign. The goal is simple: get as many people to vote for Chase each day as possible.
Always humble, Priskie appreciates the support but tries not to let it distract him from playing the game.
"I see the stuff on Twitter, but I just try to block it out," Priskie said. "It's just kind of nonsense until anything big happens."
His coach, on the other hand, thinks differently.
"I think he deserves the attention he's getting, in terms of #ChaseTheHobey," Associate Head Coach Bill Riga said. "He's all about wins and losses, but I would trade all of that in to have him in the locker room and have him be our leader."
Chase's mother, Lisa Evans, echoed what Riga had to say. Although she's more than five hours away by plane, she has had a front row seat to all of the attention her son has been getting.
"It's heartwarming to see the support he's getting from so many people," Evans said. "Especially coming from South Florida, where hockey players aren't routinely recognized."
A former hockey player herself for the Bowdoin College Polar Bears, Evans knows the game inside and out. She's watched her son grow over his three years in Hamden, from a freshman just trying to stay in the lineup, to one of the best defensemen in the country.
"He not only has acquired skills but also a winning mindset," Evans said. "I also am impressed that he has been able to sustain such a high level of performance while remaining humble and constantly committed to improving. Off the ice, he has developed into a true leader."
No one has seen this leadership better than Riga. Riga echoes that  Priskie has proven himself to be just as valuable off the ice as he is on it.
"For all the goals that he scores, and all the points that he gets, I'd trade it all in for his leadership ability," Riga said. "If I had to pick one or the other, I'd pick the leader over the points guy."
Priskie's leadership ability was put to the test in his first season with the "C". The 2017-18 season was a trying year for the Bobcats, who finished under .500 for the first time since 1995-96. Some players would be quick to forget a season like that.
That's not how Chase Priskie operates.
"Doing what he did last year, as a junior captain, that's not an easy thing to do," Riga said. "As soon as that year was over, he learned how to [be a captain] a little bit better, and this year he's hit the ground running."
Choosing to return to Hamden for his senior year, Priskie forewent signing a professional contract with the Washington Capitals, the team that drafted him back in 2016. He knew he had unfinished business with the Bobcats in 2018-19.
"When I made the decision to come back, I wanted to leave a legacy here," Priskie said. "I don't think it's good enough to be a name on a program, I want to come in and make an impact."
So what exactly is the mindset of a player like Chase Priskie? The way he puts it, it's actually a pretty simple formula –believing that you're better than your opponent isn't good enough. You have to prove it, day-in and day-out.
"I try to make people look bad in practice, when I go out during games I try to make people look bad," Priskie said. "I try to make a statement and say that 'I'm better than you'."
Not a bad way to think. And now, this approach has helped him land a top 10 spot for the Hobey Baker. Those around him share a similar sense of pride and joy seeing him recognized for the work he's put in.
"It was a special moment for me seeing Chase recognized as one of the top college hockey players in the country," Evans said. "It's great to see all his hard work and focus pay off."
There's plenty of reasons for her to be proud. Priskie is near or at the top of the list for the most points and goals scored by defensemen in the nation this year. Whether it's a power play, a penalty kill or five-on-five play, he's always the first one off the bench for Rand Pecknold.
"I don't just want to be a captain," Priskie said. "I want to be one of the best players to ever play here."