Quinnipiac Men's Lacrosse looks to get back on track against Marist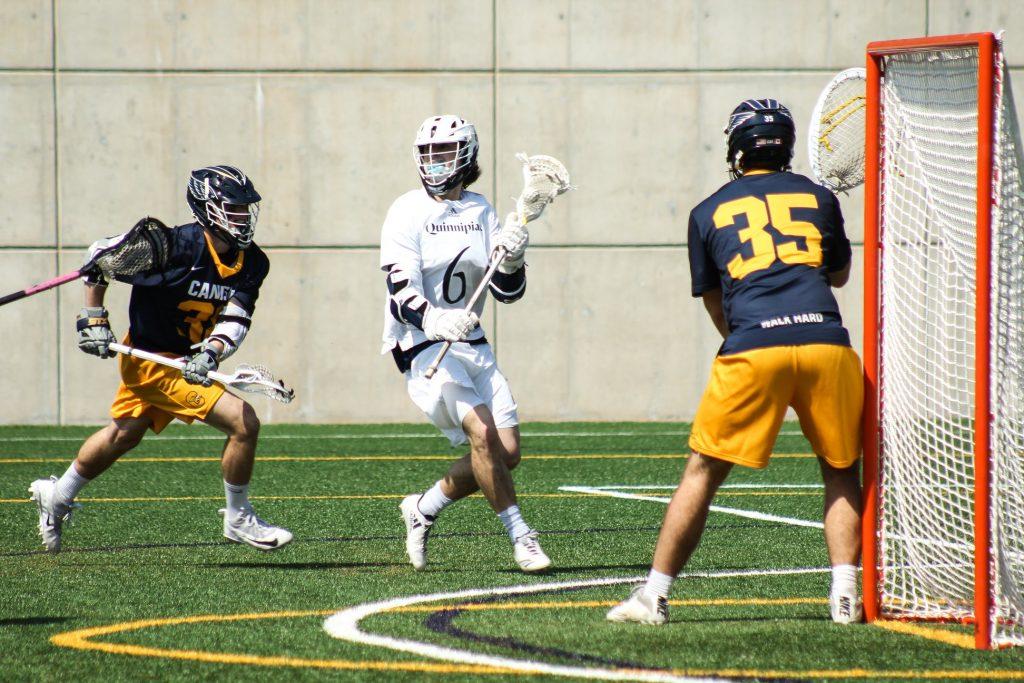 The Quinnipiac Bobcats (6-4, 3-1 MAAC) are looking to get back in the win column on Saturday as they welcome the Marist Red Foxes (5-5, 3-1 MAAC) to Hamden. Quinnipiac had won six consecutive games before losing to the Canisius Golden Griffins on the road last Saturday. Meanwhile, Marist is coming off of a home win against the Siena Saints.
A lot is on the line in this game – Quinnipiac and Marist are tied for second in the MAAC standings and will be looking to join Detroit Mercy in first place with a win.
Players to Watch:
Quinnipiac: Jake Tomsik and Will Abbott
Tomsik, a sophomore from Medway, Massachusetts, has quickly established himself as the leader of a strong Quinnipiac attack. Tomsik has scored 28 goals this season on just 64 shots, including an incredible eight-goal performance earlier this year against NJIT. He has also added 14 assists, which give him a team-leading 42 points. Tomsik is dangerous from almost anywhere and will require lots of attention from the Marist defense.
While Tomsik dominates on attack, Will Abbott has dominated the midfield. The freshman has had an impressive start to his career, netting 14 goals and tallying 25 points this season while earning two MAAC Rookie of the Week Honors. He has scored six goals in his last three games, and will look to keep the momentum rolling against Marist.
Marist: Jake Weinman and Jojo Pirreca
Weinman, the redshirt sophomore from Blue Point, New York, has been lighting it up for the Red Foxes this season. He leads the team with 18 goals and 24 points on 77 shots and has scored at least one goal in every game he's played this season.
Weinman's counterpart, freshman Jojo Pirreca, has also hit the ground running. He is second on the team in goals, assists and points, and has scored in all but two games this year.
Quinnipiac has to watch out for Weinman and Pirreca flying around the attacking zone on Saturday. If they can find space, it could be a long day for the Bobcats.
Keys to the Game:
Quinnipiac: Possession
The Bobcats are at their best when they're in complete control on offense, and that all starts with gaining possession first. Demitri George, Quinnipiac's lead faceoff man, has been outstanding this year in giving the Bobcats the opportunity to set up in their offensive half of the field. For Marist to win this game, the team will have to win faceoffs and deny Quinnipiac the precious offensive zone time that it thrives on.
Marist: Defense
For Marist, this game is going to come down to how well the team can shut down Quinnipiac's scorers. Quinnipiac has one of the most talented groups of attackers in the conference, so if Marist is going to slow them down, the team will have to be active with its stick checks and quick on its feet. The Red Foxes have allowed more shots against and goals against this year than they have scored. The team will have to tighten up its defense in order to stifle the Bobcats.
The Game:
Make sure to tune in to QBSN's live broadcast of Quinnipiac vs. Marist at 12 p.m. from the Quinnipiac Lacrosse Stadium in Hamden, Connecticut. Bryan Murphy and Ryan Flaherty will be on the call of the game. For live updates throughout the game, make sure to follow QBSN on Twitter.