Samo's Story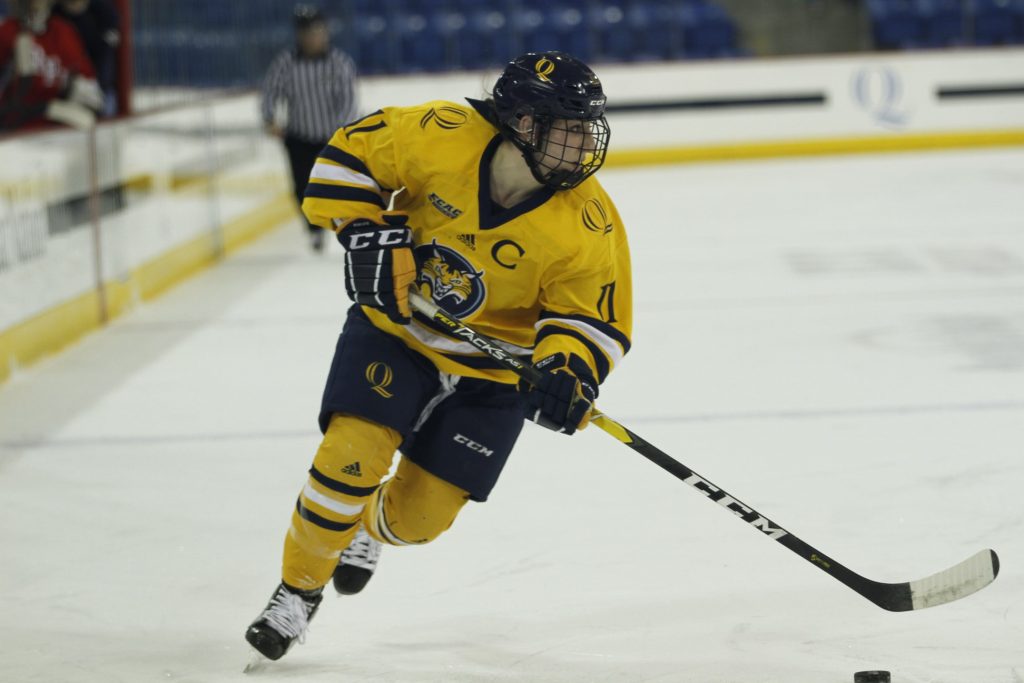 It's a common sound heard most Friday and Saturday nights at the People's United Center: "starting at left wing, from Sandy Hook, Connecticut, number 11, Melissa Samoskevich!"
Although senior forward Melissa Samoskevich's career at Quinnipiac is wrapping up in just a few short months, this won't be the last arena in Connecticut where these words will be heard. Samoskevich was drafted second overall by the Connecticut Whale of the National Women's Hockey League in December 2018, and will get to continue living her dream of playing professional ice hockey, in her home state, no less.
When Samoskevich found out the news though, it wasn't the typical ceremonious way seen with many athletes on TV – surrounded by family, excitedly huddled around the telephone. No, even though the Bobcats were on winter break, Samoskevich was doing the one thing that occupies most of her time: playing hockey.
"I was at winter camp in Michigan for USA Hockey," Samoskevich said. "Maggie [Pruitt, Quinnipiac Assistant Director, Athletic Communications] called me, and just told me 'Hey, just so you know, the Whale is going to draft you,' and then I called my mom and my dad. They're always my go-tos anytime something big happens."
Though she's the captain of the Bobcats, Samoskevich also has ties to USA Hockey. She has played for Team USA since high school and continued this year at the Four Nations Cup tournament. Samoskevich says that putting on the red, white and blue never gets old.
"Since I was a little girl, I've kind of been dreaming of that moment," she said. "Just to continue to work for it, to have that opportunity, is awesome."
Of course, Samoskevich wouldn't be receiving any of these opportunities if not for her outstanding work at Quinnipiac. Over her four years as a Bobcat, Samoskevich has tallied over 50 goals and 50 assists, making her one of just six Bobcats to have scored 100 points. She has served as captain for the last two seasons, and is undoubtedly one of the most impactful players to have ever put on the navy and gold.
Samoskevich knew coming into the season that she was on pace to reach 100 points, but she didn't let the pressure manifest itself over the course of the season.
"It's more about the team than it is about my own 100th point," Samoskevich said.
Still, she knew exactly when she put the puck in the back of the net versus Sacred Heart that she had finally done it.
"I did know it was my 100th point," Samoskevich said. "My friends counted it up for me a couple of games before that – I was around 95 [points] at that time – and we'd just been counting down since that moment."
Although the 100-point milestone is arguably Samoskevich's most impressive individual accomplishment, she says that her favorite moment as a Bobcat was a team victory – beating Clarkson in the 2016 ECAC Hockey Finals on home ice. Samoskevich was a freshman that year, but that moment assured her that she made the right decision in coming to Quinnipiac.
"It just kind of proved to me … that there would be great things that happen here. There's always ups and downs, but I knew that I was going to grow here as a player and as a person. I knew it was going to push me enough in ways that I hadn't been pushed before."
Every year presents a new challenge for a hockey team, and this year, the team's record isn't where Samoskevich thought it would be. Still, Samoskevich is confident that the team can turn it around in time for the NCAA Frozen Four, which will be hosted at the People's United Center.
"I think this year, just the feeling of the team that we have here, it's a special group," Samoskevich said. "There's a lot of heart. There's a lot of drive. I have a good feeling that we're going to do good things even though our record isn't that great."
Samoskevich bases that feeling around her confidence in her coaching staff and her teammates. She says that for the team to do what it's capable of doing, the team has to get back to a certain approach on the ice.
"Instead of just focusing on not losing, actually having the go-get-it mentality of scoring goals and putting pucks to the net, I think that's going to help us.
"The 'F-you' mentality."
That phrase can describe the mentality of women's ice hockey in general. The women who play hockey professionally still don't receive as much attention as their male counterparts, but Samoskevich feels that state of the game is continuing to improve.
"It's in an awesome place right now, especially USA Hockey. They're working really hard on the marketing with the women's side of USA Hockey," Samoskevich said. "It's awesome just to have our schedule out there on NHL.com and NHL Network. It's in a great place. It's climbing."
Samoskevich's time at Quinnipiac is ending, but she's still all-in on trying to help the Bobcats go as far as they can. Her timeline for reporting to the Connecticut Whale is still up in the air as Samoskevich focuses on finishing strong with the team that helped her earn this chance. As for her legacy at Quinnipiac, Samoskevich will finish her Bobcat career in the top five all-time in goals, assists and points. However, Samoskevich doesn't want that to define her legacy.
"I hope that it's a good leader… on and off the ice. I want people to look up to me. I want to be known as a respectable, easy-to-talk-to girl. I don't want to be a scary name on the wall. I want to be someone that's approachable, and someone that anyone can look up to."
Like it or not, Melissa Samoskevich will be a big name on the wall someday very soon. But Samo's story is more than just her time at Quinnipiac. It has helped her come full circle from a girl who grew up in Connecticut dreaming of playing professional ice hockey to actually living the dream this coming fall.
Although Melissa Samoskevich won't say it, she's a true Nutmeg State success story.