QU Women's Soccer looks to double down vs. Rhode Island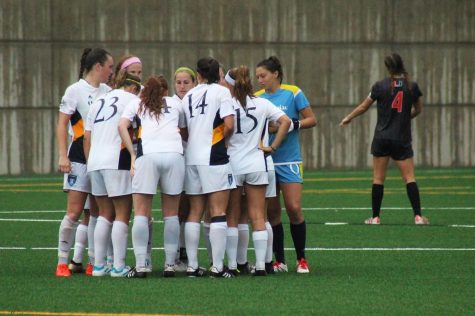 Fresh off a victory in the club's home opener, the Quinnipiac University women's soccer team (1-0, 0-0 MAAC) will host the University of Rhode Island Rams (1-0, 0-0 Atlantic 10) on Wednesday in another early-season test.
Quinnipiac is coming in after a 1-0 overtime win against the Bryant Bulldogs on Sunday. Redshirt junior forward Kelsey Goldring scored the game-winning goal at 1:24 of the overtime period. Freshman goalkeeper Meaghan Phillips had three saves in the game. Quinnipiac is now looking to start off 2-0 this season after going 6-8-4 last season and losing in the first round of the MAAC Tournament.
Meanwhile, URI is also 1-0 on the season after beating New Hampshire 1-0 in overtime. Freshman forward Natalia O'Leary scored the game-winner for URI 1:23 into overtime, in what was a very similar finish that Quinnipiac had on Sunday. Freshman goalkeeper Terresa Morrisey made five saves in the game for the Rams. After a winless season last year (0-17-1), URI now has a huge confidence boost after notching its first win in a year.
Keys to the Game
Quinnipiac: Focus on attack
While Quinnipiac won its first game, there is still room for improvement. After totaling just six shots on goal, the Bobcats may need to focus on being more attack-oriented. With URI coming in on a high, Quinnipiac needs to give them a run for their money, and that comes with being more aggressive on the offensive front, especially against a freshman goalie. If the Bobcats are to start off 2-0, they will need to show off a more lethal offense against URI.
Rhode Island: Ride with the newfound confidence
After suffering through a winless season last year, there's no bigger momentum booster for a team than winning their first game of a new season, and that's just what URI did. Additionally, winning that game in overtime provides even more confidence now that they proved they can go for 90+ minutes against teams this year. With 13 freshman on the roster, the Rams still have more to prove. They need to roll with their recent mojo and lay their foot down to contain Quinnipiac.
Players to Watch
Quinnipiac: Markela Bejleri
In the Bryant game, Kelsey Goldring was the big name to show off for the Bobcats. However, don't sleep on Markela Bejleri, the Bobcats' freshman midfielder. She assisted Goldring's overtime winner, kicking a nice saucer pass right in the middle of the box for Goldring to score. With that, she was the only other Bobcat to have a point in the game, and made her mark in her first collegiate game. Riding high after helping lead to a win, watch for Bejleri to keep on going against URI while looking to make her impact known.
Rhode Island: Terresa Morrisey
Against New Hampshire, Morrisey was the reason URI celebrated victory for the first time in over a year. With a shutdown performance, it gives Morrisey the confidence to help the Rams hang tough against more teams. Morrisey also brings a new fire and new energy to her team as an impact freshman. She needs to be on her game like she was against New Hampshire to lead URI to a win at away field.
The Game:
Make sure to tune in to QBSN's live broadcast of Quinnipiac vs. URI from the Quinnipiac Soccer Field in Hamden, Connecticut here! Max Schreiber and Jon Surratt will be on the call of the game. For live updates throughout the game, make sure to follow QBSN on Twitter.