How a tough out-of-conference schedule has left the Quinnipiac Field Hockey team "knowing who we are"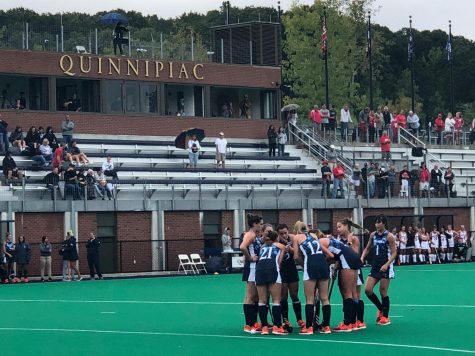 To a casual observer, there may not be a ton of positives to take away from a three-game California road trip that ended with the Quinnipiac Field Hockey team going 0-3 while getting outscored 10-2.
However, according to the players and coaches, the takeaways from the California excursion go deeper than the box score. If not for the experience and team bonding that comes with a cross-country trek against some of the best field hockey programs in the nation, the Bobcats wouldn't be as cohesive a team as they are today, one week out from the beginning of conference play.
"We left California knowing who we were," head coach Becca Main said. "And [we] spent the past two weeks figuring out how to best get that reigned in and into a good position."
The Bobcats sure got into a good position in Saturday's dominant 2-0 shutout win over NEC opponent Sacred Heart.
"
We left California knowing who we were"
— Becca Main
The Pioneers are a former member of the MAAC but just moved into the NEC this season. However, Main says that the Pioneers' hard playing style is still reminiscent of MAAC teams, and a good test for the Bobcats. Even though the team is back home from California, finding challenging out-of-conference opponents doesn't end.
"I think you saw MAAC hockey. This is why it's so hard to play in the MAAC, and why we left the MAAC," Main said. "We did spend a good four days knowing that Sacred Heart likes to player mark, they mark up everybody and that's really odd – in the Big East, you'll never see that. The Big East is all about zone, everybody moving, you're pressing and outletting, and [Sacred Heart] played us in a mark style which is why we had such a hard time."
The difference in MAAC hockey and Big East hockey is an interesting dynamic for a young Bobcats team. The Bobcats will get their first taste of conference play later this week when they take on perennial Big East favorite UConn. Although there's something to be said for fluffing up your out-of-your-conference schedule with "gimme games" against easy opponents, that's not what would be best for this Quinnipiac team.
The Bobcats are a young squad that feature 10 new additions and a handful of freshmen and sophomores who get regular playing time. This isn't Main's first rodeo either, as she presides over the Bobcats for her 25th year as a head coach. By now, she knows what's best for her team, and this year, it's by learning from the best and playing a challenging out-of-conference schedule.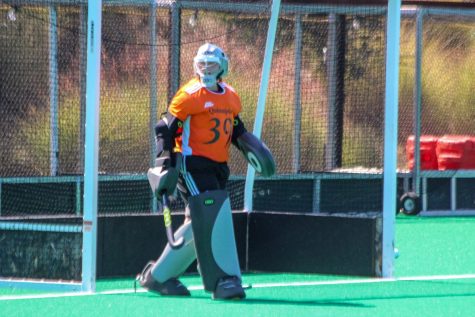 Judging the California trip on the box scores alone would be a disservice to what this experience really meant for the team. Just ask freshman goalkeeper Hedda Biermann-Ratjen, who played in two of the games in California before shutting out Sacred Heart this past weekend.
"The Stanford game, that was a game where we were under pressure constantly, so that was a very good game to get into the mindset of having to be ready in multiple situations all after each other," Biermann-Ratjen said. "And then in comparison, the [UC] Davis game was more of a game [where] you have to be on point for a few situations in the game, and then in between you just stand, so keeping the mindset and being prepared at all times."
In Saturday's win over Sacred Heart, Biermann-Ratjen earned just the second Bobcats shutout over the last two seasons, in her first NCAA start no less. The first half was more like the UC Davis game, where Biermann-Ratjen was inactive for minutes at a time while Quinnipiac dominated possession.
In the second half though, Biermann-Ratjen was arguably the Bobcats' MVP, keeping the team ahead as the Pioneers mounted a comeback attempt. Who knows how Biermann-Ratjen would have handled that pressure if not for her experience vs. No. 21 Stanford?
It's still too soon to know if the Bobcats have what it takes to make the playoffs in the Big East, but the team seems to be in the right state of mind early this year. It may seem counterintuitive, but you may be able to thank an 0-3 stretch where the club was outscored 10-2 for setting the right tone for the season.