Quinnipiac Women's Soccer looks to continue strong start vs. UMass Lowell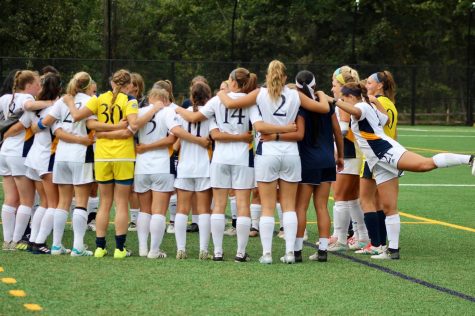 On Wednesday, Sept. 11, the Quinnipiac Bobcats women's soccer team (4-1, 0-0 MAAC) will take on the UMass Lowell River Hawks (0-4-1, 0-0 America East). Quinnipiac is coming off a 1-0 win against the Hartford Hawks, while UMass Lowell remains winless after a 1-0 loss to Providence last Thursday.
Players to Watch:
Quinnipiac: Markela Bejleri
In her first few games as a Bobcat, Markela Bejleri has made a huge impact. Bejleri's ball control in particular makes her a big threat on offense for the Bobcats. In Quinnipiac's opener against Bryant, Bejleri had the assist on Kelsey Goldring's overtime game winner, and she later tallied her first career goal against Loyola. If she keeps playing like this, it's only a matter of time before the freshman midfielder gets her second.
UMass Lowell: Lily Fabian
Sophomore Lily Fabian came out of the gate hot, scoring in the River Hawks' first two games of the season. However, she has failed to reach the back of the net since. Last year, as a freshman, she was third on the team with six goals. The River Hawks will need her to lead the charge and snap her scoreless streak as they look for their first win of 2019.
Keys to the game
Quinnipiac: Lockdown Defense
The Bobcats' defense has been stellar so far this season. They've only allowed four goals in their first five games, with three of them coming in their loss against Harvard on Sept. 4. That's good for a stellar 0.80 team goals-against average. The Bobcats will need another big performance from the defense and freshman phenom goalkeeper Meaghan Phillips to pick up their fifth win of the season.
UMass Lowell: Looking for an Offensive Spark
UMass has struggled all over this season, but if they want to get their first win of the season, they're going to need to revamp their offense. The River Hawks have just four goals in five games, which is only good for a 0.80 goals-for average. There's an old cliché in sports – if you don't score, you don't win. The River Hawks simply need to figure it out on "O" to notch a victory against the Bobcats.
The Game
The Bobcats and the River Hawks go head to head in Hamden on Wednesday. Kickoff is at 4 p.m. at the Quinnipiac Soccer Stadium, and can be streamed lived at QuinnipiacBobcats.com. Join Connor Ullathorne and Max Schreiber on the call, with more updates on twitter at @QBSN, @ConnorUlly5 and @MaxSchreiber27.