Three Takeaways From Day One of the Quinnipiac Invitational
Matthew Jaroncyk
September 20, 2019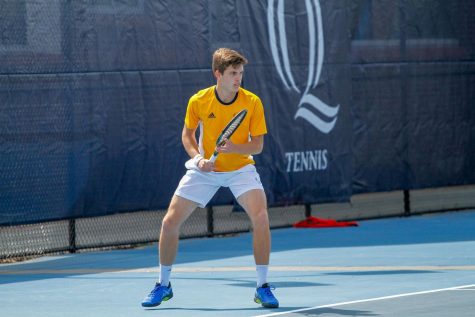 Day one of the 2019 Quinnipiac Invitational began Friday morning at the Outdoor Tennis Facility, and from the moment fans heard the sound of a brand new case of tennis balls opening up and the balls flying off the racket, it marked the beginning of a new tennis season.
Quinnipiac hosted the University of Connecticut Huskies, Fordham University Rams, Marist Red Foxes, Fairfield University Stags and the Wesleyan University Cardinals in this event. Here are three takeaways from the first day of the Quinnipiac Invitational.
1. Junior Hielke Moore looks strong in his first singles match

In his first singles game against Fairfield, junior Hielke Moore looked superb. Head coach Chris Pappas was impressed with how locked-in Moore looked in his first action.
"I really like the way that Moore moved his opponent around the court," Pappas said. "The more he did that, the better the looks he created and took advantage of. We talk about moving your opponent around and creating good looks and that is exactly what I saw today from Moore and that is all we ask for. Win or lose."
In addition, the way that Moore was able to control his forehand and backhand while putting strength into his swings was impressive. He was able to paint the corners for a couple of points because of the way he was able to hit the ball in the right spot with enough power so that his opponent could not reach the ball. If Moore plays the whole year the way he did in the Invitational, expect him to have a strong season.
2. Sophomore Clarke Davis shows upside in his first match
In his first game as a Bobcat, sophomore walk-on Clarke Davis played an outstanding singles match. Davis's strong performance didn't surprise Pappas though.
"I was really happy with the way that Clarke played today," Pappas said. "I saw some things that he really improved on in practice and it showed during his singles match. I did, however, see some little things that we could improve on that could really help him take a big leap in improving his game."
Pappas also expects Davis to have a big role on this experienced Bobcats team.

"I feel like Davis is going to be an important player for this roster," Pappas said. ""I expect him to be that player who will have an important role on the team, which will impact our team in many ways. I expect that he will give us a boost of offense when we need it the most, as well as provide stellar defense when it is needed."
3. Sophomore Alester Magalit continues his dominance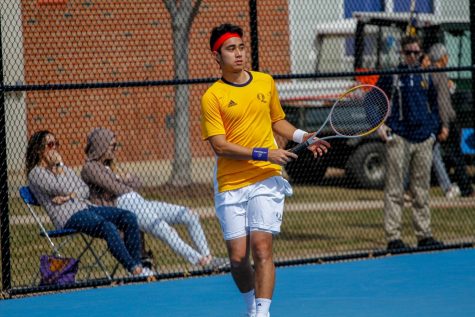 After being named MAAC Rookie of the Year last year, sophomore Alester Magalit continued his dominance, winning his first two doubles matches of the year with sophomore Bryan Schick against Wesleyan (6-4) and Fordham (6-2).
It may be early, but Magalit can already tell his partnership with Schick will be a solid one.
"It felt really good," Magalit said. "Brian is a really great player to play with when it comes down to doubles. We had success playing doubles in practice and felt really comfortable playing with each other. It was really nice to see us come out with the two wins against Fordham and Wesleyan."