Whelan's Desperation Kick Leads Men's Soccer to First Win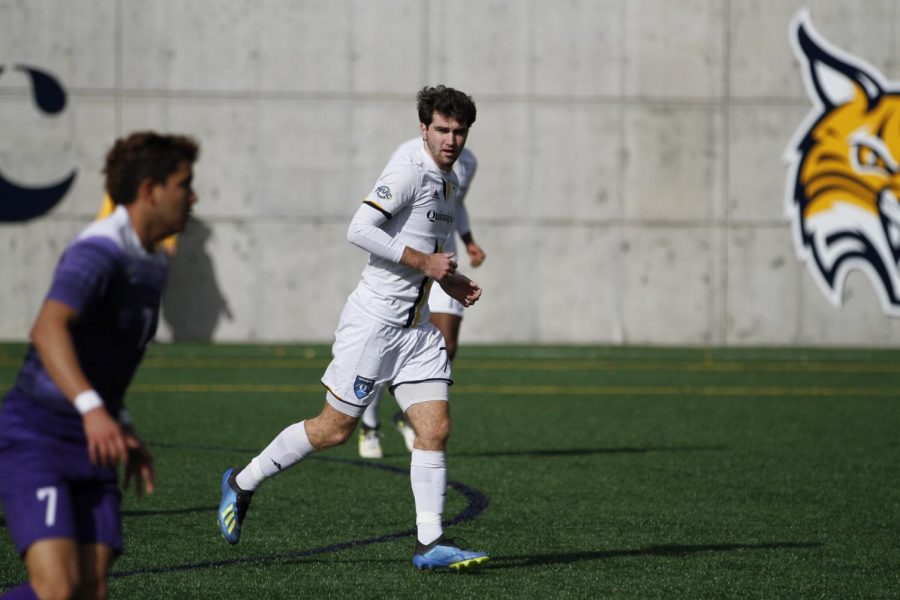 For nearly all of Friday's non-conference men's soccer match between Quinnipiac and Sacred Heart, the sheets of rain that pounded the pitch avoided having a major impact on the outcome. Players slipped and slid but scoring chances were had and were, like under any other conditions, squandered.
Then, in the 89th and penultimate minute of regulation, Bobcat midfielder Evan Hughes sent a looping cross into the six-yard box. The Pioneers' keeper, Robert Strain, leaped and had it secured in his hands — until he didn't.
The ball slipped free and dropped to the ground, where it met the waiting left boot of forward Eamon Whelan. By the time Strain tried to recover, Quinnipiac took a 2-1 lead that would hold for the final minute-plus as it picked up its first victory of the 2019 season.
"I like to say 'luck is the residue of design,'" Whelan said of his second goal of the early season. "You've got to be there to finish. I just happen to be there so I'll take it. I'm not going to ask any questions."
WATCH: Hughes places it into the box, then Whelan puts it home. BOBCATS WIN! pic.twitter.com/7LxiBk6UCV

— Quinnipiac Men's Soccer (@QU_MSOC) September 6, 2019
The Bobcats will certainly take it and, most likely, many more. Whelan, a senior from New Fairfield, Connecticut, currently sits in eighth place on the Quinnipiac all-time scoring list with 28 goals. He was named the unanimous MAAC Offensive Player of the Year in 2018 and was picked to win the award again in this year's preseason poll.
"Eamon always puts himself in the right position at the right time to be able to finish off those scrappy goals," head coach Eric Da Costa said. "There are things he needs to continue to do better, but it's the third game of the season and he's going to continue to grow."
Whelan enters his final season at Quinnipiac hoping to aid in finally pushing the program over the top. Despite reaching the MAAC Championship game in two of the last three seasons, the Bobcats have been unable to see their goal come to fruition. The 1-0 loss to Rider last November in Hamden continues to serve as motivation.
"Losing in the finals is not easy to sit with," Whelan said. "We have to push it to the side. It's still in the back of our heads, but I think that it was a good learning experience. We've got to win the games in the regular season to get there again."
It starts with efforts like the one on Friday — coming out on top in a messy contest that could have gone either way. Sophomore Oriac Vila Rotxes recorded his first goal of the season off a turnover in the ninth minute and the entire team combined for 24 shots, most since October 21, 2017.
"I thought we did a really good job of staying composed," Da Costa said. "It's good to be in a position to finish that game off because in our sport it doesn't always happen that way."
Quinnipiac will play four more non-conference matches in September before kicking off its MAAC slate on October 2 at home against Saint Peter's.