Four Bobcats Score First Career Goals in Women's Ice Hockey's Win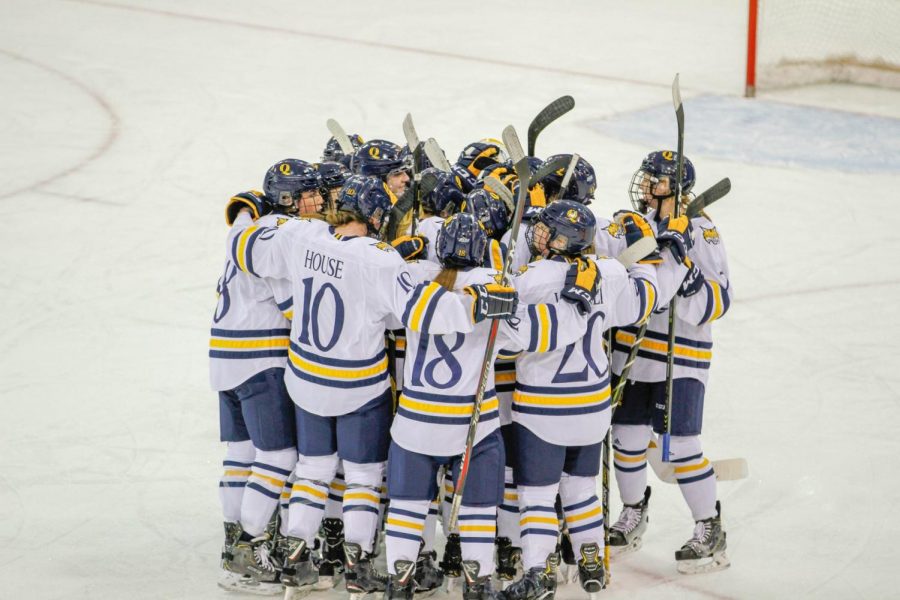 Four first career goals. One first career assist. One first career win.
Six different Quinnipiac Bobcats women's ice hockey players will share Friday night's game as one of the fondest memories of their collegiate careers. They shared the spotlight in a 6-0 win over the Sacred Heart Pioneers and their teammates enjoyed every second.
"There was a lot of great energy on our bench because of it," Bobcats head coach Cassandra Turner said. "We're proud of those players for taking that step."
Signs of Bobcat dominance came early in the first period when the Bobcats jumped out to a 10-0 advantage in shots on goal in the first nine minutes. They finished the period up 25-6 in that stat but couldn't find the back of the net.
The party started early in the 2nd period when senior defender Allison Roethke earned her first career goal after she one-timed a deflected pass into the back of the net to put the Bobcats up 1-0.
It was an emotional moment for Roethke, who was playing in her 101st game for the Bobcats. Her first career goal was also her first career point in NCAA play.
"I'm so happy," Roethke said through tears. "I've worked really hard and my teammates really help me out. I think it gave them a lot of energy throughout the rest of the game."
Midway through the second period, freshman forward Kenzie Hauswirth made her mark after she deflected in a shot for the goal. Hauswirth set a screen on the goaltender as junior forward Laura Lundblad took the shot that tipped Hauswirth's stick on its way into the net.
"That shift, they were just working," Turner said. "Great sticks and then to turn them over and be confident with their puck and then we get a shot with a screen and a tip. That's the way we like to play so it was exciting especially to see that goal."
With just under two minutes left in the period, junior forward Renee Saltness joined the club. Junior Grace Markey won the faceoff and Saltness was there to shoot a rocket that Pioneer goaltender Frankie Sanchez got a piece of but couldn't handle as it slipped past her to give the Bobcats a 3-0 lead.
Just 39 seconds into the 3rd period, Hauswirth decided she wanted more and put together a highlight reel play as she deked two defenders on her way to a backhand shot that went over the goalie's shoulder and into the net. Her second career goal gave the Bobcats a 4-0 lead.
Junior forward Taylor Girard was the fourth player to join in on the fun when she earned her first career point with the Bobcats on an assist to senior forward Sarah-Eve Coutu-Godbout.
The last to join the goal party was freshman defenseman Kate Reilly who scored her first career goal off a one-time pass from senior defender Kenzie Prater. It was the second powerplay goal of the game for the Bobcats, who are now 6-for-20 on the powerplay this season.
To top it all off, sophomore goaltender Logan Angers earned a shutout victory in her first career start. She made 16 saves and stayed calm and poised throughout the game.
"She was ready to play," Turner said. "She's been working hard in practice. She's a strong goaltender and we wanted the opportunity for her."
The Bobcats had 11 players finish with points, their highest total this season. With one game to go until conference play, they've now had nine different players score goals and 16 different players contribute points.
"I've been saying to anyone who asks us about our team, 'What's so special about this group, it's our depth,'" Turner said. "We have a really strong group of girls in terms of their character."