QU Men's Soccer tops Marist 5-3 in thriller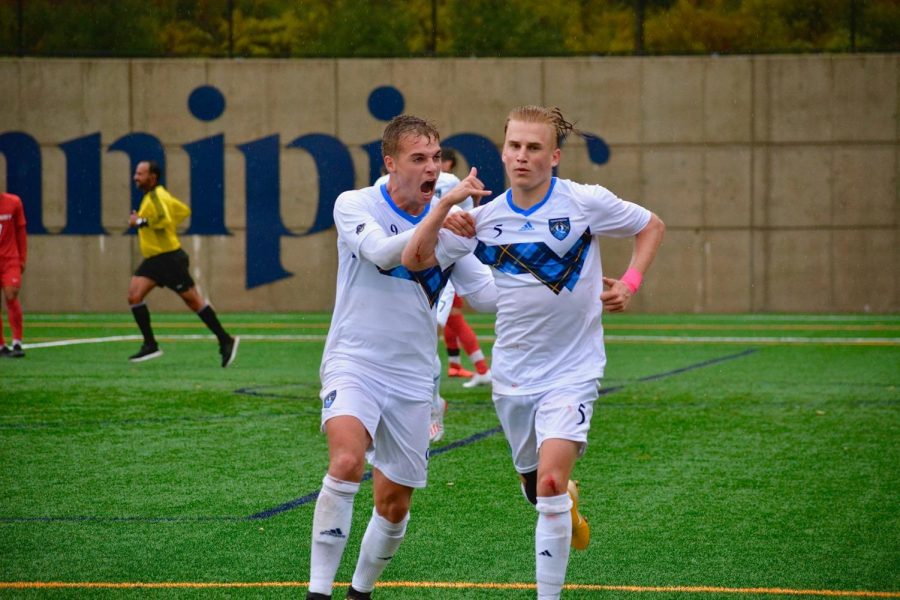 With 5:14 remaining in regulation, Eric Da Costa let it all out. After Eamon Whelan's nifty goal all but sealed a vital conference win, Da Costa pumped his fist, yelled, turned to the crowd, and then repeated his actions. As one of the more even-keeled coaches you'll ever see, it was somewhat surprising to see the Quinnipiac men's soccer head coach's overflow of emotion.
Then again, maybe it wasn't.
In one of the most exciting games of the young season – and certainly the most emotional – the Quinnipiac Bobcats (4-4-2, 2-1-0 MAAC) rallied to defeat the Marist Red Foxes (3-6-0, 0-2-0 MAAC) by a 5-3 score.
"Obviously, what transpired to end the game was a little bit crazy," Da Costa said postgame. "But history has always been that way between these two teams."
Da Costa certainly isn't wrong about that; the last time these two squads met up was in the 2018 MAAC tournament semifinals, where the Bobcats pulled out an exhilarating 3-3 (8-7 PKs) win in what was easily the game of the year. But Wednesday's battle was terrific in its own right.
On a rainy, windy day, the pitch was slick and quick, which led to an abundance of offense. Though neither team put together a bona fide scoring chance early on, it was a wide-open game with a multitude of threatening offensive sets.
Quinnipiac freshman Brage Aasen, in one of his first starts of the year, was sensational from the opening kick. The Norwegian was able to constantly beat defenders in one-on-one matchups, and he helped to spread out the field and put his teammates in great scoring positions.
"My decision-making is starting to get better," Aasen said. "When to pass, when to dribble… [I'm] trying to make other plays."
While Aasen's decision making was great, that of the officials was sometimes spotty, and it came to a head with 5:33 left in the first half.
As Marist's Skylar Conway drove inside the box, Quinnipiac's Evan Hughes made a perfect slide tackle, pinning the ball against his shin while Conway lost his balance and went down. However, the officials ruled that Hughes had made contact with Conway, and Marist was awarded a golden opportunity from the penalty spot.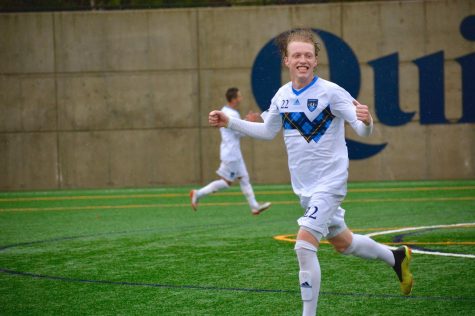 Huib Achterkamp made sure to take advantage, as his shot glanced the crossbar and went in, giving the Red Foxes the 1-0 lead late in the half.
With 2:02 left, Marist was called for a handball in the box, and Tomas Svecula was called on to make it count. He beat Marist keeper Samuel Illin, and things looked to be all square at 1-1 into the half.
However, Quinnipiac wasn't done. After earning a corner with just over a minute remaining in the half, Aasen served in the ball. It somehow missed everybody's head, yet found Romain Daniellou's cleat. Daniellou quickly fired it off the back post and in, and Quinnipiac somehow found itself with a 2-1 lead at half.
"Obviously, you go into the break with the lead… you can come out with a positive mindset," Da Costa said. "I was happy with how we came out in the second half… we decided to dictate the tempo and the pace."
Despite having the lead, the Bobcats played like a desperate team to open the last 45. They pressed forward, were aggressive defensively, and if it weren't for multiple highlight reel saves from Illin, Quinnipiac could've built on its advantage.
Since they didn't, though, Marist was still one play away from being right back in it – and shortly after QU's dominant run, they got that play.
On a set piece about 10 yards outside of the box, Marist's Allen Gavilanes lofted a great ball into the scrum, and teammate Christian Curti put his header past Quinnipiac keeper Jared Mazzola to even the score at 2-2 with just under 30 minutes left.
About 7 minutes later, Daniellou made a tough mental error, and it put the Red Foxes in the driver's seat. Daniellou had open space to move in his back third, but instead elected to leave the ball for a teammate who wasn't expecting it. As a result, Gavilanes picked up the ball on the edge of the box, then hit Samad Bounthong with a perfect pass.
Bounthong deposited his shot to the near post, and while Mazzola sprawled to get a piece of it, it wasn't enough, as the ball went off the inside of the net and in to give Marist a late 3-2 lead.
With a little over 18 minutes remaining, the Bobcats were given another corner, and Aasen once again stepped up to take it with the game potentially on the line.
His in-swinging corner was surgically placed, and defender Conor McCoy, who hadn't scored all season, rose up amongst the crowd before he lasered a header over Illic for the 3-3 equalizer.
"[I'm not looking] for a person," Aasen explained. "Just a specific area where I want to hit it. And on both corners, I hit it where I wanted to."
After giving up the deflating score, Marist's defense completely broke down. Just four minutes later, QU's Christian Casagranda was pushed down in the box. With Tomas Svecula having been recently subbed off, the pressure to regain the lead was put on the shoulders of Simon Hillinger.
While it was the most tense moment of the game, you wouldn't be able to tell from Hillinger's actions, as he confidently blasted his shot into the back of the net for a 4-3 lead with 15 minutes left. The Bobcats finally found themselves back on top of the seesaw match, and their relentless attack refused to let the lead go.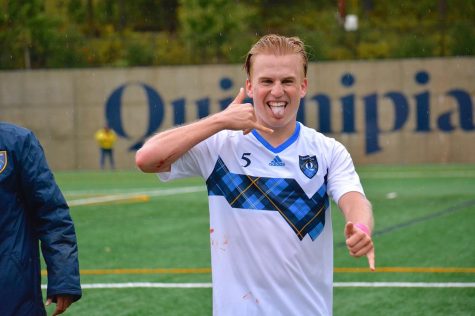 With their backs against the wall, the Red Foxes went all-in offensively. However, their lack of precision in Quinnipiac's back third led to their demise.
After a sloppy entry pass with just over 5 minutes left, Quinnipiac's Domen Bozic lunged for the interception before delivering the best ball of his early college career. Bozic split a pair of Red Foxes with a perfect through ball, and the recipient was none other than Eamon Whelan.
The reigning MAAC Offensive Player of the Year proved his prowess once more, as he and Illic charged towards the ball after a heavy touch by the Quinnipiac striker. Right as Illic lunged for the ball, Whelan deftly dribbled the ball to his left, leaving him with a wide-open net and Illic with a face full of turf. He flawlessly finished with his left foot, inciting his head coach's impassioned reaction as Quinnipiac surged to a 5-3 lead.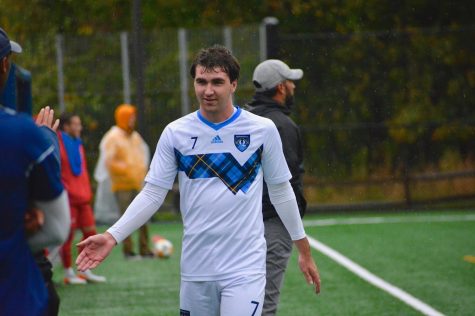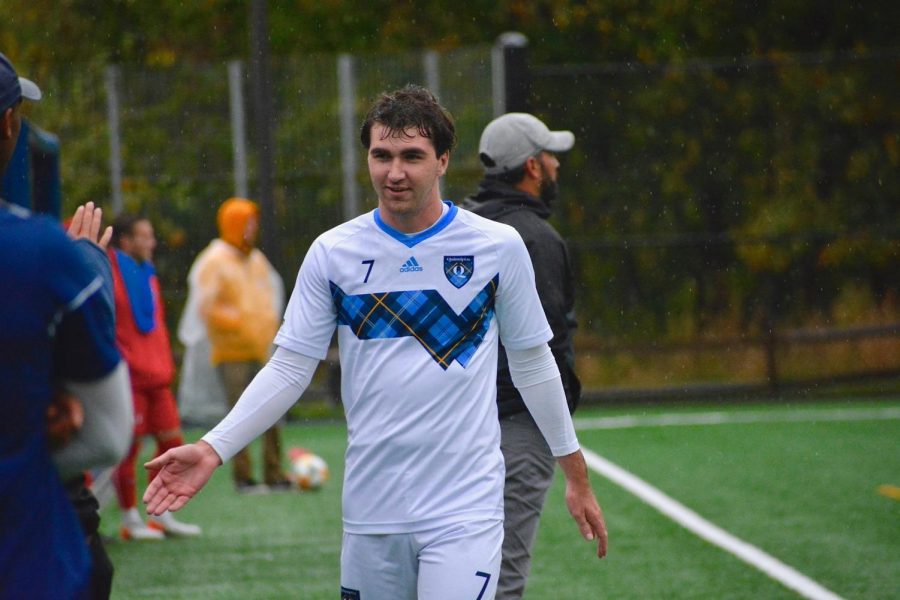 After Whelan put the nail in Marist's coffin and the exclamation point on a furious late Bobcat rally, the Red Foxes never threatened again, and Quinnipiac picked up its second conference win. After his team managed two separate comebacks and showed plenty of firepower, Da Costa was pleased with the result, but knew there was plenty of room for improvement.
"I'm sure all the fans loved it," Da Costa said of the game with a smile. "We could have done a lot of things better… but they put an amazing effort in… it's probably a deserved scoreline."
Quinnipiac will look to continue its winning ways up north on Saturday evening at 7 p.m. at Niagara. The Red Foxes will try to bounce back and earn their first conference win on Saturday night at 7 p.m. when they host Siena.