Quinnipiac Volleyball Falls to Manhattan in Five Sets on Sunday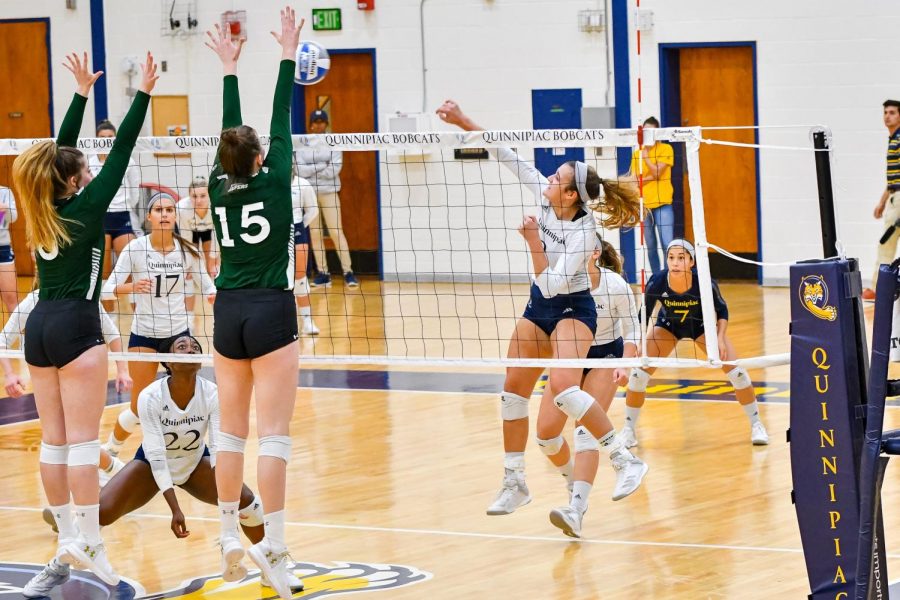 Just because it was the second day of family weekend and a Sunday afternoon did not stop the crowd from coming out and supporting their friends and family. The second home game of the year was just as lively as the crowd that came to see their Quinnipiac Bobcats (5-9, 1-4 MAAC) take on the Manhattan Jaspers (3-14, 1-5 MAAC). The Bobcats were looking to go two-for-two over the weekend and add to its first conference win on Saturday. Manhattan was looking for their first conference of the season in hopes of making up ground in the conference.
Ultimately the afternoon culminated with an electrifying five-set match ending 3-2 in the Jaspers' favor. Here are a few observations from the dramatic match on Sunday.
Hitters have a day
Regardless of the outcome, hitters Maggie Baker and Morgan Sherwin had themselves an afternoon. Offensively they were the team's engine. Every set won on Sunday was capped off by a Baker kill. If the ball was anywhere near the net you could find them swatting relentlessly at the ball, this being the main reason Baker and Sherwin were able to amass 25 and 23 kills, respectively, on 148 combined attempts.
Rodriguez a rock along back row
While Baker and Sherwin served as the offensive backbone for the Bobcats, Alejandra Rodriguez was the team's defensive heartbeat. 37 times Rodriguez got under heat-seeking spikes giving her hot offense a chance to retaliate. It didn't matter where Rodriguez was positioned at the beginning of the possession, her end position was diving on the floor for a ball. There was not a sequence where she wasn't sprawled out trying to get a dig to give her team a chance to return the ball.
Looking for positives
Although it's hard to draw positives from any loss, there are a few bright spots that the Bobcats can keep in mind. Every win they had was by eight or more points. When Quinnipiac was focused and dialed in they were playing fast, controlled and smart. Even in the losses there were flashes of Bobcat brilliance and resolve. Every set went over the ordinary 25 point threshold, with one having to venture into the 30s to find a resolution.
Next up
The Bobcats are hoping to take these remarks and build off them when they play host to another conference foe, the Red Foxes of Marist University on Wednesday, October 9 at the Burt Kahn Court.