Five different Bobcats score in women's ice hockey's fifth shutout of the season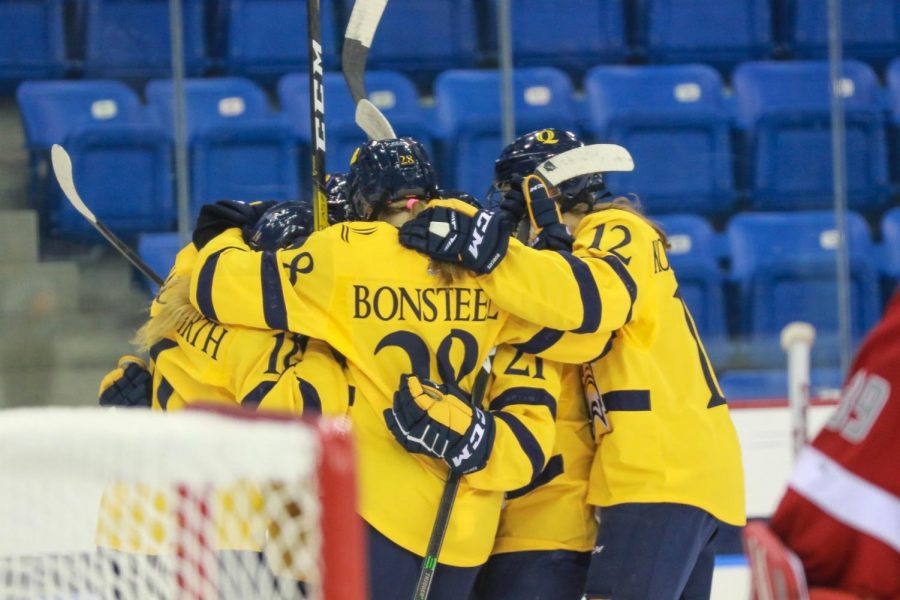 The Quinnipiac women's ice hockey team defeated the St. Lawrence Saints 5-0 thanks to an impressive display of scoring depth. All five goals were scored by different players, and the Bobcats have now won two of their last three after struggling to start the month of November.
"I'm flat-out just proud of our team today" head coach Cassandra Turner said. "We've just been getting better and better and we bounced back from what was kind of a tough loss last Saturday."
The Bobcats pounced early at the 2:50 mark when first year defense Kate Reilly tallied her second goal of the season with the help of junior forward Taylor House.  Later in the second period the Bobcats scored again – this time it was senior forward Sarah-Eve Coutu-Godbout netting her team-leading sixth goal of the year. After that, St. Lawrence clamped the Bobcats until the third period, where Lexie Adzija, Sadie Peart and Kenzie Prater broke through.
Despite some pressure from the Saints, the Bobcats' defense and the goaltending of senior Abbie Ives locked down the zone. The Saints were not able to score despite some quality chances, and Ives recorded her third shutout of the year.
"It's a big team thing we take pride in," Ives said. "We play really good defense, so it's a big team achievement when we get a shutout. What we care about right now is wins, but it's like a cherry on top."
Rolling right along with the Bobcats offense is Sarah-Eve Coutu-Godbout, who scored her fourth goal in her last four games. Turner said Coutu-Godbout has started figuring out how to play around the net and create goals off second chances.
"I think she's just battling and working really hard," Adzija said. "It's a test to our whole team which comes from the back up. Ives has been solid, our D has been solid. I think for her to get those goals, there's some assists on those too and her linemates are doing a really good job of winning those battle and getting her the puck as well."
Coming off the win in today's game, the Bobcats have a tough task when they host No. 5 Clarkson on Sunday.  Turner said that with the quick turnaround, the team needs to use the momentum and confidence they got from today's game to head into the matchup tomorrow.
"Clarkson, they have some players who have such poise with the puck," Turner said. "We're going to need to be good with our sticks, we're going to need to be really good on the back check and be ready to play stick on stick, body on body, to stop a few of those players."
Sunday's matchup between the Clarkson Golden Knights and the Quinnipiac Bobcats starts at 3 p.m. in the Frank Perrotti Jr. Arena inside the People's United Center.