Q&A: Men's Soccer Star Eamon Whelan
Everyone knows about Eamon Whelan the striker. But what about Eamon Whelan the leader, the student, and the person? Will Fowler sat down with the striker to learn more about his recruitment process, his impact off the field, and his role within the locker room.
Will Fowler: Obviously, you've done pretty well in the soccer game. What caused you, way back when you were a kid, to fall in love with the sport?
Eamon Whelan: Ever since I could kick a ball, I was always at my brother's games. They're 10 and eight years older than me, so I have them to thank for everything. My mom always brought me to high school, indoor, Premier, things like that. So I was always around the game in that sense. I really have to give credit to them in that they were always bigger, stronger, faster than me, and by playing with them, I was able to grow my game individually. I would never win, which, for me, I think it motivated me in that way. Growing up, my dad was a baseball player, my mom played field hockey, so there was never really a "soccer", so my brothers really got me into a sport and I have them to thank for it.
WF: You're Connecticut, born and raised — was the plan always to kind of stay in-state, or was that just how the dominoes fell?
EW: Yeah, I think that's how the dominoes fell. I kept my options open as far as recruiting and things like that. I take pride in my academics, and I also had my connection with Grassy [Graciano Brito] and Eric [Da Costa], so through playing Premier Soccer, I was with them. And in the back of my mind, that was an option. And then, junior year, they approached me and took me on a tour and I did my research and things like that. Then, I came on the campus and I fell in love with it. Ever since then, I came and I committed. 
WF: Last year's MAAC semifinal was one of the craziest games I had ever seen. I was in the booth, but you were on the field — as a player, what types of emotions were you and the team feeling during the two overtime periods and penalty shootout? 
EW: It's cliche, but our coaches always, in those types of games, say, "Don't just play it but try and live it." I mean, being out there, looking up at the stands, it's what you dream of as a little kid. It's a packed house, things like that. As far as intensity, it can't get much more intense than that game. So, I mean, you try to not let the emotions  overcome you. But for me, I still remember vividly the sights and the sounds of the game. It was awesome to have the opportunity of playing the game, but as far as being on the field, you can't let the emotions impact your game, But you can always realize what they are. As far as just playing and being there, how close the game was, the ups and the downs for all of it, it was pretty awesome to be a part of it.
WF: Despite an inspiring run to the final, your squad suffered a 1-0 loss to Rider in the MAAC championship. What kind of things can you as both an individual and as a team leader take from that run and implement this season?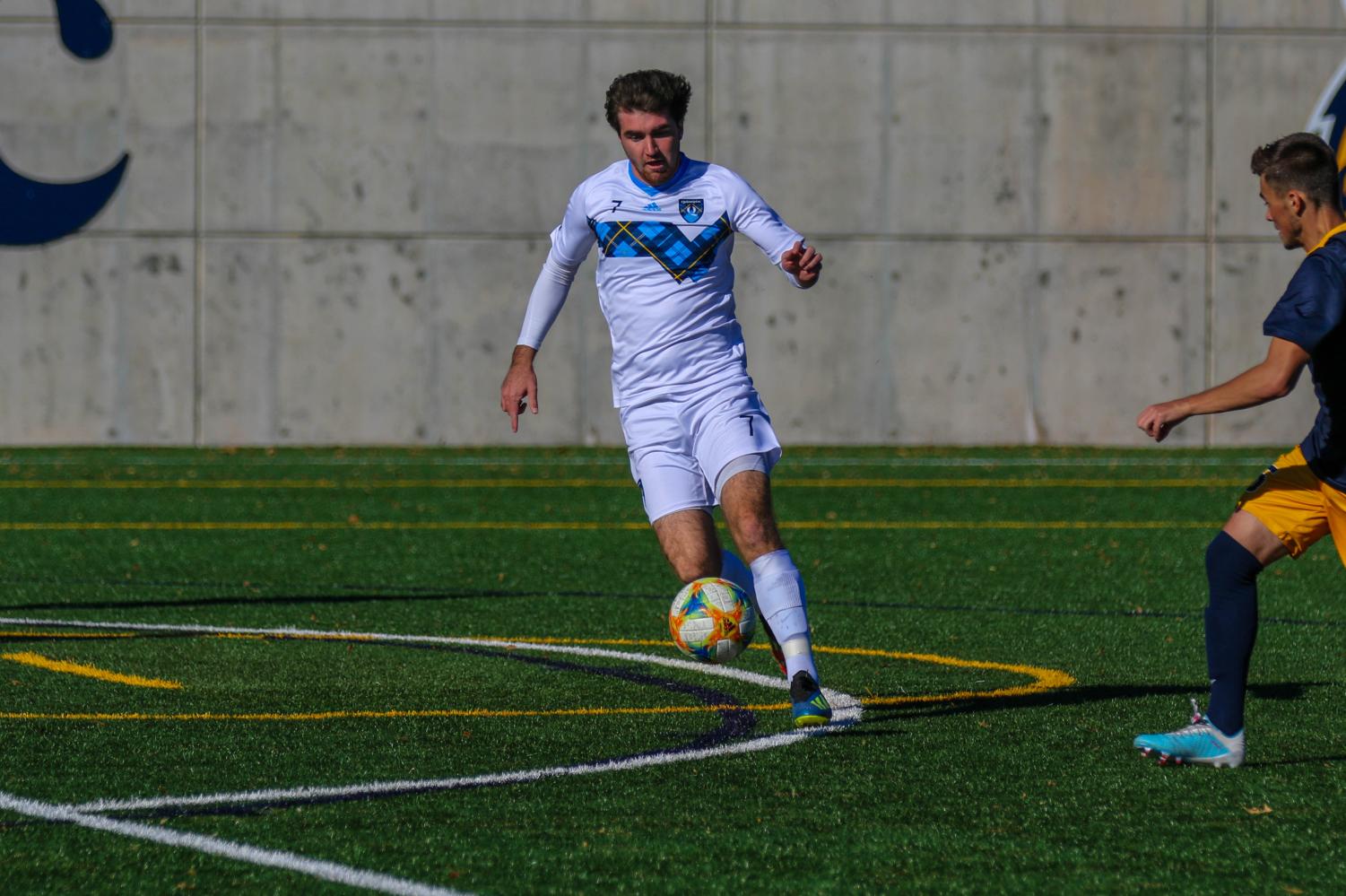 EW: Obviously, going to a final, being that close and losing, it hurts. But I think we showed fight. I've had experience — unfortunately, that's the second time that's happened to me on our own field, so we always think about that. I know the coaching staff, they remember it every single day when they wake up. We don't use it as far as feeling bad for ourselves, but more as motivation. I think that we're ready for this season, and I think the new guys are becoming acclimated in our system… So as a senior, I just say, "Keep fighting and keep going for it, but you're only as good as your last game. You don't want to get too high or too low." As far as that final, it was disappointing, but I think that this year, with the group of guys we got, I think we can make a run at it again.
WF: Rashawn Dally — your buddy, your teammate, and your strike partner — heads to the MLS at the end of last season. What was your relationship like with him when he was wearing a Quinnipiac uniform? 
EW: He's a year older than me, and when we played Premier for CFC [Connecticut Football Club], he was on the older team. So I've known him for a couple of years before coming here. He's the nicest, most genuine guy you can meet. On the field, he's a workhorse, and off the field, you don't see it, but after practice, he was always here kicking the ball against the wall, doing sprints, and he's one of the hardest workers I've ever seen. The fact that he is doing what he's doing — he was playing yesterday with his own FIFA card — is pretty outstanding, but me and him are very close. I think that we worked well together. He was a more quiet kid and I'm not the most outspoken kid either, so I think in that sense, we got got along very well. But you can't say anything bad about him. He was hardworking. He was nice. He was he was just everything you want as a teammate. 
WF: On the field, you're the attacking threat that teammates look for to bag a goal in the late stages of a game. How do you describe your role with this team aside from being that go-to player that's constantly penciled in up top?
EW: As far as playing, I think they look for me at the end of the game, things like that. But as far as leadership, I have a lot of experience playing. I was fortunate enough, coming in my freshman year, to get a lot of playing time and [we had] a good group of guys that graduated my freshman year. They took me under their wing and I was able to learn a lot from them, both on and off the field… I think for student athletes, it's big. While you're athletes, you're also students in that regard. The biggest thing for me is it's easy to to stay with your team, but as far as the whole experience of college, just go out and meet new people, be confident. Because a lot of kids coming from overseas are very soccer oriented, and so for me, being a guy from the States, I kind of see both the soccer and the social aspect of it. So I know a lot of kids come to me as far as just, "How do I do this or where do I do this, who should I go to," things like that. Obviously that's not soccer related, but I think that, while as a soccer team, it's good to be together on the field, off the field is how it translates.
WF: This is a team that consistently, and this season especially, possessed a ton of young, international blood. As a senior leader, how to you lead the charge and turn all of that into one cohesive, championship contending unit? 
EW: Our players and our staff pride ourselves on [the concept of] once you enter the field, once you enter the locker room, there's no 'freshman, sophomore, junior, senior'. It doesn't matter how old you are or what grade you're in, things like that. We're all one team. Coming in, that's how it's been for the last four years that I've been here. I think that it's just confidence, because obviously you're going to get the balls, since freshmen get the balls, but on the field, when it starts to matter, all that stuff goes away. And I think that coming in, as a timid freshman, I think it gives a lot of confidence to the players. Getting on the ball can be a little nervous, but when somebody is behind you, believing in you, accepting you and saying, "You got this, you got this," I think that they play better, they feel accustomed, they communicate better and things like that.