QU Volleyball easily handles Saint Peter's in straight sets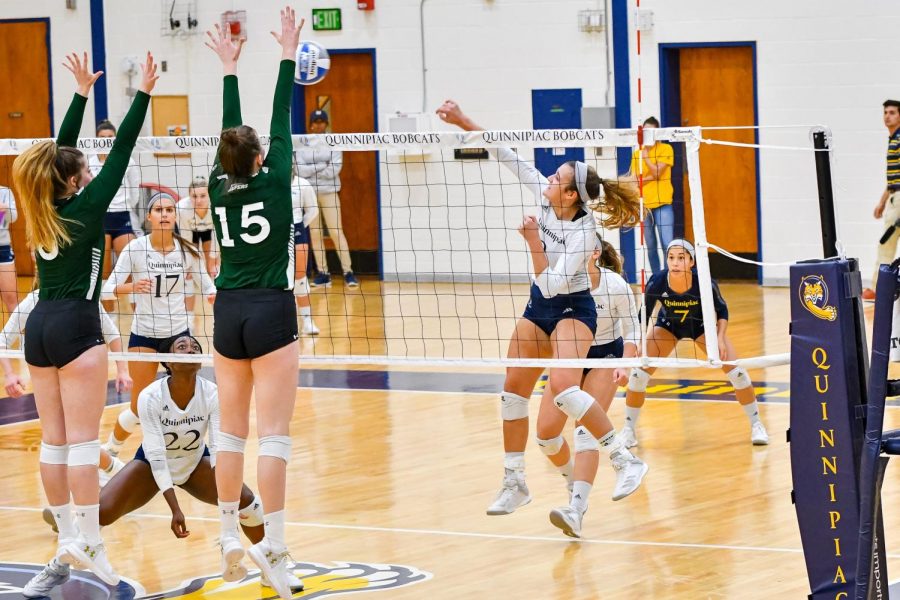 Coming in off of two straight wins, the Quinnipiac Bobcats women's volleyball team (10-12, 6-7 MAAC) was riding high before facing the last-place Saint Peter's Peacocks (3-24, 1-14 MAAC) on Saturday. The Bobcats were able to carry that momentum, executing their game plan in a 3-0 victory in straight sets over the Peacocks.
"I believe we are on a good road," head coach Kyle Robinson said. "We have not seen any slowing down, so that is a big thing. Just like today, or any other match, we had to work, we had to earn it."
The first set was very competitive, as both teams went back and forth. Though both teams were tied at 15 at one point, the Bobcats went on a 4-0 run to jump ahead and used that momentum to take a 25-18 set win.
The second set was more one-sided, as the Bobcats easily took the set 25-12. The third set was the closest of the day, but the Bobcats eventually showed their strength, clinching the win with a 25-21 set victory.
Seniors Kaleigh Oates and Alejandra Rodriguez had themselves a day. Oates had eight kills to go along with her game-high six blocks, and Rodriguez continued her great season with 15 digs. Seniors were not the only players who shined today though, as freshman Aryanah Diaz put on a show today with 21 assists, adding to her team-leading total.
This game was also the team's last before senior day. With only four games left in the regular season, the clock is ticking on the collegiate careers of many of the Bobcats' seniors.
"Definitely, I'm sad to be a senior, I wish it was longer than four years," Oates said. "I love this team, they are my sisters, 100 percent. We have gotten so close over the course of the season and I think this is the closest team I have been on here at Quinnipiac."
"It is bittersweet, and it is definitely a little bit emotional," Rodriguez said.
The Bobcats are now in sixth place in the MAAC standings, and hope their hard work and determination can lead them to a deep playoff run. First thing's first though – the Bobcats will have to bring this good run of form into Sunday's match as they face the Rider Broncs at home.