QU Volleyball falls to Rider on Senior Day in straight sets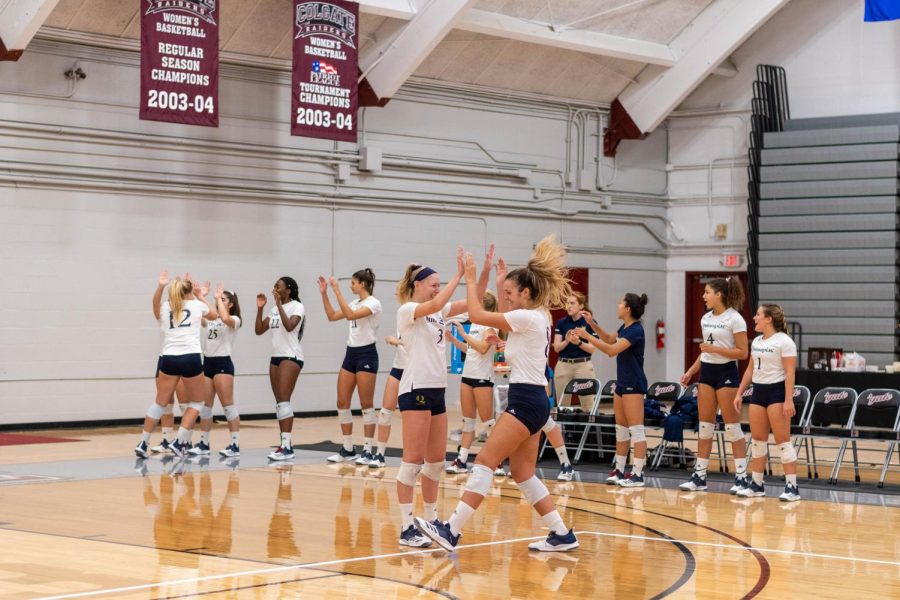 The Quinnipiac Bobcats Volleyball team came into Sunday's match against the Rider Broncs having won their last three contests, but the team's streak would end at three. The Broncs topped the Bobcats 3-0 in straight sets in front of a spirited Senior Day crowd at the Burt Kahn Court.
The Bobcats started hot, but eventually lost a tightly-contested first set 27-25. The momentum shifted Rider's way and never swung back, as Quinnipiac lost their final sets 25-13 and 25-18.
Effort was never an issue for the Bobcats – multiple players were seen diving out of bounds to save live balls. Still, it wasn't enough to beat a Rider team that sits at second in the MAAC.
Two keys emerged in today's match. First and foremost, Rider's level of play near the net was very high, where senior Evelyn Shanefield, junior Ali Ward, and freshmen Morgan Romano and Morgan Koch combined for 33 blocks against Quinnipiac hits.
Rider also limited their own mistakes, tallying 17 fewer attack errors than Quinnipiac (13-30). Sophomore setter Anilee Sher controlled much of the action for the Broncs, recording a game-high 32 assists.
Meanwhile, the Bobcats saw contributions from a number of players. Down 15-14 in the first set, junior Gabby Horman flashed her aerial abilities to adjust to the ball on both ends, tallying consecutive kills and a block to give the Bobcats a brief 17-14 lead. Sophomore Georgia Tselepi led the Bobcats with 10 kills, while senior Maria Pansari and freshman Aryanah Diaz combined for 29 assists. Senior Alejandra Rodriguez played at a high level, tallying nine digs, which tied for the team high.
Senior Kaleigh Oates' emphatic clapping during a timeout in the 3rd and subsequent passionate play spoke to the Bobcats' resilient mindset, but it wasn't enough to topple the Broncs.
With the loss, Quinnipiac moves to 11-13 (7-8 MAAC) on the year. Rider improves to 14-14 (11-5 MAAC), and has won seven of their last eight matches. The Bobcats get back in action on Wednesday, staying home to face Siena (10-16, 5-10 MAAC), while Rider heads home to host Manhattan (6-22, 3-12 MAAC).