Quinnipiac Field Hockey Ends Year on High Note, Win 3-2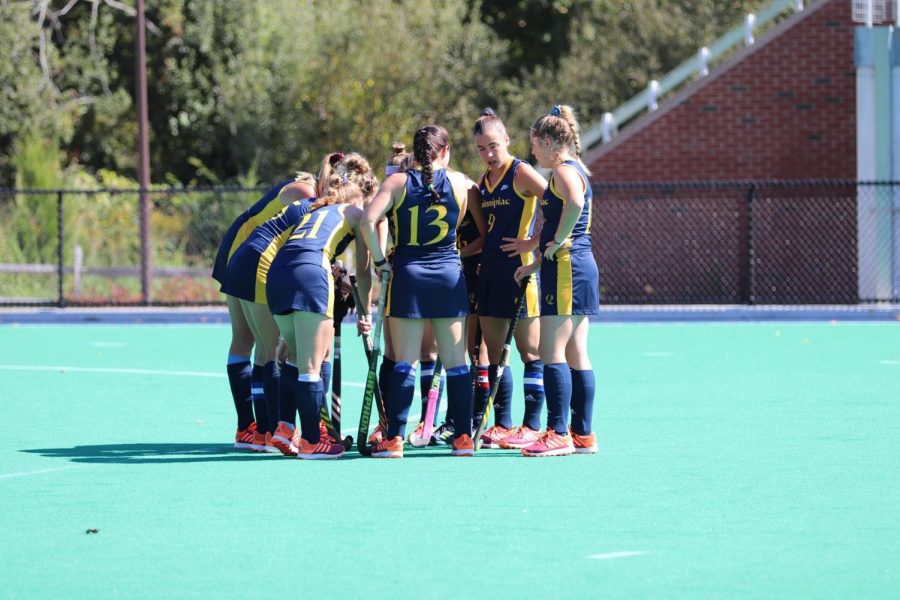 In a year full of a lot of forgettable moments, the Quinnipiac field hockey team ended its season on the highest of notes Friday afternoon.
Freshman Julianna Cappello netted two goals, one of them being the game-winner in overtime, to propel the Bobcats to a 3-2 win over the Temple Owls, their fifth victory of the 2019 campaign.
"Julianna is a player who wants to be told how to improve," head coach Becca Main said. "She's making executive decisions that are junior or senior level. Who wins it in overtime as a freshman? It's not something you see."
Cappello finishes her first season at Quinnipiac with an impressive six goals, enough to place her second on the team in scoring.
This one looked like it was going to be another heartbreaker for the Bobcats. After Cappello tied the game with five minutes left in the second quarter, the game remained deadlocked at one for most of the second half.
With two minutes to go, Temple regained the lead, putting Quinnipiac in line for its seventh one-goal loss of the season.
The Bobcats answered almost immediately though, as Bianka Strubbe scored her team-leading ninth goal to force overtime, where Cappello fired home the decisive goal.
Quinnipiac is losing a lot of star power next season with the departures of Strubbe and Valerie Perkins, but the Bobcats have a solid core of underclassmen to soften the blow.
The Bobcats have not made a postseason appearance since joining the Big East in 2016. With the youth movement in full swing, they'll look to change that next season.
Cappello undoubtedly leads the bunch, but Eva Veldhorst and the dynamic goalie tandem of Hedda Biermann-Ratjen and Mack Vorel will all play key roles for the Bobcats next season and beyond.
"Eva and I love playing on the right side together," Cappello said. "As we continue to play together we'll build a stronger connection and utilize that."
After taking the winter to reflect on the season, it'll be back to the drawing board for Becca Main and Co. once the spring arrives. Main wants to put an emphasis back on the basics, as her young squad looks to improve for the 2020 season.
"We're losing our superstars, so we'll have to learn how to play together again," Main said. "We need to learn to play and move as one unit."
Quinnipiac's 5-13 record this season is its worst mark since the 2016 campaign, but finishing off the season with two straight victories may be a sign of things to come for an exciting and youthful Bobcats team.