Quinnipiac Men's Basketball Wins Second Straight Against Presbyterian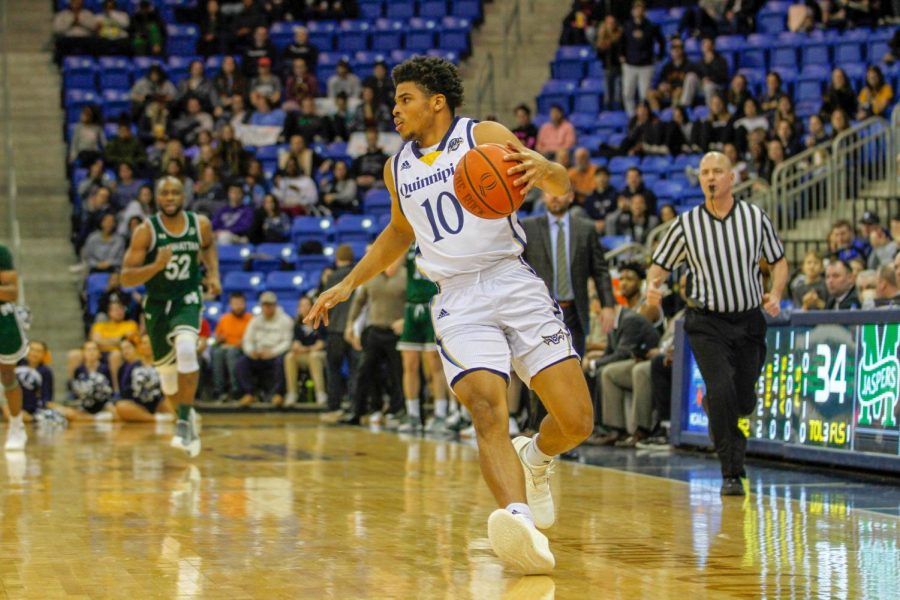 With the majority of the student body home for the Thanksgiving break, Quinnipiac men's basketball followed up their Friday win against Albany with a 73-64 victory Saturday night against the Presbyterian Blue Hose.
After falling behind while the game remained in single digits, the Bobcats kept control for the remainder of the game, never relinquishing their lead.
Although the Bobcats couldn't top their output from Friday's offensive explosion (51% from three, and 86 points), they still retained their collective hot hand, going 20-24 (83.2%) from the foul line and 13-33 (39.1%) from beyond the arc.
It was a collective effort, as five Bobcats finished the game with at least two three-point field goals.
High volume three-point shooting, frequent trips to the foul line and fast-break scoring were all decisive advantages for Quinnipiac Saturday. Junior guard Rich Kelly and sophomore guard Tyrese Williams frequently drew fouls, and both converted eight of ten attempts.
The Bobcats had almost as many free throws Saturday night (24) as they did in their first three games combined (27). Presbyterian stayed in foul trouble for most of the evening, finishing with eight more than the opposition.
Junior forward Kevin Marfo dominated the glass, as six of his thirteen rebounds came on the offensive end.
Kelly finished with 20 points and six assists, showcasing court vision and remarkable control of the Bobcats' offense. Having logged over 2,100 minutes on the hardwood in a Bobcats uniform, Kelly has developed a collaborative relationship with his coach that is built on trust.
"We're going on our third year together, so he makes suggestions, asks questions, and I listen, in a way that I wouldn't listen to a lot of players," said Bobcats head coach Baker Dunleavy.
"(Kelly) knows how to play aggressive. He drove the ball, made some tough shots in the lane, and did everything with great confidence because he's been through the fire."
Quinnipiac wraps up the Bobcat Invitational tomorrow afternoon at 3:30 p.m., looking for its third win of the season, against Sacred Heart (2-4).