Quinnipiac Volleyball's Title Run Comes up Short Against Fairfield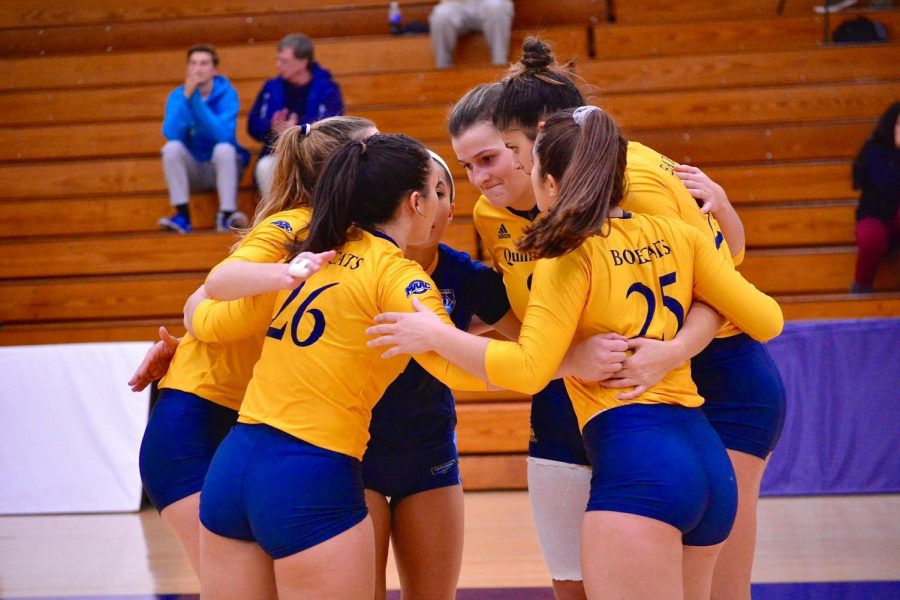 On Friday, the Quinnipiac women's volleyball team rolled into Fairfield on the team bus.  On Sunday, they nearly rolled out in a golden carriage.
After two straight losses to finish the regular season, the Bobcats pulled off back-to-back upsets as the sixth and lowest seed in the MAAC Championship and earned a Cinderella shot at the title against #1 Fairfield.
In a rematch of the 2016 final, the stalwart Stags prevailed once again, this time in four sets, 25-22, 25-18, 22-25, 25-16.
The Bobcats were extremely composed out of the gate, unfazed at having defeated the Stags just once in their 17 previous meetings.  Georgia Tselepi tallied two quick kills as part of an early three-point run.  From there the opening set swayed back and forth and was knotted on nine separate occasions, but Fairfield moved in front late, capitalizing on two Bobcat errors to take the early lead.
The Stags continued to apply pressure, grabbing the first five points in the second set thanks to a trio of kills from senior Mayda Garcia, sophomore Julia Kallen, and junior Luci Albertson allowing Fairfield to roll to a 2-0 advantage.
But the Bobcats fought back in the third, clawing their way to 22-22 before rattling off three consecutive points to take the set.  Senior Kaleigh Oates notched two pivotal kills to set things in motion, breaking a streak of 11 straight sets won by the Stags dating back to November of last year.
The final set featured a dramatic first 18 points, resulting in a deadlock at nine apiece.  But the Bobcats got caught in the vicious red sea that has plagued them since they joined the MAAC in 2013, dropping 11 of the next 12 points and putting the set and the match out of reach.
Quinnipiac (14-16, 8-10) fell just short of pulling off the biggest upset in MAAC Championship history, but Fairfield (24-5,17-1) solidified their status as the most elite program in the conference, capturing their sixth title in eight years.
Senior Alejandra Rodriguez and sophomore Olga Zampati were both recognized as part of the 2019 MAAC All-Tournament Team.
While the Bobcats won't be fitted for glass slippers, their remarkable run will forever be etched in the memory of a remarkable senior class, as Rodriguez, Oates, Lauren Miller and Maria Pansari stepped off the court for the last time.