Quinnipiac Women's Hockey Still Searching for First Conference Win After Loss to Harvard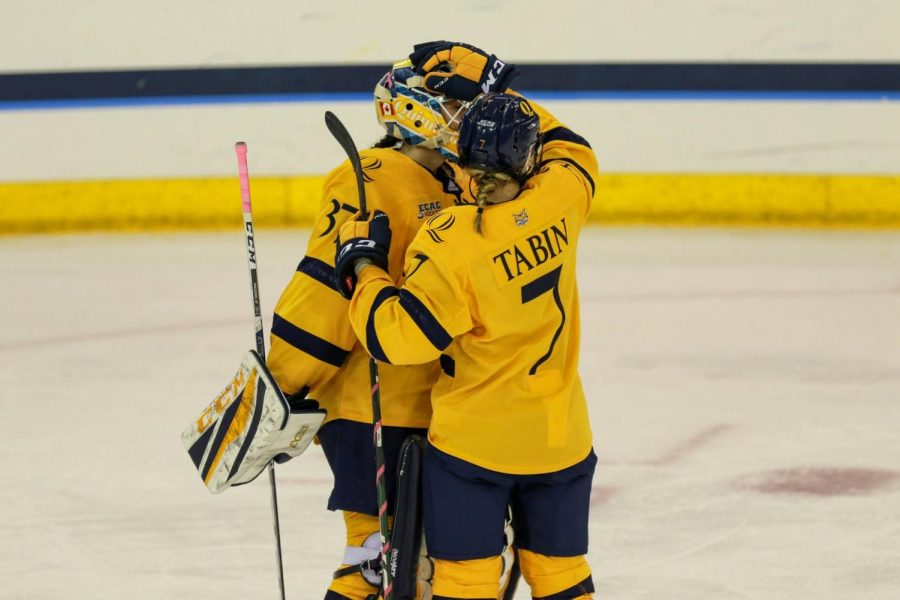 The Quinnipiac women's hockey team clawed and scratched the entire game, but the speed and agility of the Harvard Crimson was too much for the Bobcats, who fell 3-2 in overtime on Saturday. Quinnipiac falls to 4-5-2 overall and 0-3-1 in ECAC Hockey play.
The power play unit for the Bobcats was the reason they stayed in the game. The power play unit scored both of Quinnipiac's goals on the evening and the Bobcats' lone goal the day before against Dartmouth.
With 18 seconds left in the game the Bobcats pulled senior goalie Abbie Ives to get an extra skater in senior Kati Tabin to make it a six on four. Tabin scored the game-tying goal to force an overtime period.
"I think we showed a lot of heart today to come back and score that late goal" said head coach Cassandra Turner. "To find ourselves in a tie game with 18 seconds left that's a lot for a young group to be able to do that and it's something that I'm excited about for us moving forward."
After starting the overtime period, it only took Harvard sophomore Anne Bloomer 1:08 to end the game with a goal. Turner said that she expects more from her group moving forward and is looking for her team to stay composed during overtime periods to finally get on the winning end of an overtime period.
Harvard was able to keep Quinnipiac playing on its heels in the first period, spending a lot of time playing inside the Bobcats' defensive zone. During that time the Crimson put up a relentless attack which Quinnipiac defended well blocking multiple shots.
Stellar defense can't last forever, as the Bobcats learned. Crimson junior left-wing Keely Moy found the back of the net for her second goal of the year after she received a rebounded pass from sophomore center Kristin Della Rovere.
Going into the second period the Bobcats used some offensive momentum and a power play to score the equalizing goal to tie it at one. Senior right-wing Sarah-Eve Coutu-Godbout netted her third goal of the season off an assist from sophomore Lexie Adzija. Turner was surprised the team scored to open up the second period because she said they weren't playing well at the time.
"I thought we bounced back from a few shifts in the beginning that weren't great for us," Turner said. "There were a lot of moments here and there where we got some momentum and we pushed back and we were a little bit tougher mentally today."
Turner believes the team needs to be better when playing fast on offense. She said that sometimes players hold the puck too long or are not thinking far enough ahead to position themselves to support their teammates when they have the puck.
The Bobcats' next game is at Rensselaer in Troy, New York on Nov. 15 where they will look to get their first conference win of the season.