Bobcats start off second half strong with 3-1 win over Princeton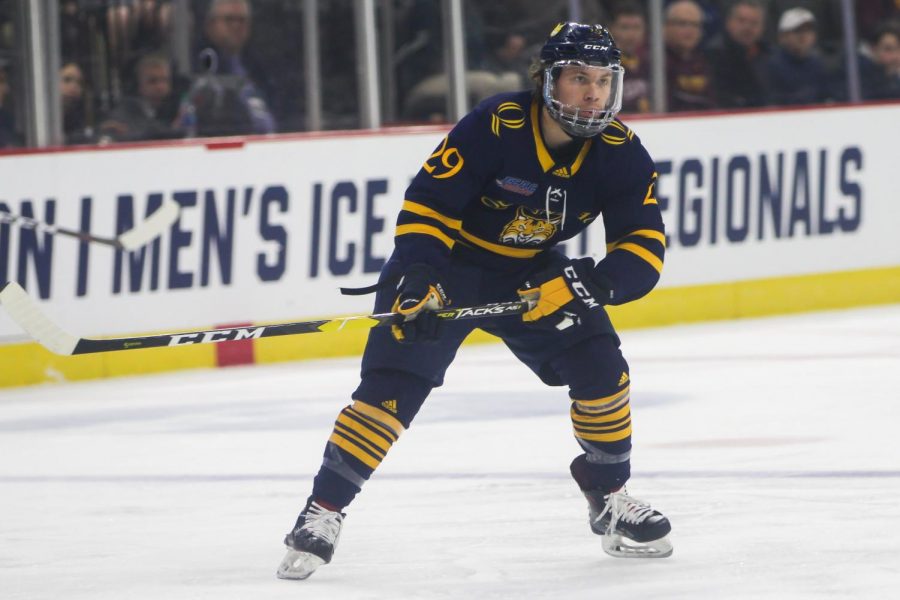 The Quinnipiac Bobcats Men's Ice Hockey team knows what happened in the first half of the season. A season marked for its inconsistency resulted in a 7-7-1 record after the team's first taste of conference play, a subpar record that the Bobcats had an entire month off of game action to think about.
What's in the past is in the past, though. The Bobcats can't change how they played at the season's start, but a strong finish could still propel the team to an ECAC Hockey playoff run. Knowing that, the Bobcats jumped on their first game action since Thanksgiving weekend, coming out with an early spark that proved crucial in a 3-1 victory over the Princeton Tigers.
The Bobcats scored two goals in the first period just two minutes apart, including Jayden Lee's first collegiate goal and Odeen Tufto's second marker of the season. After a second period dominated by Princeton, the Bobcats came into the third period up 2-1 and were able to finish the job, holding the Tigers scoreless and adding an insurance tally from Wyatt Bongiovanni that capped the scoring at 3-1.
"I thought tonight our pace in the first and third [periods] was good," head coach Rand Pecknold said. "We weren't perfect, we were a little rusty. I thought we really struggled in the second. We've got to get more zone time tomorrow night, we've got to play more offense."
Although Pecknold would like to see a more consistent attack, the Bobcats showed in spurts the type of offensive team they can be. The power play, a unit that has struggled this season, converted for a goal and generally produced high-quality chances even when the pucks didn't go in the net. The Bobcats' big guns, Tufto and Bongiovanni, came through when the team needed them to, although it was the freshman Lee who got the team rolling with his first goal.
"It felt great," Lee said. "The puck just came up and I shot the puck, there was a nice screen in front. I'm just happy it went in."
After notching an assist in his first game, Lee had been held scoreless since then, and wavered at times defensively. After a month of extra practice though, Lee thinks his game is rounding into form.
"I think I've really progressed," Lee said. "I've gained a lot more confidence each game, just taking it one game at a time, and being able to build upon each game."
Keith Petruzzelli is another Bobcat who has stepped up as the season has gone on. After a shaky start to the season, Petruzzelli is playing the best hockey of his three-year college career. His 34 saves Saturday matched his season-high, and he's sporting a 1.45 GAA and .944 save percentage over his last seven games. Most importantly, his peers are noticing his improvement.
"I think he's made some adjustments from early in the season," Pecknold said. "Justin Eddy, our new goalie coach, has done a great job with him. He's listening to him, he's buying in. He's challenging more, he's figuring out his depth. He did a good job tonight stopping pucks and helping our D out a bit, and I thought he was really good tonight."
"He's a big, confident goalie who comes up with the big saves when you need them," Lee said. "He's bailed us out a lot this year, so credit to him."
After such a disappointing first half, the Bobcats know they have to hit the ground running. The team has used up most of its "cushion" this year – any more debilitating losses against teams they should beat could seriously hurt their chances at the NCAA playoffs. The team came out strong Saturday night though, and Pecknold likes where his team is at right now, heading into another contest vs. Princeton on Sunday.
"Just keep focusing on the process," Pecknold said. "We need to keep getting these freshmen better, and a lot of those kids have taken a jump – not all of them – but a bunch of them have gotten better, and some of our sophomores have gotten better. We just need to keep working and maturing as a team."