Bobcats top Huskies 3-2, advance to Connecticut Ice finals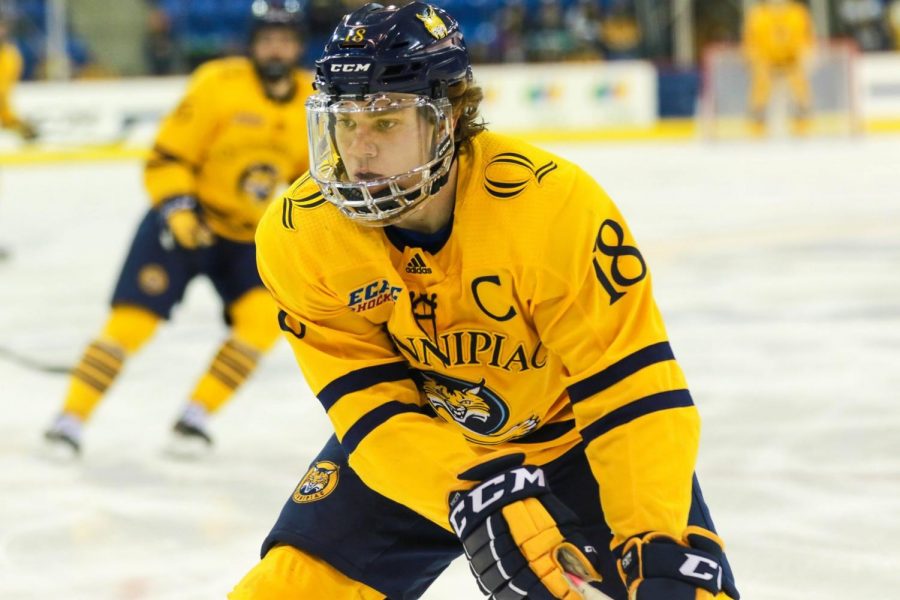 In a game that meant a little more to everyone involved, it was another day at the office for the Quinnipiac men's hockey team Saturday evening in Bridgeport.
Despite head coach Rand Pecknold's admission that his team was "dominated" in the first period, the Bobcats flipped a switch in the second and third periods to grab a 3-2 victory over the University of Connecticut Huskies in Game One of the SNY Connecticut Ice tournament. With the win, the Bobcats advance to the Connecticut Ice Finals, where they will play Sacred Heart.
"Maybe we stole one tonight," Pecknold said. "UConn were all over us in the first period, but we were resilient and found a way."
This one had a bit of a playoff atmosphere to it, with an electric crowd at Webster Bank Arena playing host to the first annual Connecticut Ice Tournament. Both teams had plenty of representation, and the fans didn't stop roaring all night.
"I wish this was around when I was a kid," Quinnipiac captain Nick Jermain said. "I'm glad to be a part of the first one though. It's great for hockey in Connecticut."
Jermain certainly played a big role on Saturday, netting the game-winner for the Bobcats. A missed shot found its way to Jermain behind UConn netminder Tomas Vomacka. Jermain then slotted a backhander around the post and off Vomacka for the eventual winner.
It was a tale of two games for each team. UConn rushed QU goalie Keith Petruzzelli with a plethora of shots in the first period, outshooting Quinnipiac 17-8. Despite allowing two to get past him, Petruzzelli stood his ground from there. Karlis Cukste and Wyatt Bongiovanni found the net for Quinnipiac, and the Bobcats were able to get to the locker room with a 2-2 score.
Quinnipiac then flipped the script on UConn, outshooting the Huskies 17-11 in the final two periods. More importantly, the Bobcats outscored their opponents 1-0 in those periods to escape with the victory. Although the team's inconsistency still frustrates Pecknold, he pushed the right buttons to lead to victory.
"Every night is three games for us," Pecknold said. "We're all over the map, but we reload. We shortened the bench tonight and got it done."
After a rocky November, Quinnipiac has used its month of rest in December to near perfection. The Bobcats have come out of that break with a record of 7-1-0, with the lone loss coming to a top-10 Clarkson team.
Saturday's win marked the ninth time this season Quinnipiac came out on top of a one-goal affair. Those types of grind-it-out wins could really help the Bobcats moving forward into playoff season, especially in a tournament-like atmosphere like Saturday.
Quinnipiac returns to Bridgeport Sunday night for a date with Sacred Heart. The winner will be crowned the inaugural Connecticut Ice champions, and the Bobcats are looking forward to adding to their trophy case.
"We definitely circled this at the beginning of the year," Jermain said. "Everyone is talking about bragging rights, and we definitely want that."