Quinnipiac men's basketball extends win streak against Monmouth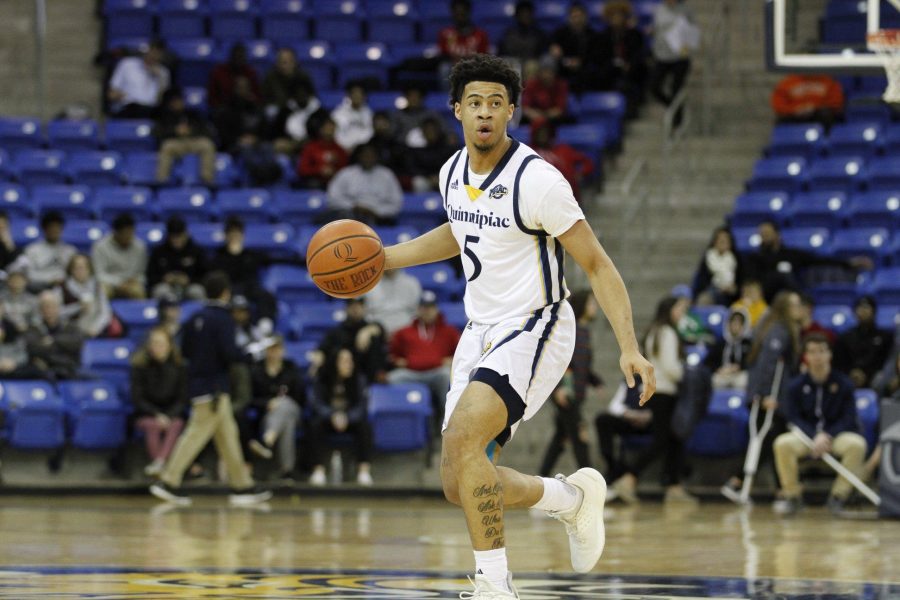 Redshirt-junior forward Kevin Marfo grabbed a career-high 21 rebounds and sophomore guard Tyrese Williams scored 20 points as the Quinnipiac Bobcats men's basketball team moved to 4-0 in the MAAC with their 84-70 win over Monmouth University Hawks. The victory extends the Bobcats' best start to MAAC play in school history.
"It was a great step forward for us," head coach Baker Dunleavy said. "I thought we handled the challenge very well, not perfect, but definitely a step forward. We got better and we'll take it. But what I like from our guys right now is just the improvement level and the concentration level."
The Bobcats fell behind early giving a 9-2 lead to the Hawks early in the first half. After Hawks redshirt-junior guard Ray Salnave hit a 3-pointer, Dunleavy called a timeout to give his team a chance to refocus.
"I thought we made some sloppy mistakes on offense but for the most part we were getting some goods things done," Dunleavy said. "We were getting some really good shots they just weren't going in. More than anything it was just 'hey take a step back, lock back into our fundamentals, but we're on the right path.'"
Junior guard Rich Kelly hit a jumper out of the timeout and Williams followed it up with three straight 3-pointers on his way to a 16 point half. The Bobcats would go on a 27-4 run, heading into halftime with a 41-25 lead.
"What got me started was feeling like I let my team down in the first maybe two minutes of the game," Williams said. "I just feel like I made a lot of bad plays, a lot of bad plays and bad decisions defensively and offensively. And when he took me out and I got back in I was just so focused on making the right play and everything just started to open up."
In the second half, much of the Bobcats' work came from the free throw line. The Bobcats went into the bonus early and made 20 free throws in the half. They made 31 free throws during the game shooting just over 86%.
Kelly led the team with 21 points, with 11 of those points coming off free throws. It's the third time this season Kelly has scored 20-plus points in back-to-back games.
Williams finished the game with 20 points on 5-for-7 shooting from behind the arc, his first 20-point game in conference play this season and the third time this season he's made three or more 3-pointers.
"That's what he do," Marfo said. "We ain't shocked about that. He works hard on his game. He shoots his shots every day."
Marfo dominated the boards in the game earning just one less than the entire Hawks team helping the Bobcats win the rebound battle 41-22. Seven of Marfo's 21 rebounds came on the offensive end contributing to the Bobcats' 14 second-chance points.
"He's in here every day just battling working shots up like little things he would do in the weight room just trying to get himself better so when we see that we just know that he got our back," Williams said.
The Bobcats have found a rhythm, winning five in a row, their longest streak in the Dunleavy era. They'll try to continue the streak on the road against the MAAC's second place team, the Manhattan College Jaspers on Thursday, Jan. 16. Even with the hot start, the players understand there is still a long way to go this season.
"Like coach says, 'we got one game, one day, stay focused on this one opportunity that you have with your brothers right here right now," Williams said. "That's what we just try to do as a team."