Women's Basketball takes over in third quarter, tops Jaspers 70-58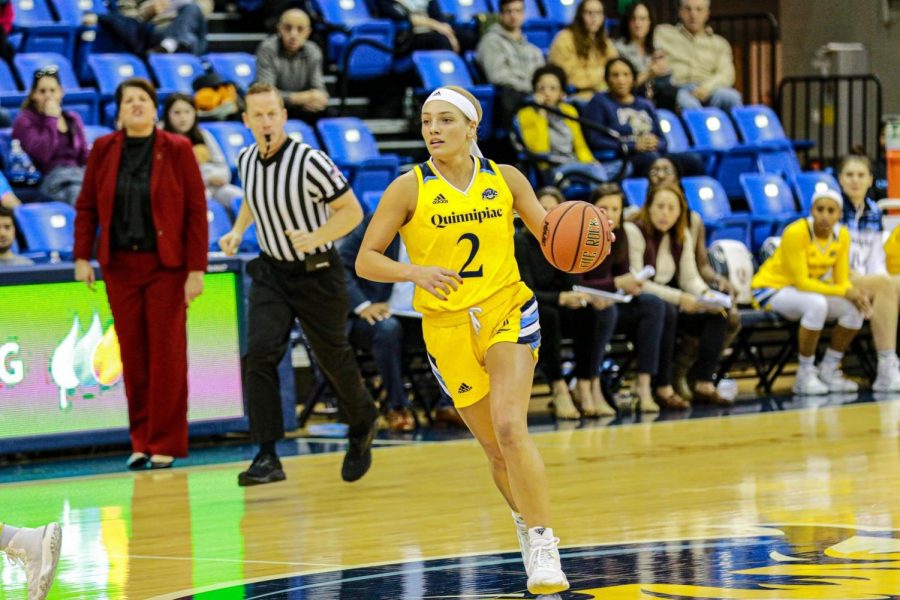 It may have taken a little longer than in past years, but the Quinnipiac Bobcats women's basketball team earned its first home MAAC victory of the season, beating the Manhattan College Jaspers 70-58 Saturday evening.
After the Bobcats lost their first home MAAC game in over three years last Thursday, the team roared back. Junior guard Shaq Edwards returned to the lineup, first-year forward Mikala Morris earned her second double-double of the season and senior guard Taylor Herd led the Bobcats in scoring.
Herd's 21 points tied her career high and gave her back-to-back 20-point games. She hit the ground running, scoring back-to-back 3-pointers to give the Bobcats their first two baskets of the game.
"I think just realizing this is my last season and to leave it all out there, that's kind of been my motto going into these games," Herd said.
A jumper from senior forward Jaden Ward was the only other field goal for the Bobcats in the first quarter as they finished shooting a meager 16 percent from the field, but still held an 11-10 lead as Manhattan shot just 4-for-17.
The Bobcats used an 8-0 run in the second quarter to jump out to a three-point lead that they hoped to take into halftime. Instead, Jaspers senior guard Gabby Cajou hit a buzzer beater from halfcourt to tie the game at 28.
While the Bobcats struggled in the first half against the Jaspers' No. 2 ranked MAAC defense, they decimated them in the third quarter, putting up 21 points and using a 15-1 run to take a lead that didn't dip below double digits for the remainder of the game.
Meanwhile, the Jaspers' free throw struggles dampened their efforts to mount a comeback. They finished the game shooting under 29% from the free throw line, while Cajou in particular made just one of her nine attempts from the charity stripe.
The Bobcats played a complete effort on both ends of the floor in the third quarter, which turned a tie game into a comfortable one.
"Lately our third quarter hasn't been that good, so our main focus was to come out with good energy and from there we just built on it," Morris said.
Ward scored five of her season-high 10 points during the run and added seven rebounds in a solid contribution off the bench.
"I just go in there and do what they need me to do," Ward said. "It starts on defense. Play hard defense and then my offense just comes."
In Edwards' first game back in the lineup, she finished with 15 points and tied for the team lead with four assists.
"I think Shaq is so unique and special with her craftiness with the ball going forward," Bobcats head coach Tricia Fabbri said. "She makes plays that a lot of other players just can't make. When we're at full strength there's just a different level of confidence with Shaq back out on the floor, and you saw that tonight."
The Jaspers' defense was the story coming into the game, but the Bobcats' defense more than looked the part. Jaspers first-year guard and leading scorer Emily LaPointe was held to just 10 points while shooting 4-for-16 from the field, thanks to the Bobcats' careful defensive focus.
"We knew she was a shooter but she can also go forward, so just kind of making sure we were taking away both," Herd said. "I think it was just a really good collective effort."
"We've seen definite progress in our defensive gameplan but it hasn't been consistent enough over four quarters," Fabbri said. "It was really nice just to see us complete a game defensively."
With a 2-2 conference record heading into their next game on Thursday Jan. 16 against Monmouth University Hawks, the Bobcats now have an idea of their potential. Going forward, players want to use the teamwork from this game as the blueprint to success.
"Coach said in the locker room, 'On any given night it can be your game, so just stay ready,'" Herd said. "We're really deep this year, really talented. So, I think this game was a good example of what we can do when we play together."