No. 1? No problem. Quinnipiac men's hockey takes down Cornell 5-0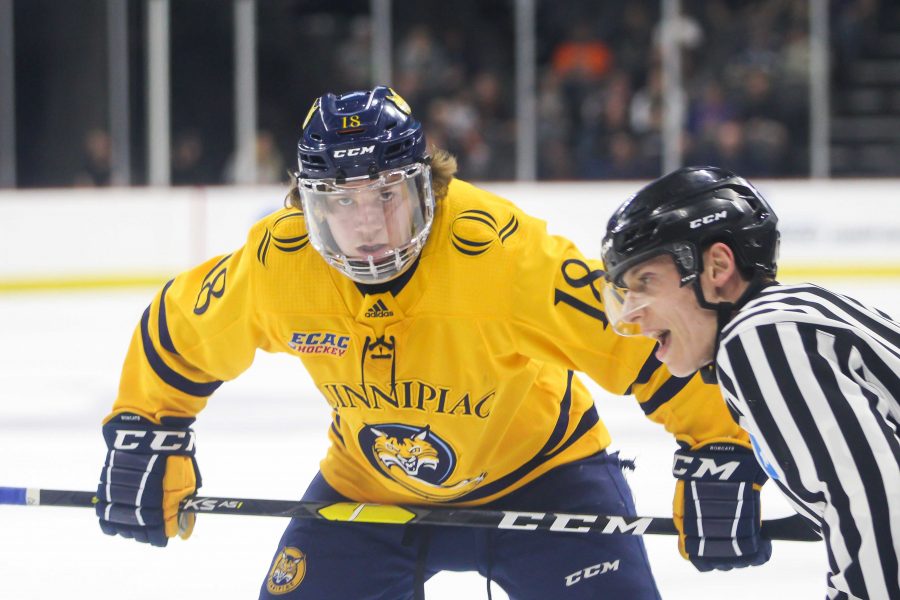 Be warned: if you're the top team in the USCHO ranking, stay away from Hamden, Connecticut.
One year removed from toppling the then-top-ranked UMass Minutemen 4-0, the Quinnipiac Bobcats (15-9-1, 8-4-1 ECAC Hockey) once again embarrassed the nation's top team – this time a 5-0 drubbing of conference rival Cornell (14-2-4, 9-2-2 ECAC Hockey).
"I thought it was a great win for us. Cornell is deservedly the number one team in the country right now – an excellent hockey team, great players, really well-coached. It's a challenge every time we play with them," head coach Rand Pecknold said after the win.
Five goals in a game, regardless of the opponent, is an impressive feat. But perhaps what was more impressive about the Bobcats' performance on Friday was the manner in which they did it.
The Bobcats sought blood from the opening face-off. They challenged Cornell for every puck, didn't get jumpy in their own zone, and took their chances when they came, as opposed to forcing the puck down the ice. Every advantage that Cornell thought it had when it woke up Friday morning, Quinnipiac made quick work of nullifying.
And before the second media timeout, Quinnipiac had already lit the lamp three times.
Senior forward Nick Jermain led the way with a true captain's contribution. He provided two goals in front of the home crowd, including the opener just under nine minutes into the period.
"That was something we keyed in on, to get that first goal and get the crowd going. It was awesome tonight," Jermain said. "We like having it like that. Obviously, it helps us as players, and that just gave us some confidence and momentum."
Cornell hasn't spent much time playing from behind this season. After all, you don't climb to the top of the rankings by coming back from losing positions every game. But once Pecknold smelled blood, he didn't let up. By the time Cornell began to generate consistent chances, it had already found itself in an unescapable 5-0 hole.
For what it was worth, the Big Red thought it had a consolation goal late in the third when junior forward and Rangers prospect Morgan Barron thought he had scored off a loose puck in the crease. But, after review, the goal was scratched off. Keith Petruzzelli was deemed to have covered the puck before Barron arrived, pouring salt in an already gaping wound.
That was the last obvious chance Cornell would get. When the final buzzer went off, the '0' that had been staring at Cornell's bench from the scoreboard all game became a final indictment on a mistake-riddled sixty minutes.
"This is big. We just beat the number one team in the country. This clearly is the biggest win for us so far," commented Pecknold. "Cornell is an excellent hockey team. I think before tonight, they had 28 goals in 19 games, so for us to get five, we feel pretty fortunate."
Friday's win over Cornell symbolizes a number of things for the Bobcats: a win over the top-ranked team in the nation, a dominant sixty minutes against a historic and heated rival, and, perhaps most importantly, a statement performance in a season that has been characterized by volatile ups and downs.
Things don't get any easier for Quinnipiac; in twenty-four short hours, the Bobcats welcome the Colgate Raiders to town, whom they've already lost to once this season back in November. Cornell won't have much time to dwell either, as it looks to bounce back against bottom-dwellers Princeton. But at least for now, both teams will have a chance to remember Friday night for what it was.
For Cornell, it was one of its most embarrassing defeats in recent memory.
But for Quinnipiac, it was "déjà vu all over again." For the second year in a row, it welcomed a top-ranked team to Hamden, only to send it back home with a demoralizing defeat.