Overcoming "Herd"-les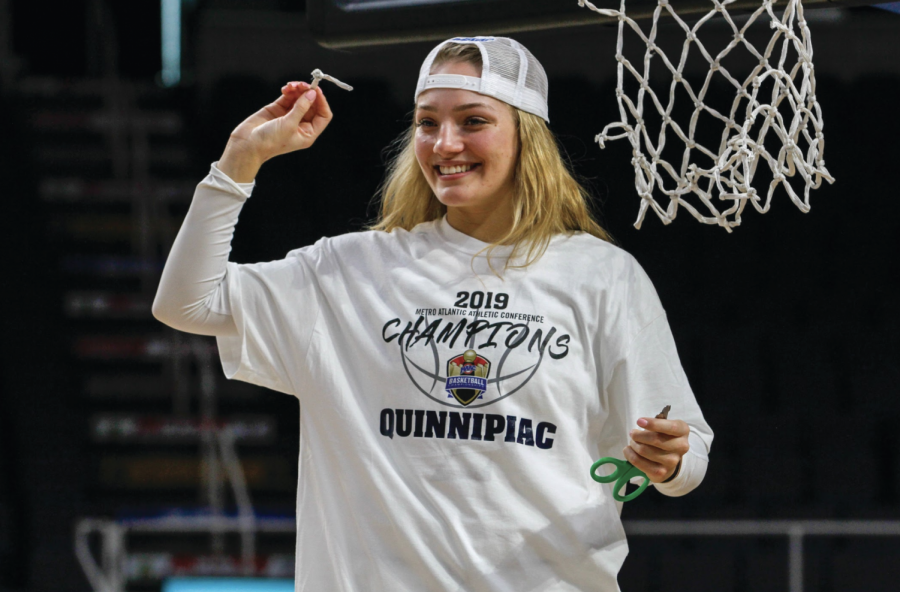 At the top of Taylor Herd's Twitter page, a pinned tweet reads "if you wanna hear God laugh, tell him your plans cause His are much bigger." For Herd and her basketball journey, the quote is fitting. Her basketball career has been filled with unexpected moments and moments of exceeding expectations.
Herd's basketball life has been anything but planned. She finished her sophomore year of high school as the team MVP, Second Team All-Philadelphia Catholic League, and the Catholic League leading scorer. Unfortunately, heading into her junior season, she tore her ACL and had to sit out the season. She rehabbed, recovered and set out to make her mark in her senior year.
Then it happened again.
A second ACL tear finished her senior season before it even started. Two ACL tears, two lost seasons.
Luckily for Herd, she found success on her AAU team and signed her national letter of intent for Quinnipiac after a great summer performance. Still, two lost seasons meant two years less experience than other players on the roster.
"My freshman year coming off my injuries, I felt like I was behind," Herd said. "There were girls that had two years on me from high school, so it was catching up in that sense of skill set but also just physically with endurance on my legs. I worked a lot with Coach B (Brijesh Patel) and Becky (Mela) to get in the weight room and catch up in that sense."
Aside from the physical recovery, ACL injuries take a tough mental toll. The mental recovery can be just as difficult as the physical recovery. With coaches helping rehab her knee, she looked to her teammates to keep her mind at ease through the process.
"There were other girls on the that had ACL injuries and I kind of had a little bit of experience from my first one so I wasn't as lost but they definitely were there for support on those days that I was a little down mentally," Herd said.
That support became important in her first few games. First-year players have an adjustment period adapting to the speed of the college game. For Herd, she wasn't just adjusting to playing at the college level, she was adjusting to playing basketball again.
"You gotta get that game experience to get your legs under you so I think they were just patient with me," Herd said.
After her first year, she started in 25 of 33 games her sophomore year. Her junior season, she excelled in a primarily off the bench role and was awarded the MAAC Sixth Player of the Year Award.
This success came playing the shooting guard position, an adjustment she made at Quinnipiac after playing point guard in high school.
"I think after my knee injuries I wasn't as quick lateral, so I think it was a good transition into that shooting role," Herd said. "I think that's another part of my game that I 've had to do is accept a different role and I think it's helped me so far."
One person who had the chance to see this transition up close was Quinnipiac head coach Tricia Fabbri. Despite Herd's injuries, Fabbri recruited Herd to Quinnipiac and helped her adjust to playing a new position. In Fabbri's eyes, Herd has come a long way since her first steps on campus.
"It's night and day," Fabbri said. "Just from a physical standpoint, from training, just being years in the system. Her ability to shoot the ball and just be a pivotal piece for us in terms of understanding what we need her to do when we need her to do it."
This season, Herd returned to the starting lineup, and was selected to the Preseason All-MAAC Second Team; both testaments to her hard work.
"I trust my work ethic and I knew that I wanted to contribute and I wanted to make a difference for the team and also kind of get those two years of high school that I didn't get back in college," Herd said. "I think my work ethic is what got me to the point of having a role now and contributing.
Fellow senior Paige Warfel has enjoyed seeing Herd's work ethic firsthand. Through practices and games, they worked well together on and off the court. Now in their senior year, Warfel is excited to the increased chances to share the court with Herd in games.
"It's been great, Warfel said. "We finally the past few years have got to really play together a lot more minutes."
Through five games this season, Herd has averaged 7.6 points per game, while shooting 32% from the 3-point line. Those averages dropped after struggling in the last two games. Her first two games she averaged 13.5 points on 45% 3-point shooting. 
Aside from training her skills, Herd focused on training her court awareness and understanding of the game. Her basketball IQ is noticeable on the court, something she's worked on after struggling her first year.
"One thing I underestimated as a freshman was attention to detail," Herd said. "That's one thing that I've really homed in on is being detail-oriented and making sure that I'm executing exactly what coach wants on offense and defense."
More important than any preseason awards, she's now a team leader. You see it on the court in the way she speaks with her teammates. You see it in the way she speaks with her coaches. You see it in press conferences in the way she talks about the team.
"Everyone on the team has a role and we need to fill it," Herd said. "It's those roles that earn us team wins."
With a young team, Herd's leadership will be an important part of their success this season. So far, her leadership, along with fellow seniors Warfel and Jaden Ward, has helped the young players find their place in the team early in the season.
"That's what you want to see emerge as they also go through the program," Fabbri said. "Take a really active responsibility not for themselves but for the young ladies in the locker room."
Two ACL tears in high school, deciding to play at Quinnipiac, three NCAA tournament appearances, a starter as a sophomore, Sixth Player of the Year as a junior, and now team leader as a senior. No one, including Herd, would ever draw it up this way. As her Twitter page implies, maybe it's not up to her to draw it up, even in her final season. All she can do is see how it all unfolds.