Quinnipiac men's basketball can't silence Siena on Wednesday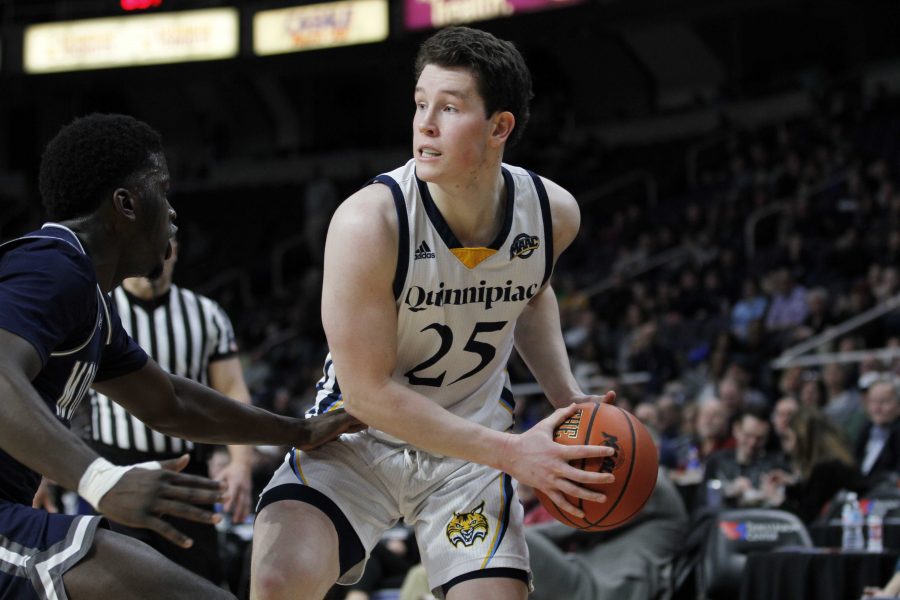 A big second half run was not enough for the Quinnipiac Bobcats men's basketball team to beat the Siena Saints on Senior Day as it lost 84-77. 
"I think there were spurts of that game where we weren't at our best," said Bobcats head coach Baker Dunleavy. "We see where we are when we are at our best, we compete with those guys, we are playing really well, it's promising but obviously consistency is the biggest part and we just did not have quite enough of that." 
The game began with the Saints firing on all cylinders, out-rebounding and winning the turnover battle against the Bobcats with 14 points off turnovers compared to the Bobcats' two points. Saints guard Jalen Pickett was the star of this great start, scoring 14 points in the first half which included four three pointers.  
The Bobcats were down by nine at the half and Dunleavy knew if his team wanted to win, they had to limit Pickett's scoring. 
"He had four threes in the first half. We had to be a little more aggressive guarding him in space and understanding that the majority of what they got done in the first half was off the transition." 
The Bobcat did exactly that in the second half, limiting Pickett to only three points and going on a 16-7 run to tie the game at 55. However, turnovers and foul trouble caused Siena to get the momentum back and eventually win the game. 
Forwards Kevin Marfo and  Jacob Rigoni both played well during the second half with Marfo getting a double-double and Rigoni drilling three pointers. However, the player who shined for the Bobcats was their season leading-scorer, guard Rich Kelly, who despite only having five points in the first half, came into the second half finding space to get his shot off and drained big threes down the stretch and ended the game with 26 points. 
This loss is the Bobcats tenth in MAAC play and brings their record to 12-15. However, despite having a losing record and being on a two-game losing streak, the Bobcats maintain an optimistic mentality for future games. 
"We are definitely not close to quitting at all, we are going to keep showing up, we are going to keep coming together, I think we are not even close to our ceiling right now," said Kelly. "We are excited to see how much we can grow for the rest of the season and we are confident that if we can continue to get better every day that this group is capable of special things." 
The Bobcats have three games left in their regular season with their next challenge on Friday against Fairfield away from home.