Quinnipiac Men's Basketball loses against Manhattan in final seconds 65-63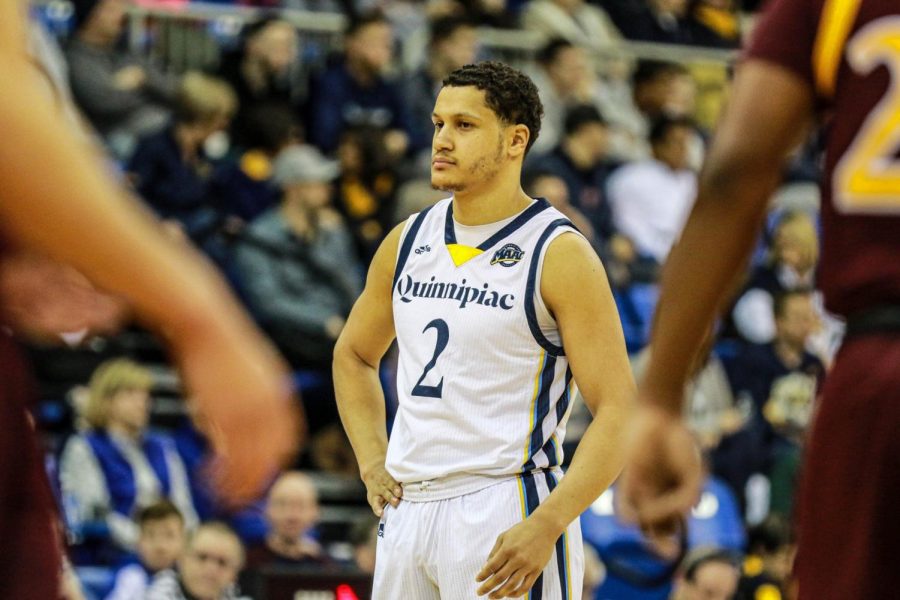 On a chilly, late-winter afternoon, the intensity inside the People's United Center was scorching from the start. A matchup of two 6-5 teams in MAAC play went down to the wire, as the Manhattan Jaspers barely edged the Quinnipiac Bobcats 65-63.
The game got off to a high-flying start. After Manhattan forward Michael Okafor stole the ball and pulled off a 360-degree dunk for the first points of the game, Quinnipiac's Kevin Marfo answered with a ferocious two-handed slam on the next possession. Just a few minutes later, Matt Balanc's tomahawk dunk attempt was blocked on a fast-break by Manhattan forward Pauly Paulicap, who finished as the Jaspers' leading scorer with 15 points.
After leading early, the Bobcats trailed closely for most of the second half, but finally tied it 63-63 on an Aaron Falzon three-pointer with less than 11 seconds remaining. On the next drive, Manhattan's Tykei Greene made an acrobatic layup with one second left to retake the lead and seal the Bobcats' fate.
Head coach Baker Dunleavy was calm after the game, holding firm to a 'next-game-up' mentality.
"The season's a long season," Dunleavy said. "It's really a marathon."
Tyrese Williams finished the game as the Bobcats' leading scorer with 21 points, including a three-point shot to tie the game 60–60 late.
Two of his most impressive points came on a second-half inbound play. When Williams's defender turned his back to him, the sophomore guard threw the ball off his back and converted the layup and got the foul call.
"I saw it earlier," Williams said. "I saw that they were shading up so I had enough room [to throw it off the defender.]"
Junior forward Kevin Marfo posted another double-double, scoring 11 points and grabbing 13 rebounds in the loss. Through the Bobcats' first 22 games, Marfo has led the team in rebounding every game.
Despite an impressive night behind the arc (11-24 3PT) and at free throw line (14-19 FT), cross-court passes consistently found themselves in the hands of Jasper defenders. Manhattan won the turnover battle 25-10, bothering the Bobcats by pressing in their full court defense and by employing unusual defenses. Quinnipiac's Rich Kelly and Brendan McGuire were responsible for six turnovers each.
With the loss, the Bobcats fall to sixth (11-11, 6-6 MAAC) in the conference, one spot below Manhattan (11-10, 7-5 MAAC). Despite the loss, Quinnipiac remains just 1.5 games out of the top spot in the MAAC. The Bobcats continue their conference play as they travel to play Saint Peter's on February 14th at 7:00 PM while Manhattan travels to Iona to play a Valentine's Day game of their own.