Quinnipiac men's basketball snaps losing streak with win over Canisius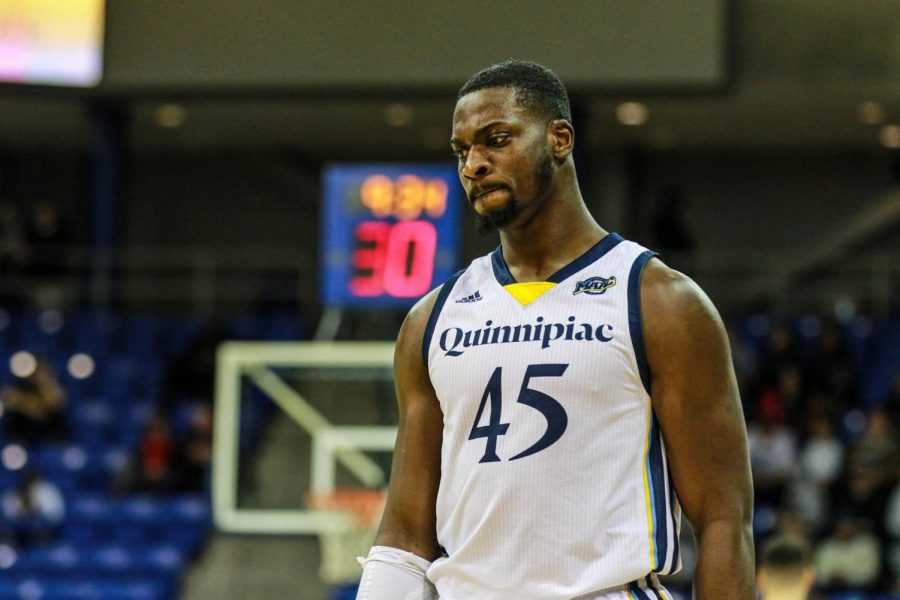 Quinnipiac's first nationally televised conference game of the year didn't disappoint. Kevin Marfo's last-second block helped end a five-game skid as the Bobcats went on to win 66-64 over Canisius. Here are some observations from an action-packed night.
Marfo was extremely aggressive from the opening tip. He tried to post up every defender he faced tonight, often finding success as he finished with 12 points. It seemed like every missed shot was corralled by him and more often than not he was spearheading the break either finding his teammates or taking it all the way to the hoop. Somewhere in there, he found enough time to attempt a three pointer. Of the five blocks he had tonight, a career high, one came in the closing seconds to help shut the door on a Canisius overtime attempt.
"The team needs me to be aggressive," Marfo said. "They were taking away our shooters, so we needed someone to attack the paint and put pressure on the defense that way. So, coach gave me that opportunity to go out and show that versatility in this game, and the games after that." 
"We've really worked on it. I think a guy with his physicality he can create an advantage against his opponent. Teams are certainly locked into our guys so much, trying to take away the threes," head coach Baker Dunleavy said
Quinnipiac's second half defense was suffocating the Canisius players, allowing only 25 points in the period. On-ball defenders moved closer and really eliminated the air space between them and the offensive players. Off-ball defenders aggressively swiped at any mistimed or badly placed passes. If the ball could be taken or turned over it was thrown out of the air by Bobcat rim protectors to the tune of seven rejections.
For a team whose offensive diet is usually full of three pointers, tonight showed anything but that. It could have been by schematic design of the Canisius sideline, but the Bobcats found most of their attempts coming in the paint area.  There were a lot of lob finishes by Seth Pinkney on rolls to the paint. When shooters did have a sliver of shooting room Canisius defenders hounded them off the line, where Bobcats found room for strong rim finishes or pull up mid ranges.
"I think all of our guys are good shooters, but I think individually they have to know that plan because teams aren't just going to let them shoot, so they can do what they do well," Dunleavy said.
On Sunday the Bobcats are headed to West Long Branch, New Jersey to take on the Monmouth Hawks.