Tufto to the rescue: men's ice hockey escapes with overtime win at Yale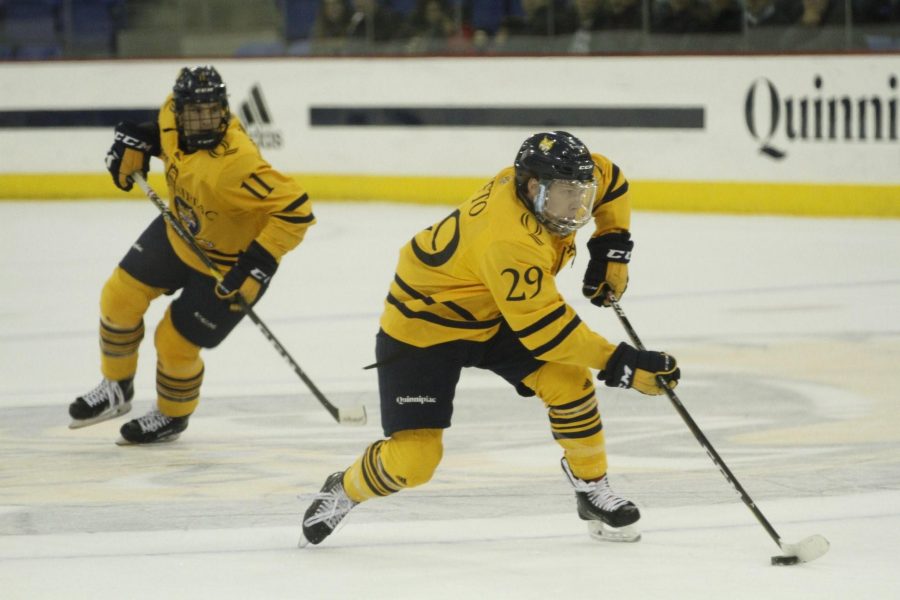 The puck ricocheted between the posts and came to rest dead in the middle of the goal line.
Time stopped.  The suspense peaked.  Yale goaltender Corbin Kaczperski searched frantically to locate the puck between his skates.  Quinnipiac worked desperately to poke it through.  Seconds felt like minutes.
But then it happened.
Odeen Tufto threw his stick forward and punched the puck into the back of the net, stunning the sellout crowd inside ­­­­Ingalls Rink.  Just 18 seconds into overtime, it was over.
In a game that went back-and-forth, Quinnipiac (17-9-1, 10-4-1 ECAC Hockey) nearly saw their comeback derail, but Tufto turned an otherwise quiet performance into one the more memorable goals of his career, lifting the Bobcats to a 3-2 victory in the latest edition of the Battle of Whitney Ave.
For Yale (9-12-1, 6-9-1 ECAC Hockey), who nearly held the Bobcats scoreless through the two periods, this one will sting for a while.  The Bulldogs have now dropped five straight contests to their rival and have been outscored 20-5 in that span.
The Bulldogs opened the scoring after just 55 seconds when Kevin O'Neil charged the crease and passed to Hayden Rowan, who had the puck deflect off the inside of his right skate and past Bobcats goaltender Keith Petruzzelli.  Rowan, a first-year, was credited with his first career goal.
Quinnipiac was suffocated in the belly of "The Whale" until late in the second period when TJ Friedmann led Alex Whalen to the blue line, before Whalen carved his way through two defenders and drilled a wrister for his tenth bullseye of the season.
The Bobcats would come out strong in the third period, grabbing their first lead less than three minutes in off a two-on-one breakaway led by Joe O'Connor, who cashed in off his own miss.
Quinnipiac nearly finished off Yale in regulation, but a late turnover and friendly bounce allowed Evan Smith to level the game with a wicked backhand.  An initial sweeping shot from the left by Jack St. Ivany missed wide, but Petruzzelli overcommitted and the puck took a hard-right angle off the back boards to Smith, who did not miss the open net.
But the jubilation was short-lived thanks to Tufto, who propelled the Bobcats to the overtime win with his league-leading 30th point.
Quinnipiac, which has won nine of its last 11 games, will now make a 100-mile trek northeast to Providence as it looks to avenge last year's shocking sweep by the Brown Bears in the ECAC Hockey Tournament quarterfinals.  The puck drops at 7 p.m. on Saturday.