Women's hockey dominates RPI 5-1 on National Girls and Women in Sports Day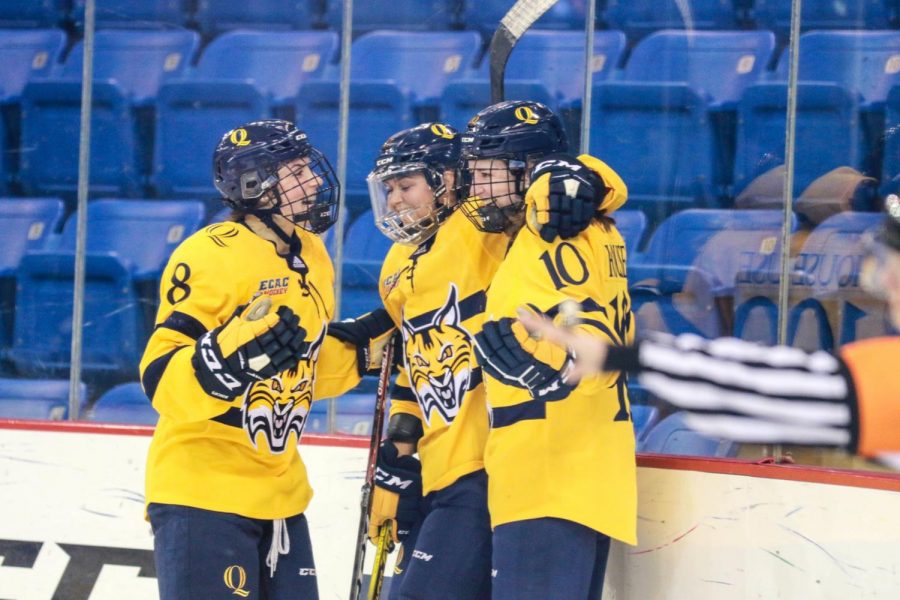 Laura Lundblad found the back of the net twice over the final two minutes to score her first career hat trick and put an exclamation point on Quinnipiac's season sweep of Rensselaer Polytechnic Institute with a 5-1 victory on Saturday afternoon. The Bobcats' offense exploded for 11 goals in their two weekend contests with Union and RPI and have now won four straight.
"It was so exciting [to score the hat trick]," Lundblad said. "I was just kind of amazed that it happened."
It's been a decade since RPI (0-29-1, 0-18-0) last won in Hamden, and it's probably felt nearly as long since their last victory in general. The Engineers, who were without senior leader and top scorer Blake Orosz, came into the matchup winless on the season.
First year goaltender Ena Nystrøm, who has managed to save a stellar 92 percent of opponents' shots despite her team's struggles, used her agility to keep the Bobcats off the board early.
But late in the first, Taylor House dropped the puck behind for a trailing Lexie Adzija who was given an open lane and drilled a slapshot from the left wing past Nystrøm. Taylor Girard was also credited with an assist to extend her point streak to 6 games. Adzija later added an assist for her team leading 27th point.
"My linemates contribute to that a lot," Adzija said. "I think I can attribute my success to my teammates for sure."
Quinnipiac (17-10-3, 9-7-2) never looked back. Lundblad netted her first goal on a breakaway, beating Nystrøm through the five-hole.
Lundblad's final two goals were both aided by Brooke Bonsteel, which marked her fifth multi-point game of the year.
Bonsteel and Grace Markey also dominated in the circle, winning 25 of 33 faceoffs.
The Engineers' lone goal came with less than seven minutes remaining in the game when Lauren Severson converted on a third-chance opportunity just outside the crease. It was her second goal of the season and just the 19th overall in the team's 30 games.
Abbie Ives saw limited action, finishing with 17 saves. She had a season-low 14 in the Bobcats' 4-0 shutout in Troy back in November.
Head coach Cassandra Turner was extremely impressed with her team's effort.
"We really showed our depth," Turner said. "We had people stepping up and making plays and putting pucks in the net. That's exactly what we want this time of year, to see everyone ready to contribute, everyone ready to play at their best."
Quinnipiac celebrated National Girls and Women in Sports Day with a doubleheader that also featured the women's basketball team. Prior to the start of the hockey game, several women's athletic teams held demonstrations and engaged in activities with the young girls in attendance.
Turner praised the event.
"The skills that you learn in college sports from managing successes and managing failures, how you grow from those, and what you do beyond college, you're going to be so prepared," Turner said. "Those are the tangible skills that are going to help you for the rest of your life. It was a pretty neat moment."
After the game, nearly 100 fans took to the ice to join the team for a free skate.
The Bobcats will hit the road one last time in the regular season to take on No. 7 Clarkson and St. Lawrence next weekend.