BREAKING: MAAC Cancels Men's and Women's Postseason Tournaments
Per the Metro Atlantic Athletic Conference league office, the 2020 Men's and Women's MAAC Basketball Championships have been officially canceled due to concerns surrounding COVID-19, better known as coronavirus.
The decision mirrors what every other conference in the NCAA has done to prevent the spread of the coronavirus. The MAAC was the second to last conference in the NCAA, ahead of only the MEAC, to make the decision after league commissioner Rich Ensor had a conference call with school presidents at approximately 2:00 p.m. EST.
Commissioner Ensor's statement regarding the cancellation of the tournament is as follows:
"It's been a tough day for sports as this country faces a major crisis. I just came from the locker rooms of Manhattan and Quinnipiac teams to let them know that the season has been cancelled — the tournament has been cancelled — effective immediately."
Ensor also stated that, along with the remainder of the basketball tournament, all spring sports activities have been cancelled, effective the morning of March 13.
The decision left both Quinnipiac teams on the outside looking in in terms of automatic qualifiers to the national tournament, as the commissioner announced the automatic qualifiers would go to the teams that finished in first place in the regular season standings — Rider on the women's side and Siena on the men's side. But, hours later, the NCAA announced the total cancellation of all remaining winter and spring sports, bringing an end to the 2019-2020 collegiate season.
When asked about his message to seniors who will never play in a collegiate basketball game again, Ensor said," I can't tell you how much I personally regret having to do this. I share their pain."
The decision sees the careers of seniors Paige Warfel, Jaden Ward, Taylor Herd, and graduate student Aaron Falzon come to a premature end. Warfel, Ward and Herd finish their careers as three-time MAAC champions and 2017 Sweet Sixteen participants, while Falzon, a grad transfer from Northwestern, finishes his only season as a Bobcat without hardware.
About the Contributor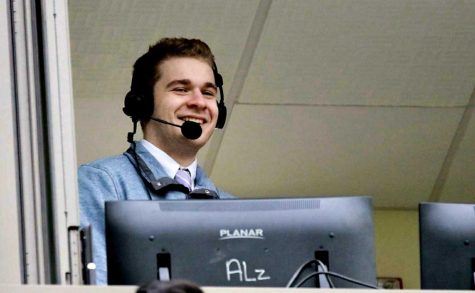 Will Fowler, Chairman
Will Fowler is a senior journalism major from Sparta, New Jersey and the chairman of the Quinnipiac Bobcats Sports Network. In his time with QBSN, Will has served as play-by-play announcer, color commentator, writer and multimedia producer for a number of Quinnipiac teams. Through QBSN, Will has had the chance to cover games at the Carrier Dome, the Times Union Center and the Nassau Coliseum, and he was at Boardwalk Hall in Atlantic City when the MAAC basketball tournaments were canceled due to COVID-19. Will can be found on Twitter at @WillFowler5.