From the Inside: Covering College Basketball on the Sport's Darkest Day
Honestly, we all knew it was going to happen.
While sitting in an arena that resembled a ghost town and watching every other conference tournament get cancelled, the unspoken consensus was that it was a matter of 'when', not 'if'.
If you had told me on the morning of March 12th that I would go to bed that night without a single major American sporting event left on the schedule, I would have laughed in your face. I knew about the news from the night before – March Madness was going fan-less and Rudy Gobert's positive test suspended the NBA season – but I didn't expect that to shut everything else down, and I definitely didn't expect it to happen that quickly.
The morning of the 12th, the Quinnipiac student media contingent and I made our way to the boardwalk and began the quarter-mile trek to the nearest sportsbook, where Bryan was set to film a package for Q30. We helped set up the equipment, talked about the tournament games that day, and made a few jokes about Kevin wanting to bet on North Carolina the night before – a game that the Tar Heels lost by 28 points. As soon as Bryan's shot was about to go live, someone got a Twitter notification from a verified source. Then another person. Then the rest of the group.
The American, Big Ten, and SEC conference tournaments were cancelled. And all within three minutes of each other.
The American Conference Tournament has been cancelled due to Coronavirus, per release.

— Jon Rothstein (@JonRothstein) March 12, 2020
The Big Ten Tournament has been cancelled, per release.

— Jon Rothstein (@JonRothstein) March 12, 2020
The SEC Tournament has been cancelled due to Coronavirus, per release.

— Jon Rothstein (@JonRothstein) March 12, 2020
We were stunned. Nobody said much of anything, because nobody had any idea what to say. These were three of the largest, richest, most well-known conferences in the entire nation, and they chose to call the whole thing off. Effective immediately, the AAC, Big Ten, and SEC would have no tournament champions.
After the initial shock, we focused our attention back to Bryan's segment. He went through his intro three or four times, dropped his betting picks for the games, and signed off. By the time we looked at our phones again, three more conferences had called off their tournaments – Conference USA, the Atlantic 10, and the Big 12. Minutes later, the WAC followed suit.
Everything felt surreal. In just twenty minutes, seven conferences – including three in the Power 5 – had completely terminated their conference championships. The college basketball world was coming to a screeching halt, and we hadn't even stepped foot in the arena yet.
We grabbed the equipment and made our way to Boardwalk Hall. Along the way, I asked Bryan if he thought we were actually going to have Quinnipiac tournament games to cover.
"No chance."
A few minutes later, we arrived at the arena, found our places on press row, and watched Siena and Fairfield play in the women's quarterfinal. Despite the MAAC having placed a ban on non-essential fans the night before, the mood in the arena wasn't all that different than the two days prior – truth be told, there aren't many MAAC fans in Atlantic City interested in watching a 6 vs. 11 match-up at 2 in the afternoon on a Tuesday. But there was an obvious sense of caution among those that were in the arena, and those feelings only grew when both the Pac-12 and the ACC, the two remaining Power 5 conferences, cancelled their tournaments within minutes of each other.
Source: The Pac-12 Tournament has been cancelled.

— Jon Rothstein (@JonRothstein) March 12, 2020
The ACC Tournament has been cancelled, per release.

— Jon Rothstein (@JonRothstein) March 12, 2020
Once the big dominoes fell, it was only a matter of time before the smaller ones did the same. The MAC, the Southland, and the Sun Belt all called their tourneys off just minutes after the Pac-12 and ACC. Every time someone refreshed Twitter, a different conference announced that it was calling its tournament off, and the message was relayed to everyone else on press row. "[Insert conference here]. Cancelled." came out of a different mouth every couple of minutes as more conferences began to take the same action. Cancellation by cancellation, each member of the press – myself included – began focusing less on the game that was right in front of us and instead glued our eyes to Twitter.
Perhaps the weirdest part about this whole thing, though, was that we still hadn't heard a single word about the status of the very tournament we were there to cover. All we knew about the MAAC tournament was that Siena and Fairfield were playing right now. Nothing from league officials, nothing over the PA system, and nothing from Rich Ensor. While virtually all of college basketball stopped in its tracks, it was still business as usual in Atlantic City.
Source: MAAC players, coaches, and administrators have yet to be informed if the conference tournament this week in Atlantic City will be cancelled.

— Jon Rothstein (@JonRothstein) March 12, 2020
I looked over at Andrew, who was scheduled to do the women's basketball broadcast with me at 2:30. He was doing his prep work for Manhattan. He looked back at me and asked how much prep work I had done.
I told him none. And I didn't plan on doing any.
Because at that point, I realized we were headed down one of two paths. Either we would have a game to call, in which case the whole story would be the coronavirus pandemic and how it's affecting the entire college basketball landscape anyway, or the tournament would be called off before the Bobcats even stepped onto the court. I was starting to believe the latter.
In fact, so was basically everyone else. Nobody in the arena expected Quinnipiac or Manhattan to take the floor for their game. Hell, when Siena and Fairfield went into their locker rooms for halftime, most of us just assumed they weren't going to come back out. That had already happened a few minutes earlier at the Big East tournament, why couldn't it happen here?
The Big East has canceled its tournament. … after halftime of the first game.

— Jeff Goodman (@GoodmanHoops) March 12, 2020
The Big Sky, America East, and Big West were the next conferences to tap out, leaving just three: the SWAC, the MEAC, and us. And yes, everyone on press row was jokingly rooting for the MAAC to be the last one standing. Minutes later, the SWAC cancelled its tournament, leaving just two conferences in all of college basketball still in action.
A combination of intrigue, confusion and frustration took over as everybody at Boardwalk Hall wondered why in the world we were still playing basketball. Journalists were running up and down press row like ball boys at a tennis match, looking for any sort of update from the commissioner or league officials. Athletic directors and school representatives were going into tunnels to make calls to anyone who had information and would pick up the phone. I found myself refreshing Twitter every second I got. All of this in an empty arena in Atlantic City with one of the only basketball games left on the planet in the middle of the third quarter. And not a single person actually cared about the game.
It sounds cliché, but it genuinely didn't feel real. At all. In a few short hours, we went from preparing for one of the biggest days in college basketball to every single conference in the NCAA except for two completely shutting down basketball operations. And I, along with Bryan, Andrew, and the other eight members of the Quinnipiac student media team, were not only living it, we were reporting on it. We had to find a way to cover one of the darkest and most unprecedented days in sports history for everyone who was eagerly awaiting an update. It was thrilling.
After the Siena vs. Fairfield game ended, I called my dad. I wanted to talk to someone who wasn't in the arena, just so I could try and explain everything that was going on. I told him about the other conferences, the atmosphere, the ban on spectators, and anything else my brain could rattle off. We talked for about ten minutes until I realized that Quinnipiac and Manhattan still hadn't taken the floor for shootaround, so I hung up and tweeted my observation. At that point, we all knew full well that the tournament would not continue, despite not hearing an official word.
Then, a few minutes later, we did.
The Men's and Women's MAAC Basketball Championships were cancelled, effective immediately, due to concerns surrounding the spread of the coronavirus.
I was completely expecting it, yet a shiver still shot all the way through my spine.
𝐎𝐅𝐅𝐈𝐂𝐈𝐀𝐋: The men's and women's MAAC tournaments in Atlantic City have been canceled. pic.twitter.com/uztpeSKu7v

— Will Fowler (@WillFowler5) March 12, 2020
I think that amid all the frenzy, most of us didn't realize the significance of what was actually happening. We were focused on reporting from the Quinnipiac basketball perspective, but there was something much bigger going on that not many people recognized.
The college basketball world – along with the NBA and European soccer leagues, and later to be followed by the MLB, NHL, MLS and others – just stopped. And it stopped only three days before Selection Sunday, the biggest day of its season. Aside from September 11th, there had never been a single instance of a nationwide halt this large in modern sports. This was history unfolding.
We were told that Ensor was holding a press conference in a few minutes, so we made our ways to the makeshift media room that was set up for the tournament. I made a beeline for the front row and sat next to Dylan, a friend I had made who was at the tournament to cover Rider.
"This is crazy," he muttered to me while we waited for Ensor to walk up to the podium.
"I know. This is what makes it fun," I responded. "The games are great, but this is history."
The atmosphere inside the press conference was actually surprisingly normal, maybe because the news didn't particularly surprise any of us. We already knew what we were about to hear, and we had known for a while. We were just waiting for it to come out of the commissioner's mouth and become official. In most ways, it felt like a totally normal press conference.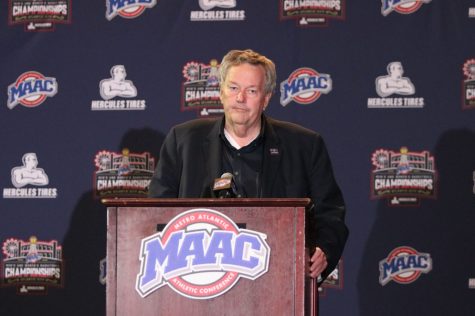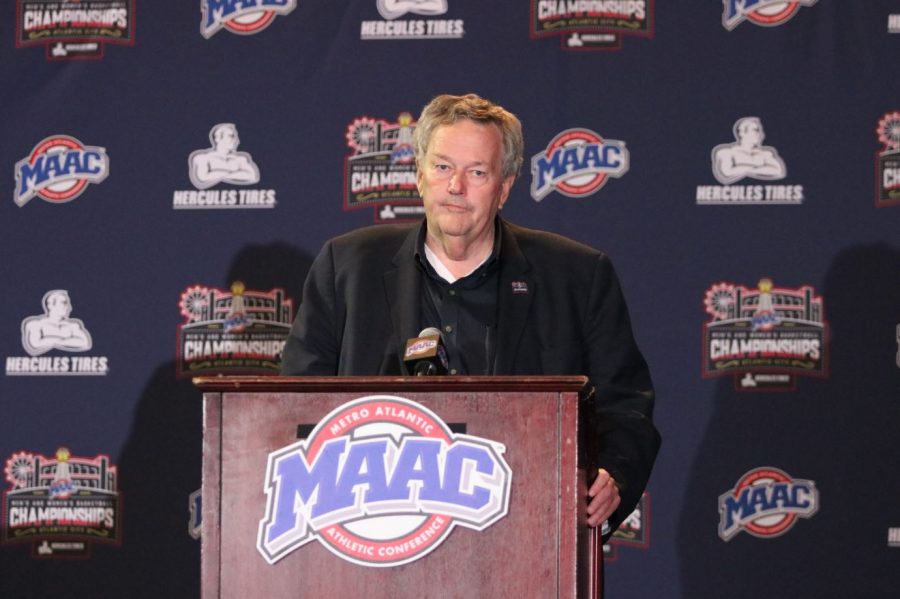 But it wasn't completely normal. Somehow, despite being at the center of the weirdest day in the history of both the MAAC and collegiate athletics, Ensor still managed to throw us a curveball after announcing the cancellation of the basketball tournaments.
That's because he also announced the cancellation of all spring sports activities, effective the next morning, at the time making the MAAC one of the first conferences in the NCAA to take that step. Not only were the basketball tournaments over, there wouldn't be another MAAC sporting event until college soccer kicked off in August 2020.
The rest of Ensor's answers were chalk. He said the right things and handled himself well, despite so many things still unknown in terms of the NCAA's official response to the virus. It wasn't until the last question that the mood in the building changed – Bryan, who was positioned by the Q30 camera all the way in the back, asked him what his message was to seniors who may never play another collegiate game.
Ensor's eyes began to well up.
"I can't tell you how much I personally regret having to do this," he said, tearfully. "I share their pain."
Ensor's emotion showed just how strange this whole situation was. Because of the spread of a global pandemic virus, the Metro Atlantic Athletic Conference was forced to shut down its conference tournament right in between two quarterfinal games.
Hell, even typing it feels weird.
Ensor walked away from the podium, and that was it. The tournament was officially over. We walked out of the conference room and headed back into the arena, where the facilities workers were already breaking down the makeshift bleachers and unclipping the tournament banners from the barriers lining the court. Bryan and Eric set up a camera to record stand-ups for Q30, Liz uploaded pictures onto her computer, and I updated the news story I had posted an hour earlier. But it didn't feel like a typical student media work session. It felt like a funeral.
Nobody spoke to anyone except for the occasional "did you catch that quote?" or "is the camera rolling?". All eleven of us were huddled in the same area on the stage, and you still could've heard a pin drop. It was finally starting to kick in. There was no more basketball to be covered. The games were no more. The conference tournament plague had finally caught up to us. And for Bryan and Liz – the seniors that we had looked up to since we first joined student media – it was a cruel and abrupt finale to two incredible student media careers.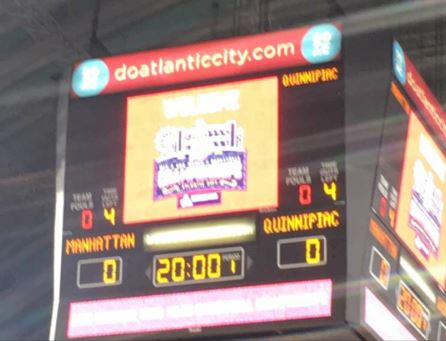 I updated my story and shut my computer. My phone had died a few minutes prior – a blessing in disguise, because the amount of time I had spent on Twitter over the last six hours was making me physically ill. I plugged it in and went for a walk around the arena with Kevin and Jared to soak everything in. The words "MANHATTAN" and "QUINNIPIAC" were still displayed on the scoreboard and the clock still showed 20 minutes, as if to tease us into thinking that everything we had just witnessed was fake, the tournament was still on, and the two teams were about to come out of their locker rooms and play as if nothing ever happened. But we all knew that wasn't going to happen, and what we just experienced was very, very real.
We cut across the court and trudged back to the rest of the group. Everyone's content was written, recorded, and posted. There was nothing left to do except leave. We left our hotel that morning expecting to be in the arena past midnight. We ended up walking out before 4 p.m., five and a half hours before the men's game was originally slated to start.
And, perhaps fittingly, it started to rain on our walk back to the hotel. Go figure.
Later that day, we learned that the NCAA made a blanket statement announcing that March Madness and all spring sports activities were cancelled. Soon after, Major League Baseball, the National Hockey League, and dozens of individual high school sports districts across the country suspended all sporting activities until further notice. By nighttime, it was official: the entire American sports world was put on ice.
There's really no way to process something when it's the first time it's ever happened. We have nothing to compare it to and nothing to use to put it into perspective. Above everything else, that's the one thing that the eleven of us were having trouble doing – processing the events that had taken place on one early Thursday afternoon in Atlantic City. As I write this, I'm still struggling to fully grasp the importance of everything that happened, not only at Boardwalk Hall but across the country and world.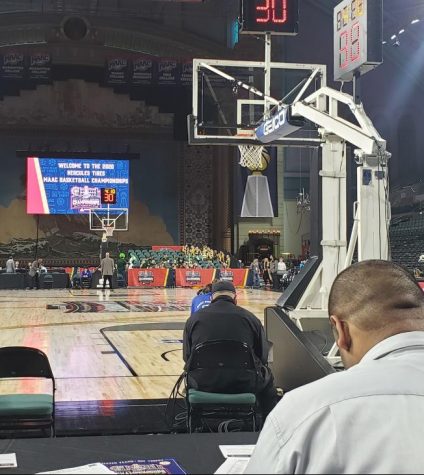 The funniest thing about this whole week is that it's probably the first thing I'll mention to my kids when I tell them about my time at Quinnipiac, even though I covered a grand total of zero Quinnipiac games. The home games are great, the trips are awesome, and the recognition for good work is humbling, but it's events like this one – the ones that go above and beyond the physical game – that I'll remember the most. Even if I spent most of my time this week bricking free throws during a timeout contest and incessantly refreshing my Twitter feed until my fingers and eyes hurt.
To the ten others that were in Atlantic City with me – None of us could have imagined the week going the way it did when we first arrived. I'm sure you still haven't fully processed what we experienced. I sure as hell haven't. But what I do know is that we covered history. Never has the college basketball world seen a halt as drastic as this one, and we somehow kept our composure amidst a sea of unknowns and produced some damn good content. There is no group of people that I would have rather done it with.
To the seniors, Bryan and Liz – Kevin said it best while we were all standing in a circle in the McDonald's parking lot Thursday night. You are the ones that we have looked up to ever since we joined student media as freshmen. You showed us everything we know. We love you, and I am so sorry that this was how your time with student media had to end. If we could give you an extra year of eligibility, we would.
To those that are upset about the decisions made by the NCAA and professional leagues – You're not alone. Every single one of us wishes we could flick on the television and watch hockey or college basketball. That said, the health of the general public comes before any singular sporting event or league. Regardless of how benign COVID-19 ends up being, there is so much still unknown, and it is our duty to temporarily put aside our personal preferences if it means helping to fight a global pandemic. Some things are bigger than sports.
I look forward to a time when we can once again watch the sports we love and fully acknowledge the historical impact that these past few days have brought. They have been nothing short of unprecedented.
Thanks for reading.
-Will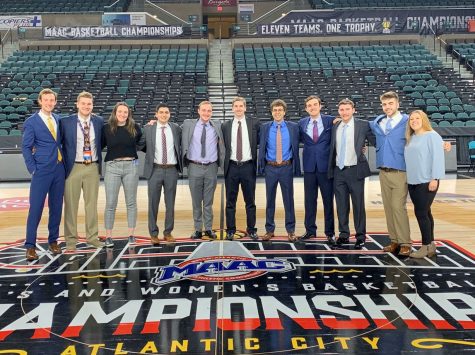 About the Contributor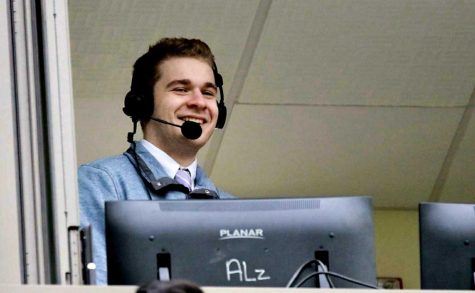 Will Fowler, Chairman
Will Fowler is a senior journalism major from Sparta, New Jersey and the chairman of the Quinnipiac Bobcats Sports Network. In his time with QBSN, Will has served as play-by-play announcer, color commentator, writer and multimedia producer for a number of Quinnipiac teams. Through QBSN, Will has had the chance to cover games at the Carrier Dome, the Times Union Center and the Nassau Coliseum, and he was at Boardwalk Hall in Atlantic City when the MAAC basketball tournaments were canceled due to COVID-19. Will can be found on Twitter at @WillFowler5.